Gokayama
Authentic Traditional Villages in Toyama
Add to my favorite places
Gokayama is a group of Japanese rural villages with a preserved ancient architecture, located in Shokawa valley, in the south-west of Toyama prefecture. Ainokura is the largest village of the area with twenty-three traditional houses covered by thatched A-frame roofs in the gassho-zukuri style and listed in the UNESCO World Heritage. The place offers a taste of the inhabitants' daily life and of their excellent local gastronomy.
Ainokura village in Gokayama displays its undeniable charm in a small mountain valley crossed by Shogawa River, 400 meters above sea level. It was listed by the UNESCO in 1995 for its preserved architecture of gasshô-zukuri (合掌造り) style and is the counterpart of Ogimachi village located a little bit further south in Shirakawa-go. Smaller and receiving a lot less visitors over the year than Ogimachi, Ainokura offers a kind welcome amidst a quiet forest.
The wooden houses with their thatched roofs and rice-paper windows gather among the fields in a beautiful image of Japanese countryside. In winter, the village seems imbued in a fairytale atmosphere, especially at night when the snow is falling.
Beyond their specific aesthetics, the buildings are perfectly adapted to their environment and their agricultural use. The steep slopes of the roofs allow the snow to slide easily in winter, whereas the narrow attic, only warmed up by the heat coming from below, are used to raise silkworms throughout the year.
Ainokura preserved and still inhabited village
Ainokura's traditional aspects and centuries-old lifestyle can be discovered from a stroll in the village's narrow streets. The rural vibe builds on small steles scattered along the alleys, flowerpots and stone walls nicely arranged. A little way away, a modest Shinto shrine sleeps on the mountainside.
The village is still inhabited and therefore provides an insightful experience of past centuries daily life. While Shirakawa-go has become more akin to a museum for tourists, Gokayama is the place to meet locals. For example, in one of the traditional houses, an artisan making traditional Japanese Washi paper has set up his shop and displays many unique creations. The participation in a paper making workshop allows to discover the craftsman's workplace: countless mulberry trees (the base material for paper), paintings, glue, brushes as well as many beautiful sheets of paper arranged on the walls and on the floor.
One-day visitors can enjoy lunchtime in a couple of cafés and restaurants providing simple menus including tempura fried vegetables and soba noodles. Two houses were converted into folk museums to give a better understanding of the local life during Edo period (1603 – 1868).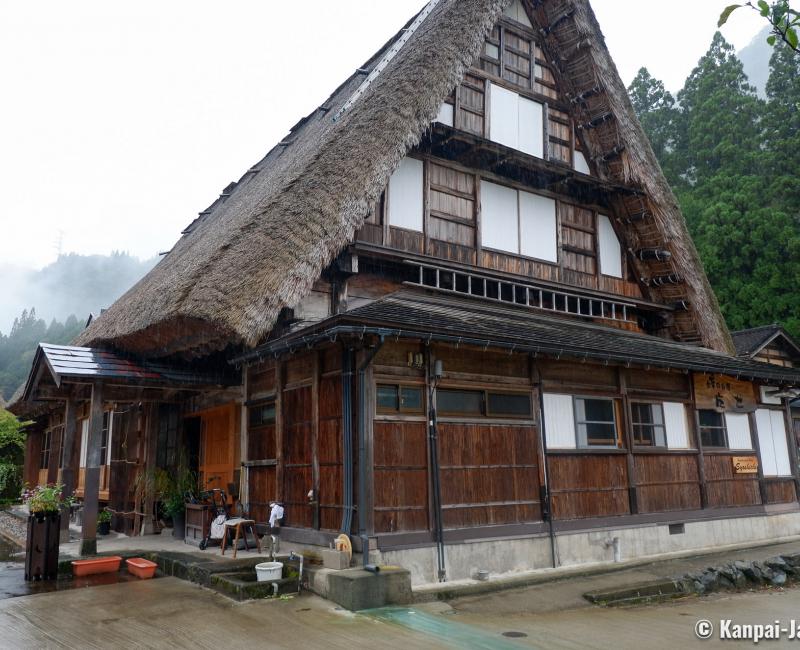 A timeless night at Syoshichi's
To better enjoy Ainokura's remote mountain village's ambiance, we recommend staying at least one night. This option allows to enjoy beautiful walks in the evening and in the morning, when there is no one else around. At nightfall, the last rays of sun come through the houses, from which lights start to pop up, and at sunrise, the mist lifts above the rice paddies: at any time of the day the scenery offers beautiful and relaxing colors.
Gassho no Yado "Syoshichi" is a popular minshuku guesthouse in Ainokura and receives travelers in a 100% authentic Japanese interior of wood and tatami mats. The four rooms have a sober decoration and a futon bedding, all set in a space wider than the usual accommodation. The common lounge is fitted with a large table inviting guests to meet and enjoy a cup of tea under an agreeable lighting.
Diners are served in the tatami area, on delicate Japanese trays. The owner is as friendly as he is a good cook. The cuisine at Syoshichi's in indeed highly refined and chances are that most travelers will have their best Japanese diner here in Gokayama. All the ingredients are delicious and fresh: they are grown and harvested locally, then gently cooked. The numerous dishes provide an insight on a varied gastronomy of a top-notch quality.
Reasons to stay in Ainokura are plenty and we recommend not to miss this unique experience for all visitors who discover Shokawa valley.

This article was written after tour sponsored and organized by
Tokyo
Metropolitan Government
to promote #HOKURIKU×TOKYO destination. Kanpai has been invited and guided but keeps a total freedom of editorial content.