Kenrokuen
Kanazawa's Beautiful Garden
Add to my favorite places
Kenroku-en is one of three most beautiful gardens in Japan, located near Kanazawa Castle in Ishikawa prefecture, on the north-west of the central Chubu area. Its name literally means "the six concepts garden" and the beauty of its trees and flowers spreading over 11,4 hectares can be admired in all seasons.
The "Three Views of Japan" 日本三景 Nihon sankei (Itsukushima, Amanohashidate and Matsushima) are famous scenic places, but the "Three Great Gardens of Japan" 日本三名園 Nihon sanmei-en are equally renowned:
The latter is the one we are interested in here, and it is often considered the most beautiful Japanese garden of the archipelago. Its name alone refers to the six attributes considered most important in the concept of the ideal garden: space, serenity, venerability, panorama, subtlety, and freshness.
Thus, a visit of Kanazawa naturally includes the discovery of the vast Kenrokuen, especially since it is located right next to the city castle 🏯 and the Museum of Contemporary Art. The combined visit is ideal even for a single day in the city.
The construction of the garden in the early seventeenth century returns to the Maeda clan, regent of Kaga Domain, which covered the present Ishikawa and Toyama prefectures. Destroyed by fire 🔥 and then restored during the second half of the eighteenth century, it opened to the public in the 1870s.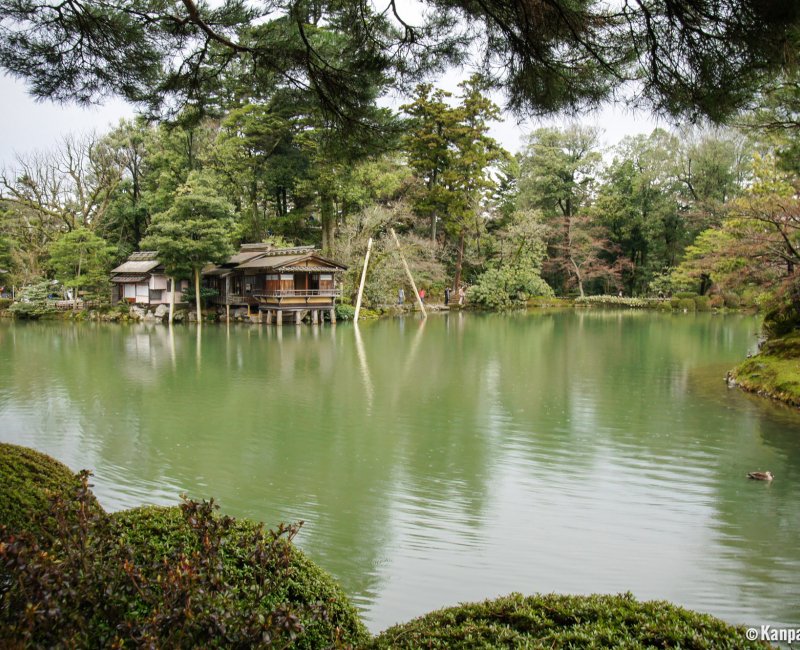 The walk in Kenrokuen is mainly laid out around Kasumigaike, a large artificial pond built like an ocean, which opens on many ramifications. At its northwestern end is Kotoji, the famous stone lantern 🏮 with curved legs of different lengths. Not far away is a fountain with natural pressure.
The garden's amazing variety of landscapes relies on 183 plant species that make up to almost eight thousand trees, complemented by panoramic views of Kanazawa. Thus, Kenrokuen is beautiful in any season, enjoying varied blooms throughout the year and parrying with a cleverly worked white coat in winter.
The visit, although very popular with tourists, is particularly valuable and recommended for lovers of beautiful classic and well-maintained Japanese gardens.