Higashi Chaya
The Ancient Geisha District in Kanazawa
Add to my favorite places
Higashi Chaya is one of the historical districts of teahouses and Geishas in Kanazawa, in Ishikawa prefecture in Japan. Located on the eastern bank of Asano River, it consists mainly of two cobbled streets, including Nibancho-dori, lined with traditional and preserved buildings listed in the Japanese cultural heritage.
In the same manner as Kyoto the ancient imperial city, Kanazawa and its rich and preserved feudal past offer an immersion in the ancient world of entertainment houses where the city's Geishas performed during Edo period (1603 – 1868). Three teahouses districts can be distinguished:
Kazue-machi,
Nishi Chaya Gai, and,
Higashi Chaya Gai, which is the largest, even though its actual superficies is quite small.
The buildings' architecture draws the attention, with a homogeneous ensemble composed of two-storied houses perfectly lined up, with wooden façades and lattices at the ground floor. In the narrow pedestrian streets of this well-maintained kokeshi dolls village, strolling tourists and Japanese women dressed in yukata 👘 are numerous, but not Geishas. In fact, most of the well renovated windows mainly shelter the usual souvenir or local crafts shops, as well as restaurants.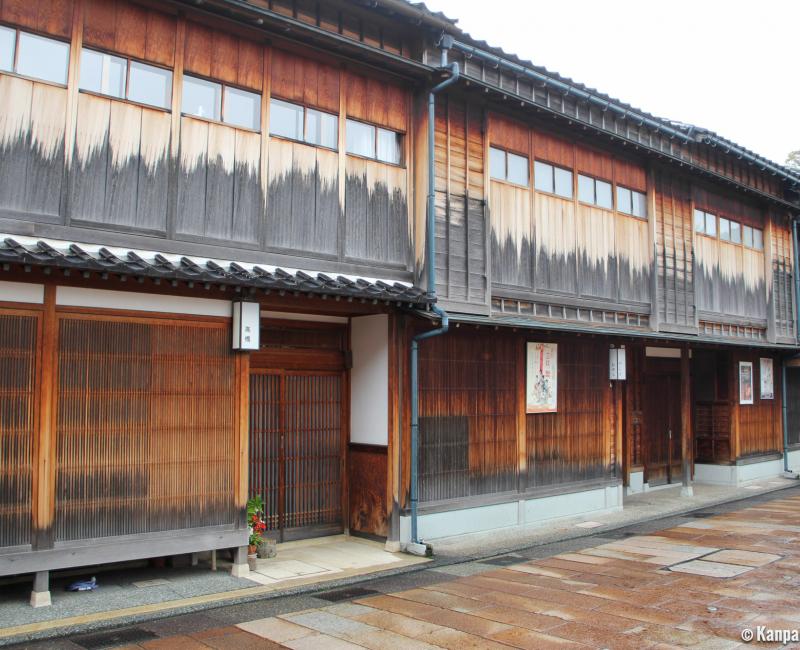 The authentic Chaya teahouses
Two authentic Chaya teahouses have been maintaining the tradition for 180 years. The houses Ochaya Shima and Kaikaro shelter the musical and artistic performances of local Geishas, for an audience who booked in advance. There are about fifty Geishas in activity in the city, be they in training or confirmed Geishas. It is also possible to just enjoy a typical matcha tea sided with a Japanese pastry.
At the north-eastern exit of the district, Utasu Shinto shrine offers the opportunity to watch a free Geisha dance performance. They indeed gather each February 3 for Setsubun festivities and the bean throwing ceremony starting at 1 p.m.
Higashi Chaya can be crowded during the day, and we recommend visiting on early morning or later in the evening, at nightfall (and when the shops close), to enjoy a more confidential ambiance that suits better to the refined and original spirit of these "streets of pleasure."