Hokuei
Detective Conan's Town in Tottori
Add to my favorite places
Hokuei is a small city located on the Sea of Japan, in Tottori prefecture. The city celebrates Gosho Aoyama, the creator of the famous and popular manga Case Closed. A course following the steps of young investigator Conan Edogawa allows to discover Aoyama's birthplace.
The quiet Tottori prefecture on the Sea of Japan is home to 2 neighboring towns, that will ravish seichi junrei pilgrimage amateurs as they are the hometowns of 2 famous manga artists:
Jiro Taniguchi (1947 - 2017) who was from Kurayoshi; and,
Gosho Aoyama (1963 - ) from Hokuei.
Taniguchi became popular in France and in Europe thanks to A Distant Neighborhood published in 1998. Aoyama also quickly became successful in Japan, and his manga Detective Conan (名探偵コナン Meitantei Konan), also known as Case Closed, has been published since 1994 in the Weekly Shonen Sunday magazine. Publishing is still ongoing, making it one of the world's best-selling mangas, like Naruto and Doraemon, with as of 2023:
103 published volumes; and,
About 270 million copies sold.
In addition, the animated adaptation has been airing since 1996, and a series of animated movies have been released, with the 26th, Detective Conan: Black Iron Submarine, released in April 2023. Since the end of the 1990s, Gosho Aoyama is one of the wealthiest Japanese mangakas. His works have been published in several western countries, including North America where English-language publishing is managed by VIZ Media.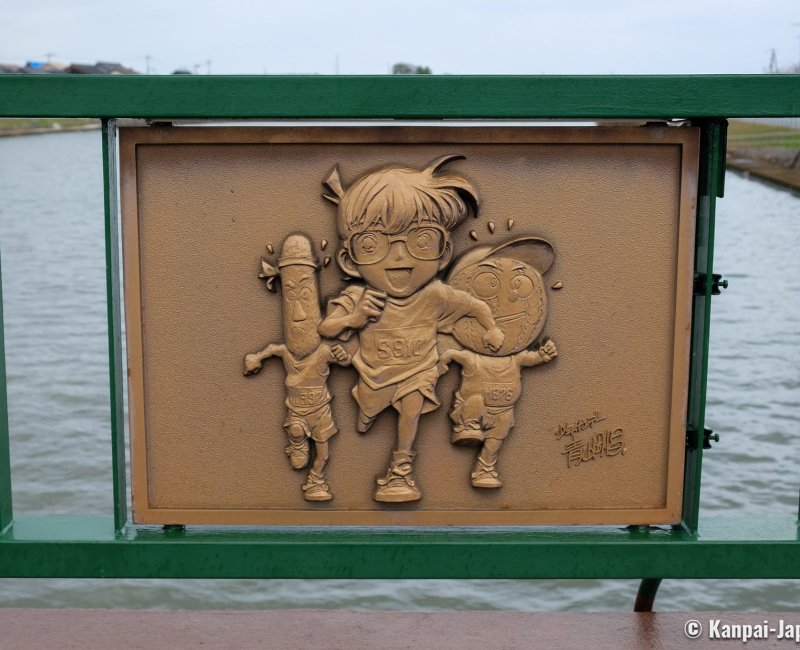 Pilgrimage to the Gosho Aoyama Manga Factory Museum
As a tribute to Aoyama who was born in the city, Hokuei (formerly Daiei) is sporting the colors of Detective Conan. Yura station is now called Conan Station and its decoration is completely themed on the manga's universe, up to the JR trains 🚅' carriage.
An about 1,4 kilometers long course crosses the center of the city towards the seaside. On its side, you'll find several statues of the series' main characters, starting by its protagonist Conan Edogawa, directly inspired from Conan Doyle (1859 – 1930)'s Sherlock Holmes.
Walk on Conan Bridge to cross the Yura River and continue on a shopping street, where you'll find among other things the Conan's House Beika Shopping Street complex. You can stop there for a snack or a shopping spree in the young detective's world. On the way, you can spot several manhole covers decorated on the Conan Detective theme.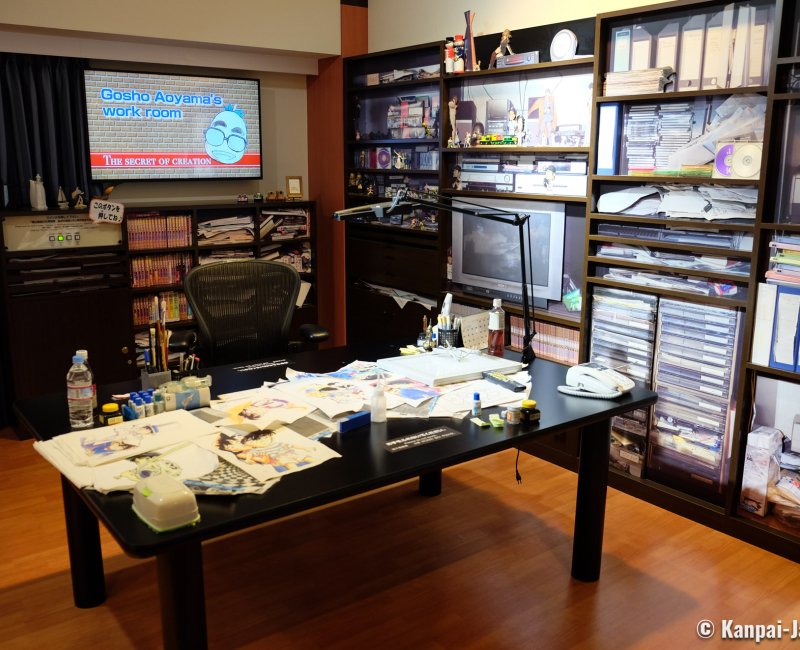 Hokuei's otaku pilgrimage ends at the Gosho Aoyama Manga Factory (GAMF), a museum located on the shore of the Sea of Japan. Inaugurated in 2007, it documents the famous mangaka's career and works.
The display shows his reconstituted study, as well as original manuscripts and drawings. There are also many items from the manga and the anime for a complete immersion that are likely to please the most devoted fans.
This article was written after a tour sponsored and organized by San'in Tourism Organization. Kanpai has been invited and guided but keeps a total freedom of editorial content.