Kurayoshi
Japan's Nostalgic Old Merchant Districts
Add to my favorite places
Kurayoshi is a small town of Tottori Prefecture in the west of Japan. Its merchant city's preserved architecture dating back to the feudal era rose to fame after it appeared as a setting in Jiro Taniguchi's manga series A Distant Neighborhood.
The San'in JR train 🚅 line runs along the Sea of Japan, on Tottori prefecture's coastline through lots of small towns that usually kept their quaint and original look. Kurayoshi is a former castle 🏯 town that stands out thanks to its historical features. Its downtown indeed displays an authentic merchants districts traditional architecture, with buildings constructed during the Edo period (1603 - 1868) and Meiji Era (1868 - 1912) through the early days of Showa Era (1926 - 1989).
Pilgrimage in a manga holy land
Jiro Taniguchi (1947 – 2017), a Tottori born Japanese manga artist, used Kurayoshi's olden times postcard looks as a setting for his manga A Distant Neighborhood, that met great success in Europe, especially in France, where his works are quite popular.
The historical district of Shirakabe-dozogun Akagawara features white-walled kura storehouses and dark wood buildings covered with red tiles. The narrow alleys pleasantly unfold along the Tamagawa river, that is also a waterway and crossed by several little stone bridges giving access to the buildings.
Nearby, the Kurayoshi Figure Museum is dedicated to toy figures and is established in the circular-shaped building of a former school. The Good Smile Company is one of the sponsors of the exhibition, divided into 3 themes:
The military world,
Characters from anime or manga, and,
Japanese pop culture.
The amateurs of seichi junrei pilgrimage may thus consider a stop in this small town giving out a nostalgic atmosphere, which is also neighboring Hokuei, where Gosho Aoyama, the creator of Detective Conan (Case closed) is celebrated.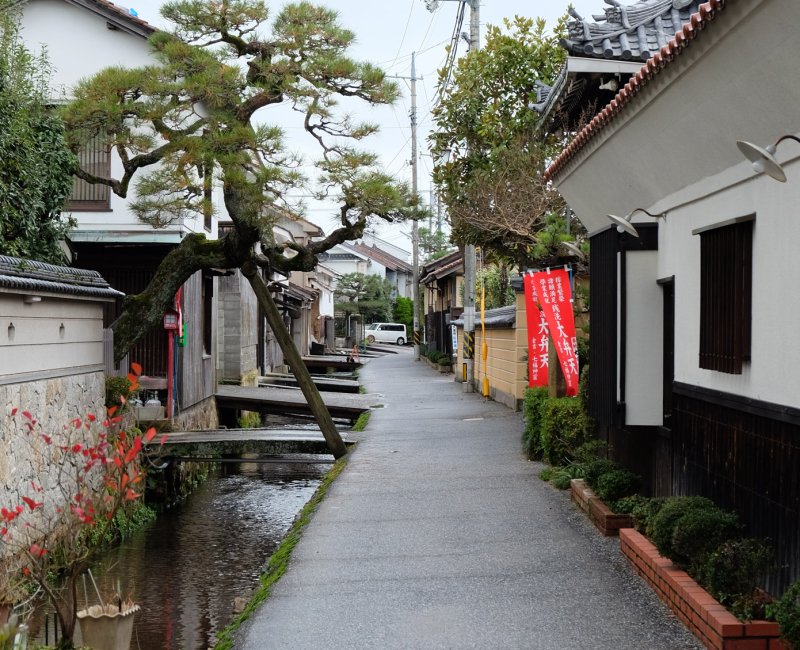 Traditional architecture and craftsmanship
The old downtown is also a window for the local heritage, displayed in the various shops established in historical buildings, such as:
Kasuri artisanal process of weaving and dyeing indigo cotton;
Hakota Washi paper dolls, that look like kokeshi dolls and are lucky charms for children;
Kurayoshi whiskey, internationally famous thanks to Matsui Shuzo sake brewery;
Mochi Shabu fondue, a quirky winter dish with mochi slices of various tastes to dip into the hot broth;
As well as local soy sauce, noodles and wagyu beef to taste in every way possible.
Kurayoshi is also home to the Nijisseiki Pear Museum dedicated to nashi pear, another local food specialty.
The path continues between lines of vermilion lanterns 🏮 to Dairen-ji temple and its large bare wood gate. A little bit further, Utsubuki park becomes one of Japan's most beautiful parks in spring with the blooming of thousands of cherry trees 🌸 and azaleas.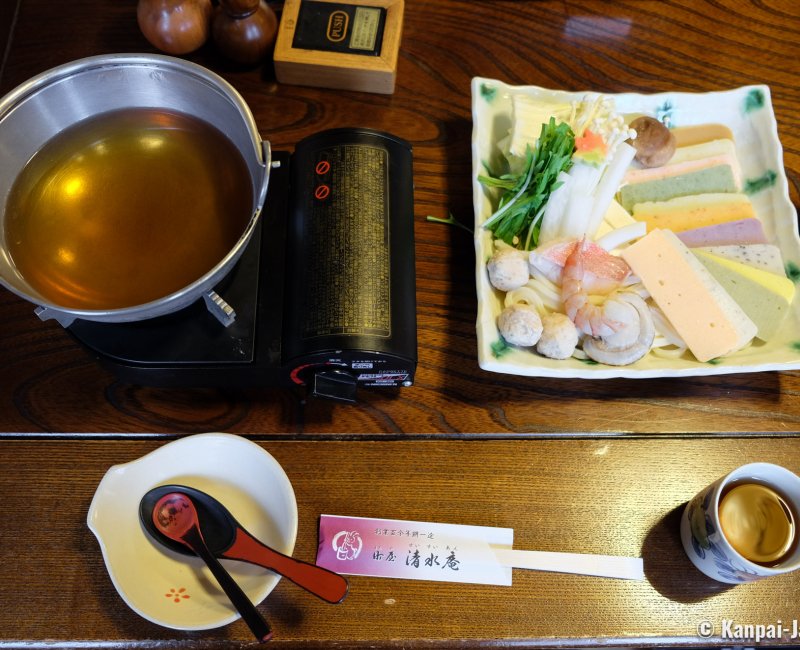 Comfortable night at the onsen
For those who would like to stay overnight, we recommend choosing an accommodation in one of the thermal resorts located near Kurayoshi, for example:
Sekigane Onsen offers more affordable prices in a green hilly setting;
Hawai Onsen in Yurihama offers a distinctive hot spring at the center of Lake Togo.
Tottori prefecture remains a rural destination and while Kurayoshi has its own JR station, the various places to visit are located a few kilometers away from it and therefore require taking a bus. Renting a bicycle or a car 🚙 can help moving around more freely.
This article was written after a tour sponsored and organized by San'in area Tourism Association. Kanpai has been invited and guided but keeps a total freedom of editorial content.