Iwashimizu Hachiman-gu
The Wonderful Shrine in the South of Kyoto
Add to my favorite places
Iwashimizu Hachiman-gu is a shinto shrine built at the top of Mount Otokoyama in Yawata city, about fifteen kilometers south to Kyoto. It is one of the three great Japanese shrines dedicated to Hachiman, the god of war and protector of the country. The main hall is a National Treasure worth the detour.
Japanese heritage never ceases to amaze amateurs of new discoveries, and Iwashimizu Hachiman-gu is certainly one of those hidden gems. Nestled in an ancient forest halfway between Kyoto and Osaka, the shrine is mainly visited by connoisseurs and thus preserved from mass tourism.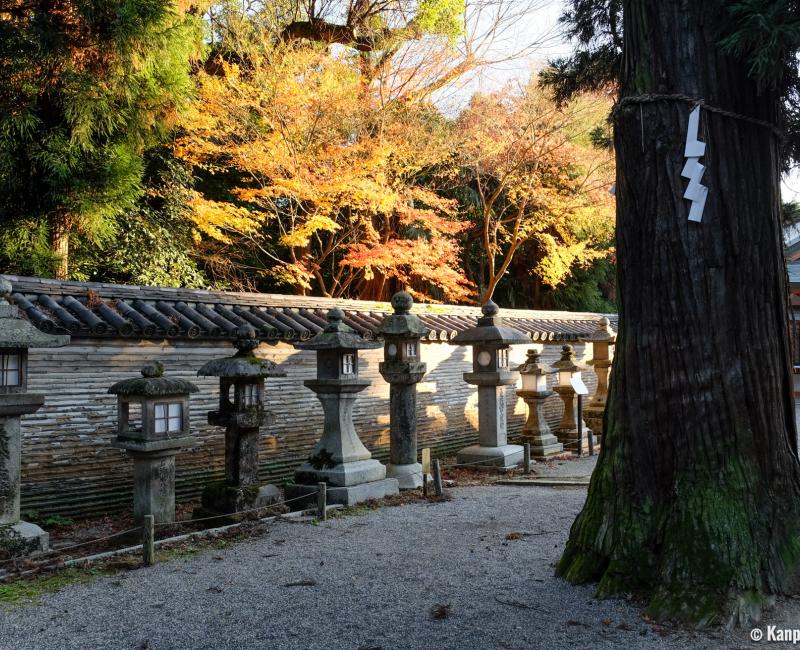 A shrine of nationwide importance
However, Iwashimizu Hachiman-gu is far from being a modest neighborhood shrine: it is in fact one of the highest ranking in the Shinto shrines' hierarchy in Japan. It is closely related with the imperial family since its construction in 859 ordered by Emperor Seiwa Tenno to protect the country and the capital city during Heian-kyo period. Emperors and government officials often visited the shrine to pray, and especially at the occasion of yearly festivals. Iwashimizu benefited from the Imperial Court support then from the Japanese state's until the middle of the 20th century. It is often labelled the second most important religious complex after the renowned Ise-jingu.
The imperial power weakened at the end of Heian period (794 – 1185) and gave way to samurai warriors and feudal shogun who continued to worship and maintained the place, such as Oda Nobunaga, Toyotomi Hideyoshi and Tokugawa Iemitsu. Iwashimizu Hachimangu's buildings were thus maintained and extended throughout the centuries to reach their present days size as soon as 1634. The shrine always succeeded to go through the vagaries of history, without losing its glory.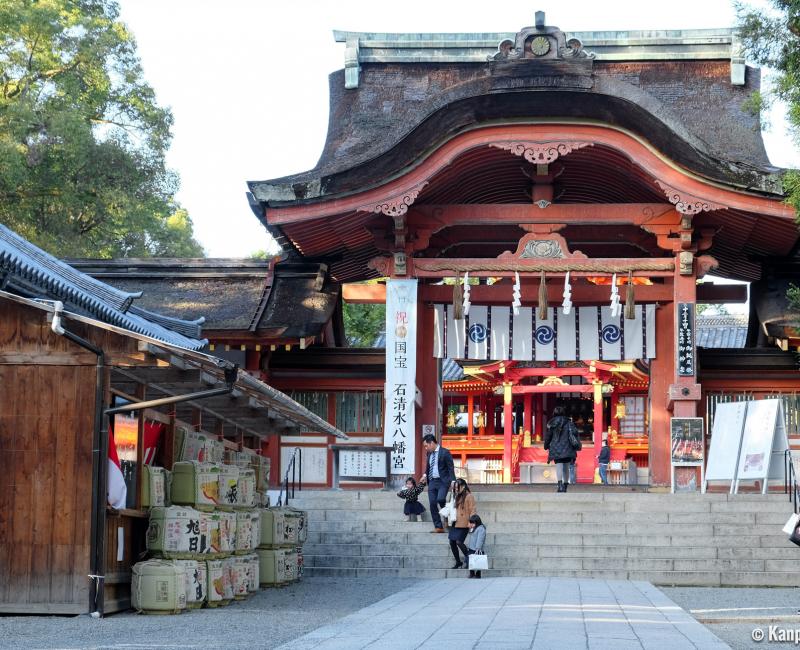 A plethoric architecture
And that is what attracts visitors in Iwashimizu: the lavish beauty of its main hall, still perfectly maintained. Sculptures and painted works enliven the walls with naturalist sceneries featuring several sacred animals such as a dragon, a tiger, and cranes. There is also a couple of doves, the messenger bird of Hachiman-Okami god.
Beyond the architecture, we recommend taking the time to explore the shrine's grounds and find the historical hints scattered everywhere in the surrounding forest. Two cherry trees 🌸 alley, one of which being arranged around a natural observatory, offer a pleasant spring landscape.
The summit of Mount Otokoyama, directly connected to Yawata station by a cable car 🚙, is home to beautiful and authentic discoveries.
This article was written after a tour sponsored and organized by San'in region Tourism Organization. Kanpai has been invited and guided but keeps a total freedom of editorial content.