Byodo-in
The Phoenix Temple
Add to my favorite places
Byodo-in is a Buddhist temple located in Uji, a small town in the Kansai area, about fifteen kilometers in the south-east of Kyoto. Renovated in 2014, it was listed in the UNESCO World Heritage and designated National Treasure of Japan. Its majestic main hall spreads its wings like a phoenix and shelters an image of Buddha Amida.
Every traveler in Japan already had the Byodo-in in their hands at least once, without even noticing it. For this magnificent building in Uji simply decorates the back of ¥10 coins.
Built in 998, the Byodo-in was first used as a secondary residence for statesman Minamoto no Shigenobu. Bought after his death by one of the senior members of the Fujiwara clan, the villa was converted into a Buddhist temple in 1052. The building which can be visited today did not appear until the following year (under the original name Amida-do). The other ones were destroyed during a civil war in 1336.
Thus, of the original building, only remains the main element: Hoo-do, literally the "Phoenix Hall". It takes this distinctive name from the form created by the structures on each side, which unfold like the wings of the famous bird. On the roof, there are also two golden phoenix statues.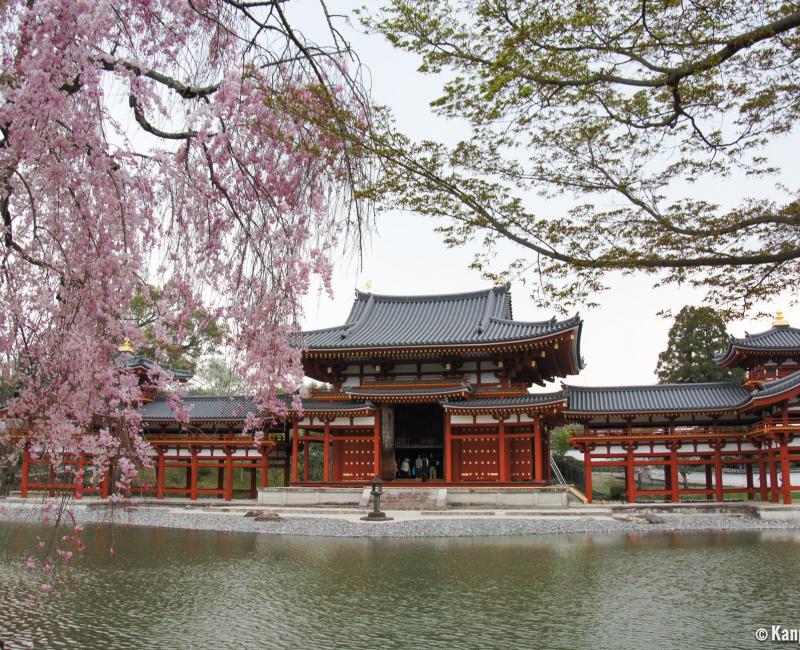 The inside of the pavilion is open to the visit and one can admire a (three meters high) sitting sculpture of Amida Buddha covered with gold leaf. The guided tour in Japanese lasts about twenty minutes, but taking pictures is forbidden. Classical Yamato-e paintings adorn the surrounding great wooden doors.
The outside visit is organized around the pond, in a beautiful setting even adorned by a few cherry blossoms in spring 🌸. Further back, a modern building is dedicated to the treasures and history of Byodo-in.
A World Heritage and UNESCO site, Uji is located just a short distance south of Kyoto. Going to the Byodo-in, National Treasure of Japan, is a short and very pleasant stroll, if somewhat expensive. On the JR Nara line, the tour also combines ideally with Fushimi Inari Taisha or Tofuku-ji in one single day.