Buying or Renting a Kimono or a Yukata in Japan
⏱ 5 minutes
Japanese people still love to dress in wafuku, the Japanese traditional clothing, and especially in kimono 👘 and yukata, for special occasions. These robes also fascinate people who love Japan, and many visitors are keen to buy their own, or at least to try donning them once.
However, buying a kimono is no small purchase, even for the entry-level ones. In addition, donning and maintaining a kimono require knowledge and skills, and consequently they are not suited for the daily life. For example, women in kimono must walk by small steps which give them a slower and faltering pace. One must also be well-acquainted with the costume to move gracefully in this cloth that imposes a shape and a posture. In addition, just donning the kimono usually takes about thirty minutes for a woman, including a simple hairdo.
The number of people wearing wafuku has consequently dramatically dropped and it is often necessary to request the help of a professional, the kitsukeshi (着付師) to don a kimono. Many of them provide advice on internet 📶 and even tutorials for each stage of the clothing process. Professional dressers have designed a wide range of services related to the traditional clothing: kimono rental, but also accessories rental, dressing, make-up, and commemorative pictures for each occasion in life and all ages.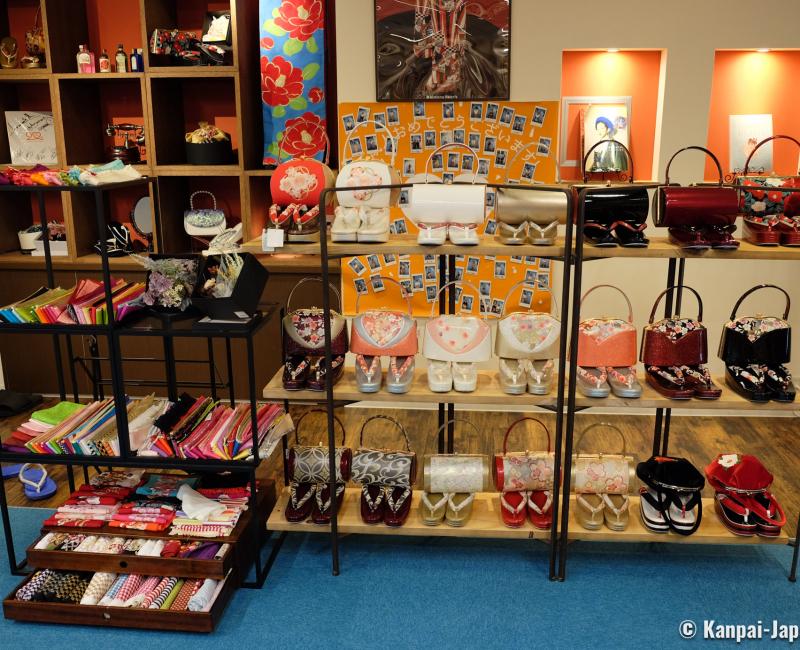 Kimono or yukata rental: the easiest solution
The cost and the difficulties to maintain kimono are the main reasons people refrain from purchasing them. Therefore, the rental of traditional clothing has developed, allowing anyone to dress up occasionally, without the inconvenient of owning one or several kimonos. Japanese largely appreciate this service, but it is also accessible to tourists looking to enjoy the "Japanese dream" for one day.
Thus, some brands, such as Kimono Hearts and its shops in Japan's main cities, deliver a comprehensive service including:
Rental of wafuku,
Make-up,
Hairdo,
Photoshoot session and keepsakes in the form of printed materials or albums.
These kinds of all-inclusive formulas are very appreciated by the Japanese, to celebrate the important events in life: diploma ceremony, coming of age ceremony, etc. Moreover, for women, there is a large choice of colors, patterns and kimono types, as well as accessories: long-sleeve furisode kimono, hakama pleated trousers, haori vests, etc.
The service is not exclusively offered to local customers, but the necessity to prepare beforehand can make its access difficult for tourists staying a short time. Moreover, the wafuku worn for important ceremonies are often rented a long time in advance and their availability might be less or none during the stay, especially in January and in April. The budget is not cheap either (from ¥39,800 / ~US$294.20) but dimensioned to the quality of the service.
Fortunately, one-day rental formulas, more suited to touristic use, are available from ¥2,800 (~US$20.70) per person, including the dressing up, for the simplest clothes such as yukata. The price will raise accordingly with the options selected (accessories, hairdo, photoshoot session with a professional photograph, etc.) and the quality of the rented clothes.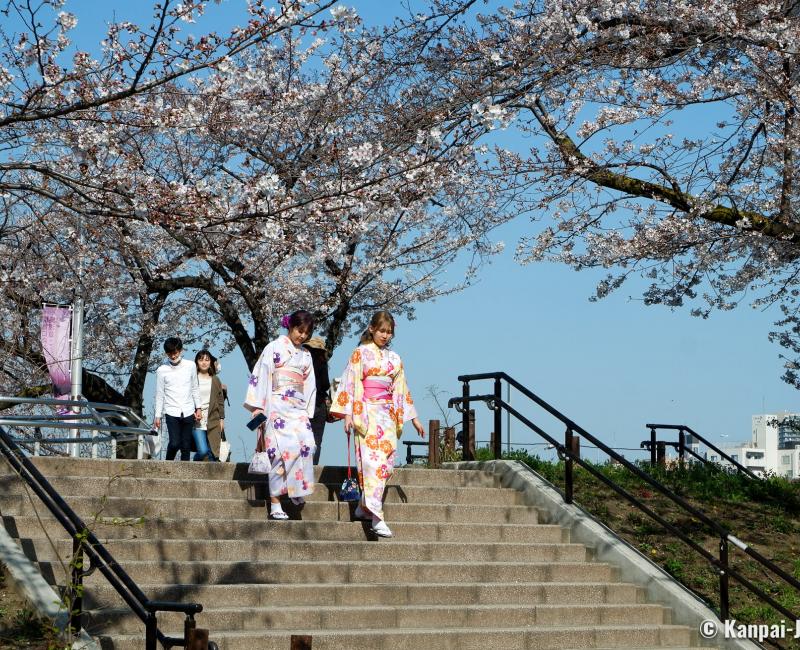 How much is a new kimono or yukata?
If the rental experience was successful, or if you want to come back with a nice souvenir from Japan, you might consider buying a kimono or a yukata.
A new kimono can be quite expensive. Indeed, one must consider the whole set of clothes including naturally the robe, but also the obi belt, the zori, a purse for women, and a haori for men. Even when avoiding high-end shops such as Shirataki, it will cost at least:
¥50,000 (~US$369.60) for a plain formal kimono for woman,
¥35,000 (~US$258.70) for a kimono for men, to which one must add about ¥15,000 (~US$110.88) for the haori.
Prices raise accordingly with complex patterns and / or the quality of the fabric.
For those who can afford it, kimono are sold on line by specialist shops (kimonoya 着物屋) or in districts such as Omotesando, Ginza, Shinjuku, and everywhere in Japan.
It is easier and more affordable to purchase a new yukata, as many brands have it in their seasonal lineup, such as Uniqlo. Even in supermarkets, it is possible to find surprisingly interesting items just before summer and in June.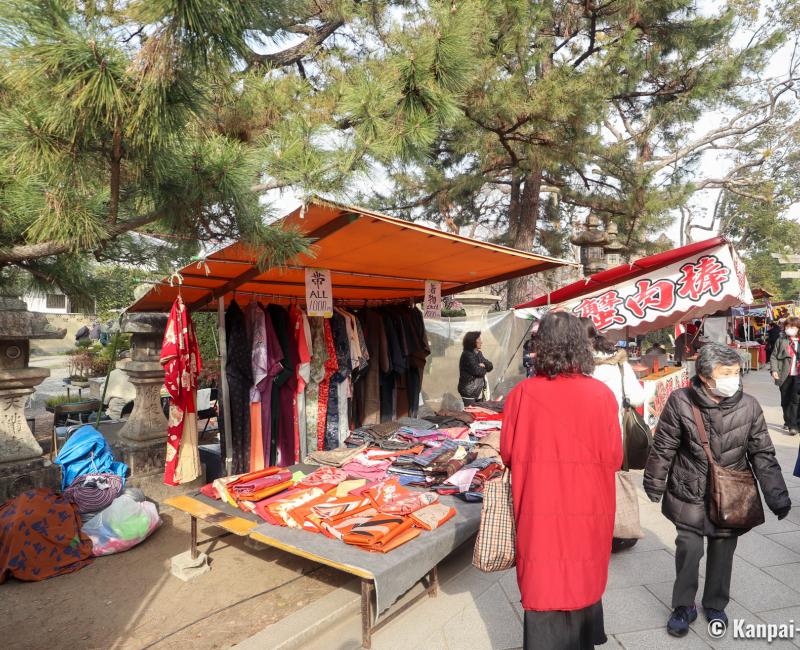 The unavoidable second-hand market
The easiest way to find an affordable kimono or yukata is to explore the second-hand market. Prices start from a few tens of dollars for used clothes, depending if they are recent, according to their materials and the complexity of their patterns, especially on online platforms such as eBay or Rakuten. Naturally, the oldest / more ornamented the used kimono or yukata is, the more expensive it is. Obi belts can be found from about fifty dollars as secondhand items.
In Japan, feel free to visit the flea markets, especially those of temples and shrines. Kanda Myojin's flea market, in Akihabara, also sells traditional accessories, amikago and fans from ¥100 (~US$0.74). The second-hand shops in Koenji often have supplies of yukata at small prices. Some shops of the chain Book Off even sell second-hand clothes.
Some shops are specialized in second-hand clothes, such as the chain Chicago, where one can find wafuku all year long at affordable prices (about ¥1,100 / ~US$8.13 the kimono robe for the lowest prices). Chicago owns several shops in Kyoto and Harajuku, and one is totally dedicated to old kimonos.
Lastly, if you like vintage items, Fabric Street in Nippori district in Tokyo, is the best place to do shopping without going bankrupt.