Kakigori
🍧 Japanese Summer's Frozen Dessert 
⏱ 4 minutes
Kakigori is a sweet Japanese dessert composed of a mound of shaved ice, flavored with matcha tea or fruit syrup, and garnished with condensed milk or azuki sweet bean paste. Its lightness and freshness are particularly appealing in summer.
In the blazing hot and humid Japanese summer, local don't turn to ice cream but look for a more refreshing and less caloric cold dessert: the popular kakigori 🍧 shaved ice. Its characteristic light texture feels like snowflakes that just fallen from the sky.
This delicacy's origins date back to the early Heian period (794 - 1185) when the Japanese aristocracy discovered the benefits of ice in summer. Directly sourced from the summits to guarantee the purest ice, the ice blocks were preserved in caves on the mountainside. In summertime, the blocks were shaved to collect a light and very digest ice.
Contrary to sorbet, whose recipe includes flavoring the water before freezing it, the kakigori is not primarily crushed nor mixed with sugar and fruits. It is first and foremost a block of pure ice thinly shaved with a special machine. Then the small pile resulting from shaving is flavored with syrups or other sweeteners and toppings to give it more smoothness and delicacy.
The results is a colorful and generous dessert, as good as beautiful. One must be quick to take a picture of it, as the kakigori will quickly melt and lose its appeal.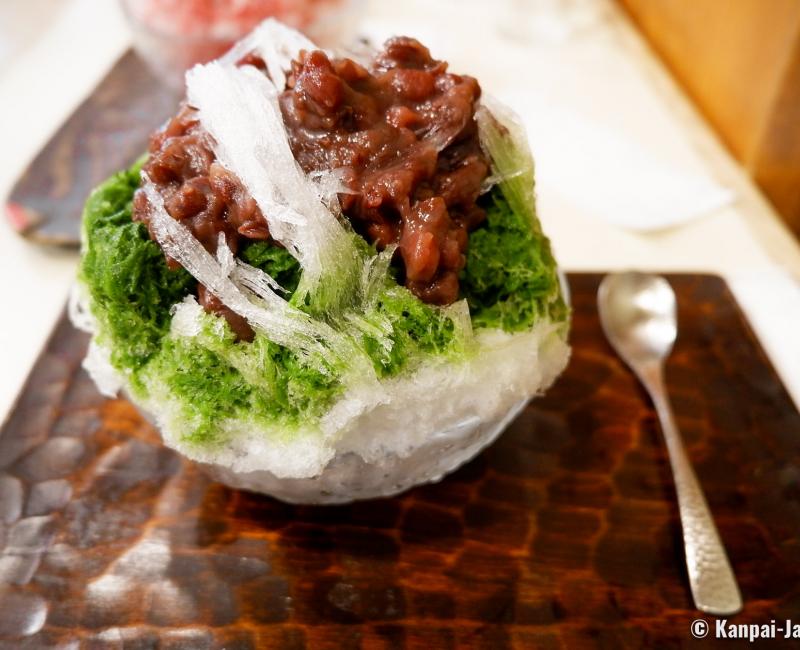 Kakigori classical recipes
In the original recipe, the pile of shaved ice is drizzled with matcha green tea syrup, sesame seeds and sweet anko paste, made from azuki red beans. The traditional kakigori are:
Kori Azuki or Azuki Kakigori (小豆かき氷), the ice is drizzled with colorless sugar syrup and topped with an azuki sweet bean paste,
Milk Kintoki (ミルク金時), with the same ingredients as the latter, and adding sweet condensed milk, it is young people's favorite dessert,
Uji Kintoki (宇治金時), means "the Golden Age of Uji", the ice is topped with high quality Uji green tea syrup, condensed milk and azuki sweet beans. Mochi glutinous rice balls can also complement the ice.
Kakigori made with seasonal fruits are also quite popular. The most common flavors are strawberry, blueberry, cherry, lemon, mango and melon. It is also possible to find coffee or chocolate flavored ice, according to the ever changing summer trends and the inspiration of the specialized shops.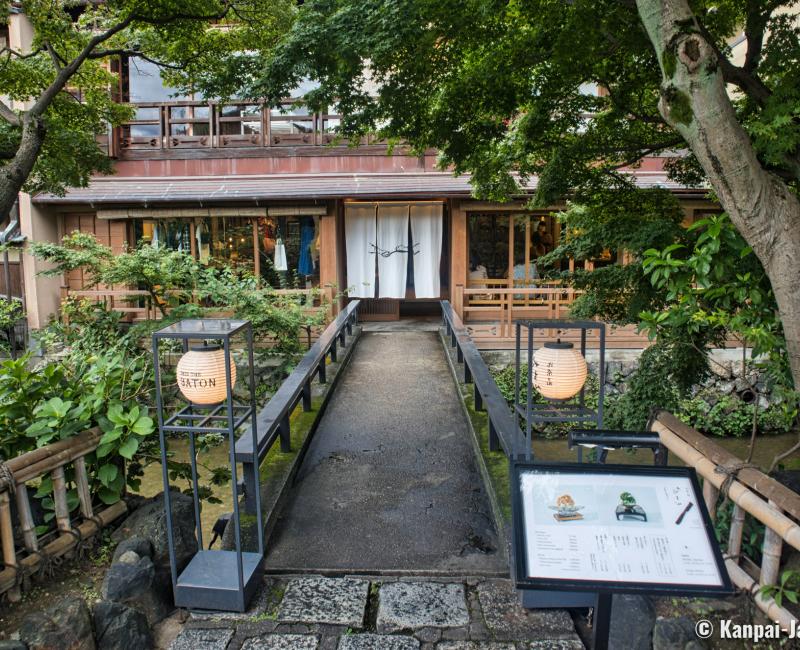 Where to eat this typical ice dessert in Japan?
Several types of Japanese places add the kakigori shaved ice to their course in summer. The excellence of the dessert depends on the thinness of the ice shavings and the quality of the toppings:
Yatai food stalls, usually placed at the entrance of temples and shrines during festivals. Their kakigori is usually inexpensive, with prices ranging from ¥250 (~US$1.85) to ¥300 (~US$2.22). However, do not expect the best of this type of dessert, but kakigori that are nonetheless enjoyable.
Some cafes and confectionery shops add kakigori desserts to their line up in summer, with sometimes limited editions and creative flavors: yuzu lime and meringue, coconut-pineapple, cappuccino, etc. For example, Pierre Hermé's shaved ices are a real feast for the eyes and the taste buds. Allow from ¥600 (~US$4.44) to ¥1,500 (~US$11.10) to enjoy a more elaborate kakigori at a cafe.
Traditional tea shops and their Zen atmosphere give a more sophisticated setting to discover upscale desserts, designed with ingredients carefully selected and locally sourced. It is often required to book in advance, expect spending from ¥1,200 (~US$8.88) to ¥2,000¥ (~US$14.81) for a lavish kakigori.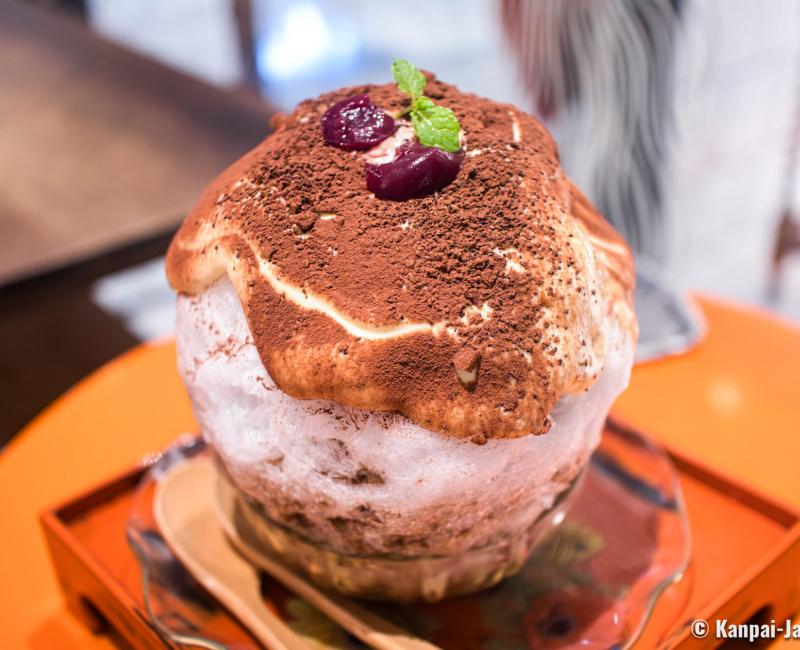 In addition, we have selected a short list of good places in Tokyo and Kyoto, that we have tried and approved:
Those who would like to make their own shaved ice can find in Japanese supermarkets the necessary utensils, namely a kakigori machine, operated by a crank either manually or automatically, with a blade to shave the ice block. Ready-made fruit syrups are also available for toppings.
The kakigori is one of the iconic food of the Japanese summer. It is fresh, satiating and easy to digest, and helps to endure the high temperatures in the archipelago during July and August. With many possibilities for toppings, it can be enjoyed by all.