Gion
The Traditional District in the Heart of Kyoto
Add to my favorite places
Gion is one of Kyoto's historical districts, located in the center, close to Shijo avenue. Originally a stopover for the visitors of Yasaka-jinja shrine, this traditional area happens to be very appreciated by tourists today, as they may see here Geisha and Maiko at nightfall. On the daytime, the old townhouses lining up the streets display a typically Japanese architecture.
In the heart of Kyoto, only a few minutes away from the eponymous station by public transportation, Gion (to be pronounced "gea-on" and not "jion") is now particularly loved by international tourists. This district is very typical and relaxing, and hides numerous machiya (traditional townhouses that were often converted into commercial stores) in which it is sometimes hard to enter without an invitation or a consequent budget.
Gion district is named from the neighboring large shrine Yasaka-jinja that was formerly named Gion-sha. At the times, pilgrims stayed in this area that was a stopover to rest with inns, restaurants and other places to relax. The district is now sheltering 2 of the 5 hanamachi ("flower towns"), that is to say the Kyoto Geisha districts, named Gion Kobu and Gion Higashi. Lanterns 🏮 hanging at the front of the houses are all decorated with the district's symbol. Moreover, its streets are notably renowned for hosting one of the biggest festivals in Japan each summer: Gion Matsuri.
Gion district is organized around 3 main alleys, with specific cityscapes and functions: Hanamikoji, Shirakawa and Pontocho. Beware however when taking pictures : since 2019, October 25 shooting the private streets in the area is forbidden and can be punished by a ¥ 10,000 (~US$66.31) fine.
Hanamikoji-dori, the street of geiko and maiko
Hanamikoji street is the most famous and iconic, located in the heart of the district: between Shijo, Gion Kobu Kaburenjo Theater and Kennin-ji temple. On a 1 kilometer span, it concentrates the most traditional architecture and hosts many upscale restaurants and shops.
A favorite among tourists, Hanamikoji-dori is renowned as the place to encounter Gion's geiko and maiko at nightfall when they walk from their okiya living quarters to one of the ochaya teahouses for private performances.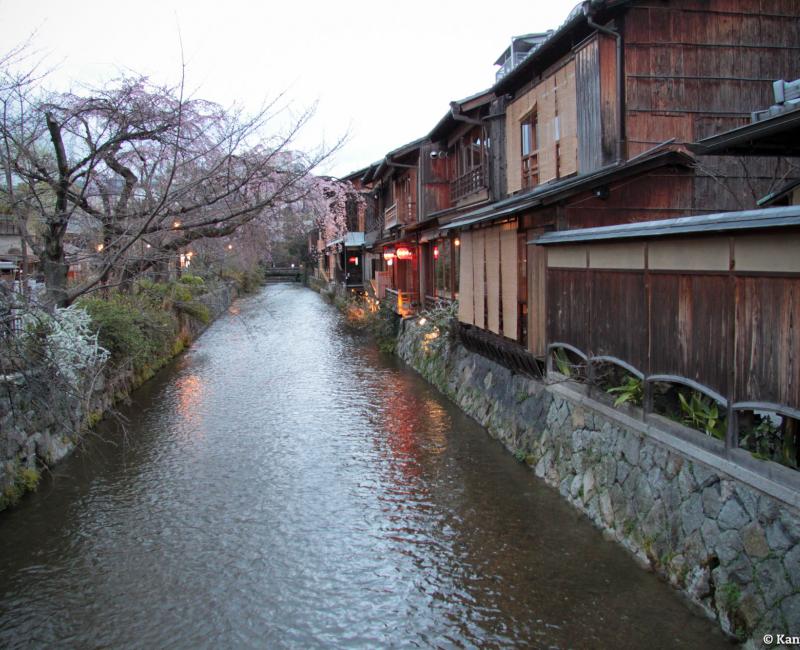 Shirakawa, the bucolic waterway
Shirakawa is characterized by its sumptuous promenade along the eponymous canal, its restaurants whose rooms are directly over the river and that can be reached by crossing charming small bridges. The banks of the river are lined with cherry trees and are therefore even more pleasant to discover in spring during the sakura 🌸 blossom season, and in autumn 🍁 when the foliage turns orange and red.
At some point, you'll find the tiny Tatsumi-jinja shrine, with its bright vermilion and black that enliven the place's wooden architecture. Then, we recommend taking Shinbashi-dori street, that is less frequented by tourists but still beautiful and traditional. In the beautiful season, it is frequently used as a background by young couples for wedding photo sessions dressed in kimono 👘.
Pontocho, the nightlife alley
At the Western end of Gion, between Shijo-dori and Sanjo-dori, on the other side of Kamo-gawa River, Pontocho is a narrow but famous street of Kyoto. It is known to be the home of many restaurants of Japanese and international cuisine, and is especially lively in the evening.
There is also a Geisha district in Pontocho where geiko and maiko perform each year their Kamogawa Odori dance performance.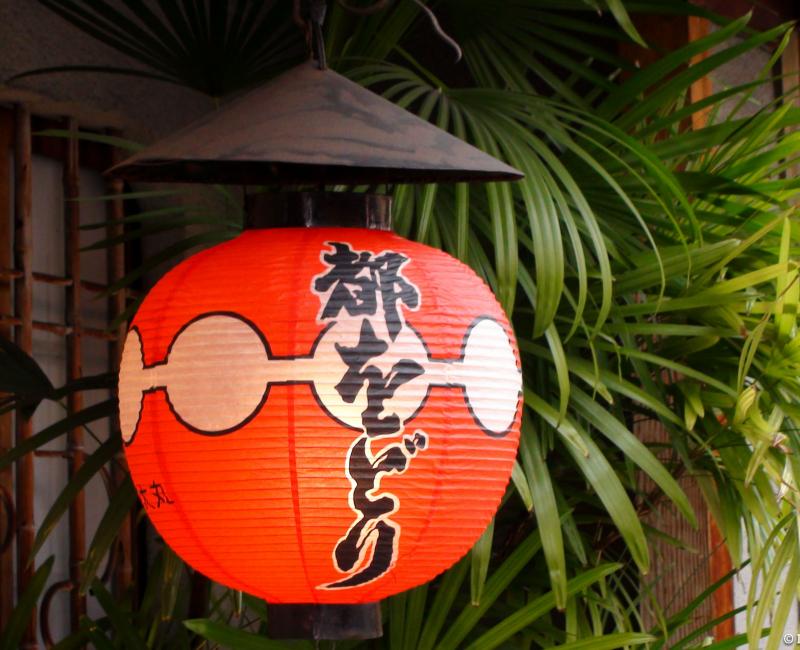 Theaters and traditional performances
The district altogether is mainly to be enjoyed for its sights, and also for its traditional Kabuki theaters, where Gion's Geisha perform Kyo Odori and Miyako Odori seasonal dances. There are not numerous nor notorious temples, with the exception, of course, of the famous Yasaka-jinja, easily reachable by public transportation and at the large crossing of Shijo and Higashioji-dori.
The simplest way to admire Maiko shows for overseas tourists is to go at "Gion Corner" whose website has been translated into numerous languages.