Sakura: Japanese Cherry Blossom
🌸 (o) Hanami, an Early Spring Tradition
⏱ 7 minutes
Sakura is the Japanese word for the Japanese cherry trees and their flowers. Among the numerous varieties, the slightly pink white cherry tree somei yoshino is the most widespread. Sakura have a very strong presence in the Japanese society and culture. Their flowering in spring time is celebrated all around the archipelago (this is called hanami or ohanami) and offers absolutely stunning landscapes.
Weather forecasts are all about this event at this time of the year (it is called 桜前線 sakura 🌸 zensen) and some websites give real time reports on percentage of sakura blossoming in all Japan, in order to enjoy as much as possible their beautiful views.
Families and friends gather to photograph cherry blossoms and settle down in parks for a nice picnic: eating and drinking (beers 🍺 or sake 🍶) under the trees, on their famous blue tarpaulin covers, sometimes booked a long time in advance. This tradition is called 桜お花見 sakura ohanami which literally means "the contemplation of cherry blossoms", during which Japanese people sometimes spend most of this time drinking rather than actually looking at the flowers!
We put together a video of the different types of flowering Japanese cherry trees, recorded during our own travels in Japan:
Types of sakura and cultural presence
There are different types of sakura in Japan (actually up to several hundred varieties in total), out of which flowers' colors can vary from immaculate white to strong pink, including a more or less pale yellow:
The most frequent and appreciated species is somei yoshino, a white variety with light pink tones whose flowers are ornamented with 5 petals. Some, like the shidarezakura, only refer to a specific form such as the "weeping" cherry tree.
Others can be recognized thanks to their color shade: yellow for the ukon, for example.
Finally, some very dense species exist such as ichiyô or kikuzakura, which can have up to a hundred petals!
Non-specialists may confuse cherry blossoms and plum or peach blossoms. Additionally, some early cherry tree varieties (kawazu-zakura, kan-zakura and kan hi-zakura) bloom as soon as the end of winter, at the same time as the plum trees. To make sure you are viewing sakura, check if the flowers grow in clusters on the branch, and if their petals have an indentation (they are not round like the plum trees' nor in the shape of a droplet like the peach trees'). Moreover, the trunk displays a zebra pattern.
For contemplative Westerners, Japanese cherry trees correspond to the "Prunus Serrulata" species, which does not produce cherry fruits. However, numerous food products are flavored with "sakura flavor" when spring is around the corner. Among the most famous, we can cite:
mochis, delicious sticky desserts made from rice;
special KitKats;
or even a seasonal collection of Asahi beer, Pepsi soda, Starbucks Frappuccino or even the McFlury.
The sakura flower is so famous that it is the symbol of the ¥100 (~US$0.68) coin! And at last but not least, Sakura is also a first name.
Whatever it is, this is a tradition that we do recommend to all of those travelling in Japan at this period, and also because Spring is an ideal season to enjoy the country.
Be aware, however, that some places might be very crowded, a major drawback and sometimes a cause of unpleasant visits.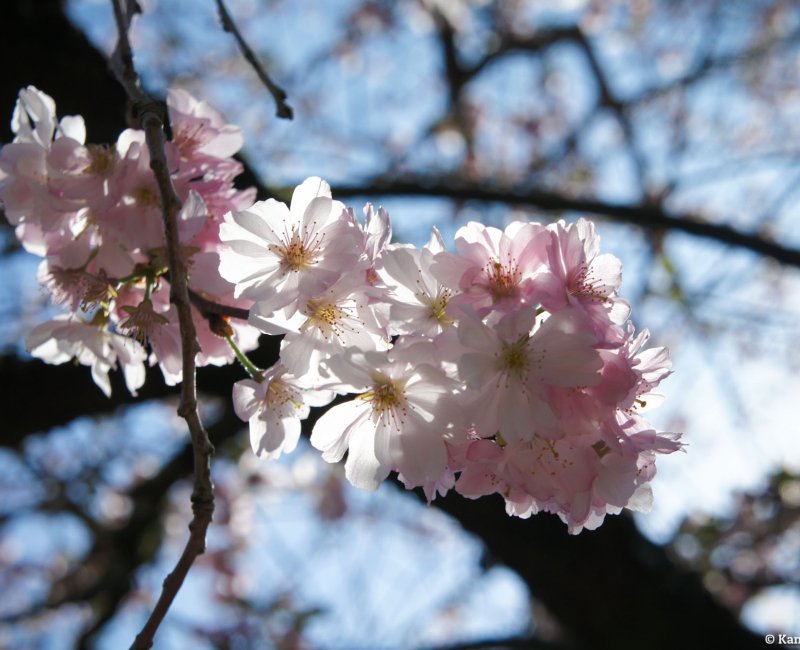 When to admire cherry blossoms in Spring 2023?
To plan you trip to Japan during Spring and to benefit from gorgeous sceneries offered by the sakura, it is essential to know the average blossoming calendar.
The sakura bloom depending on the Japanese region and the previous weeks' weather, generally between the end of March and mostly early April each year, for the most touristic regions of Japan. However it does start as early as the end of January in Okinawa, which benefits from a more tropical climate, and continues up to late April and even to the beginning of May in the north of Honshu and on Hokkaido, where temperatures are colder.
Below is the blooming forecast for 2023 hanami, provided by the Japan Meteorological Corporation (that has been collecting such data since 1953). In the past few years, the first flowers bloomed on average 5 days earlier than the usual date, with a cherry trees full bloom occurring as soon as the end of March (instead of early April) in the largest touristic cities.
The full blooming peak, called 満開 mankai, only lasts a few days. During this time, some of the most renowned and touristic sakura spots offer 夜桜 yozakura (light-up): the lighting of trees in the evening, to appreciate them with a new eye.
When the petals start to fall 🍁 down, it creates a false image of a snow storm which is named 花吹雪 hanafubuki or 桜吹雪 sakurafubuki in Japanese.
Once the blooming is over, the bad weather having swept away the flowers, the cherry trees let burst their powerful green leaves: they are then called 葉桜 hazakura (leafy cherry trees).
A rare phenomenon occurred in October 2018: the blooming of 350 cherry trees out of season throughout Japan, in relation with global warming and the powerful typhoons 🌀 that hit the archipelago at the end of summer.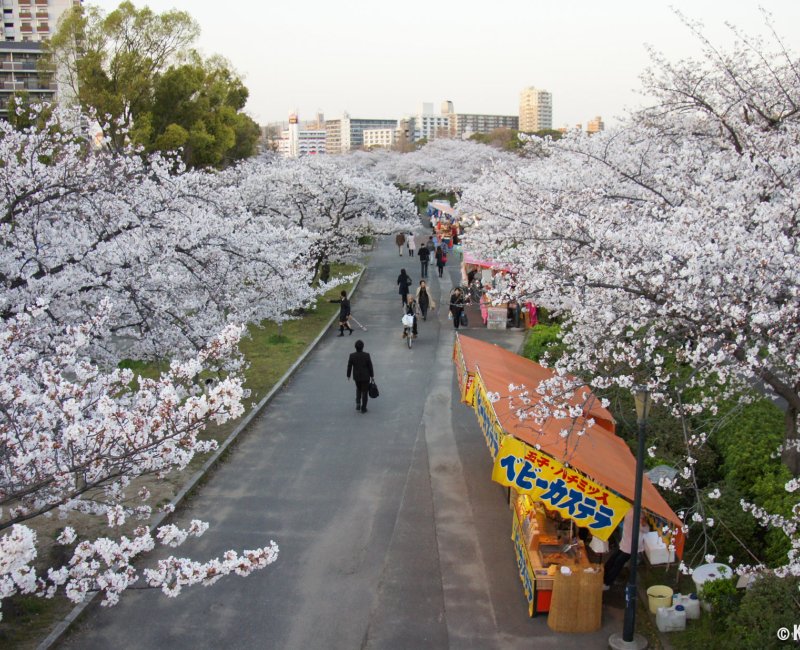 Where to do hanami in Japan?
Here is a summary of must-see touristic sites, by cities and regions, in order to enjoy as much as possible the beauty of sakura during spring. Some of these sites listed below also offer a sakura matsuri ("cherry trees festival") where to do ohanami during the peak of the season.
For an optimal follow up of the (short) blooming season, it is strongly recommended to move with the Japan Rail Pass.
Tokyo and surroundings
Tokyo: Shinjuku Gyoen (very large), Ueno park (the most crowded), Chidorigafuchi (pedalo rental), Naka-Meguro canal (Megurogawa) or Shakujiigawa, Asakusa Sumida park, Rikugi-en (and its huge weeping cherry tree), Roppongi Mori park, Yanaka cemetery…
Kamakura: Tsurugaoka Hachimangu, Kencho-ji, Kotoku-in (Great Bouddha), Komyo-ji, Ofuna Kannon-ji
Yokohama: Sankei-en park, Motomachi, Yamanshita, Kamonyama, Mitsuike and Mitsuzawa, the forest of Negishi park, Kishamichi promenade, Ooka river, Shomyo-ji temple
Tachikawa: Showa Kinen Koen park
Izu: Kawazuzakura
Chiba: park
Kyoto and Kansai area
Kyoto: Nijo castle, Philosopher's path, Maruyama park, Okazaki canal, Keage Incline, Heian shrine, Arashiyama, Daigo-ji, Kiyamachi street, Hirano shrine...
Osaka: Kema Sakuranomiya park, Mint Bureau, Castle's Park, Expo'70 Commemorative Park, Nagai Park, Shirokita Park, Gokoku-jinja...
Yoshinoyama: One of the most famous spots all around Japan with its 30,000 trees!
Himeji : around the castle
Wakayama : castle and Kimii-dera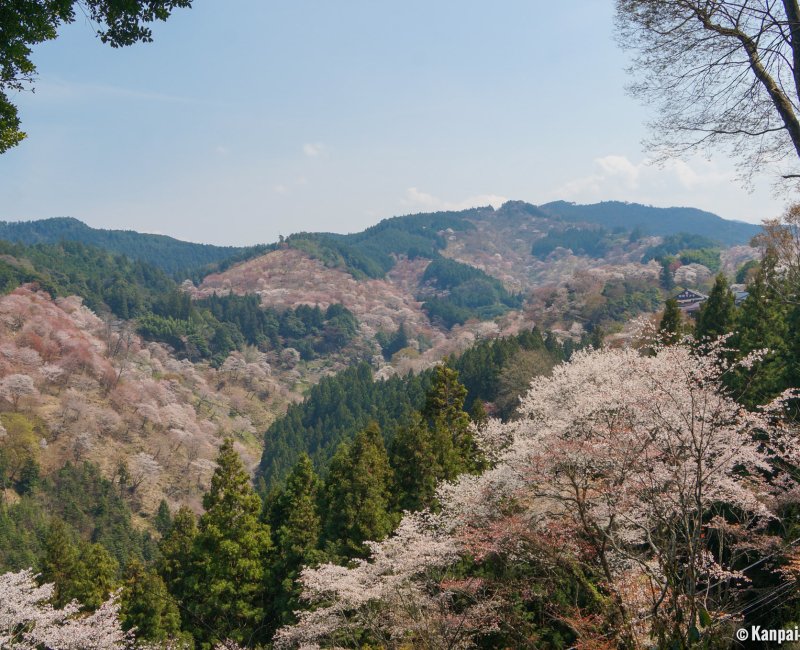 Mt Fuji and surroundings
Kawaguchiko (and its Shibazakura festival)
Chureito Pagoda
Odawara: around the castle
Central Honshu
Kanazawa: Kenroku-en, castle
Nagano: Takato-joshi park
Okazaki: around the castle
Gifu: Takayama, Shinsakai river, Usuzumi
Nagoya: Tsurumai park, castle
Aichi: Okazaki park
Northern Japan
Hokkaido: Goryokaku park (star-shaped park sheltering 1,600 cherry trees) in Hakodate, Odori Park in Sapporo, Makomanai, Moerenuma and Matsumae, Shizunai Nijukken (Hidaka)
Aomori: Hirosaki and Ashino parks
Iwate: Kitakami Tenshochi
Fukushima: the gigantic Miharu Takizakura, Hanami-yama park, Shinobuyama park
Miyagi: Ogawara / Shiroishi-gawa Tsuzumi (1,200 sakura over 8 kilometers along the river)
Niigata: around the castle / Takada park
Yamagata: Kajo park
Western Japan
Hiroshima: Peace park, Senkoji park, Ueno park, castle, Shukkei-en garden, Ebayama park, Hijiyama park, botanical garden
Miyajima: Itsukushima shrine
Iwakuni: Kintai-kyo bridge
Mihara: Mitsuki Hachimangu shrine, Mount Fudekage
Onomichi: Senkoji park
Fukuyama: castle park
Kure: Ondo no Seto park
Tottori: Utsubuki park, Minatoyama
Okayama: Tsuyama castle, Korakuen
Shikoku: Ritsurin park, Tokushima central park, Shiude-yama (Kagawa), Hirakiyama park / Matsuyama Shiroyama park (Ehime)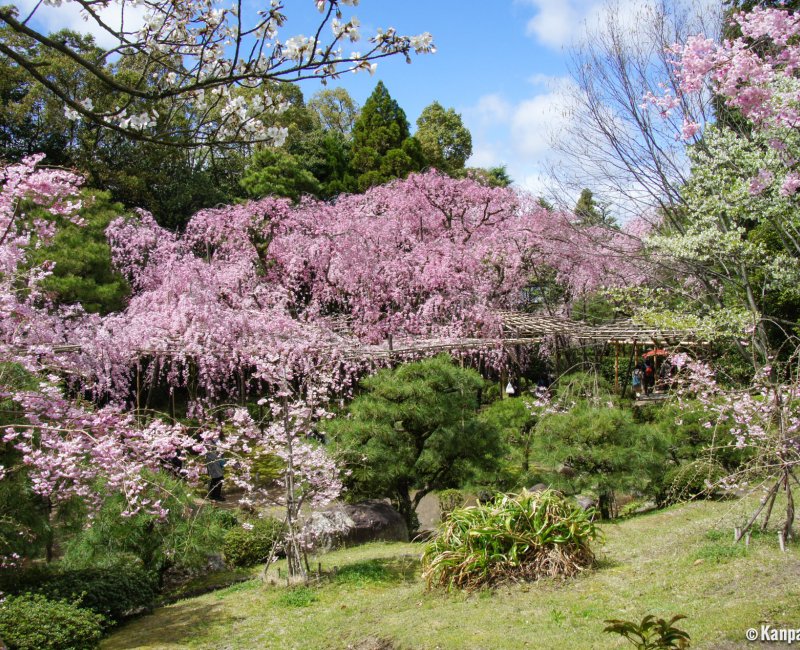 Kyushu
Fukuoka: Maizuru park, castle, Atago shrine, Nishi park, Katsuyama park
Kumamoto: castle, Isshingyo
Nagasaki: Omura park
Miyazaki: Saitobaru Kofungun, Goryohakamae
Kitakyushu: Katsuyama park (Kokura castle)
Saga: Mifuneyama Rakuen, Ogi park
Akizuki: Akizuki Sugi no Baba
Fukutsu: Miyajidake Jinja
Kurume: Asai no Ipponzakura, Hyakunen park, Hosshin park, castle ruins
Nakama: Habu park
Itoshima: Kafuri park
Kagoshima: Kotsuki river
Okinawa Honto
Nakijin Castle on the Motobu Peninsula
Yogi park in Naha
... And so many other confidential places all around the archipelago.
As a last anecdote, the oldest cherry tree of Japan is found in Jisso-ji temple, in Yamanashi prefecture, almost at mid-distance between Mt Fuji 🗻 and Matsumoto. It is called 神代桜 Jindai Zakura, it would be more than 2,000 years old and its trunk circumference reaches 13.5 meters!