Gion Matsuri
Kyoto's Great Float-pulling Festival
Add to my favorite places
Gion Matsuri is one of the more important annual festivals of Kyoto, linked to Yasaka Jinja shrine: it occurs during the whole month of July, with two main dates, the 17th and 24th of July, when traditional processions happen in downtown Kyoto. During the two to three days preceding the parades, smaller streets nearby become lively, with a warm summer atmosphere during the construction of the parades' decorated floats.
Summer is probably the best season in Japan to participate in a matsuri, as these popular festivals are everywhere in Japan during July and August. Among the great festivals of the Kansai region, Tenjin Matsuri in Osaka and Gion Matsuri in Kyoto are notable. The festival's origins date back to the 9th century, when Kyoto experienced strong flooding during tsuyu, the rainy season, accompanied by a plague due to dirty water and humid weather. Yasaka Jinja shrine therefore decided to have small sacred religious palanquin, called mikoshi, parade through the streets in order to get rid of back luck and wish for better health for Kyoto's inhabitants.
Since 2014, two decorated float processions happen during July:
Saki Matsuri, July 17: This is the "former celebration" where gods go out from Yasaka Jinja to purify and give blessings in the city's streets. This important parade is called Yamaboko-Junko.
Ato Matsuri, July 24: This is the "after celebration" where gods take the reverse journey to go back to the shrine.
During the parade, symbolic items are used and ritual songs are played to attract bad spirits inside the mikoshi. These are then immediately disassembled at the end of the festival so the spirits stay forever locked inside.
The path is the same for both days: Between the streets of Shijo, Kawaramachi and Oike-dori (between Karasuma, Kawaramachi, Kyoto Shiyakusho-mae and Karasuma-Oike stations).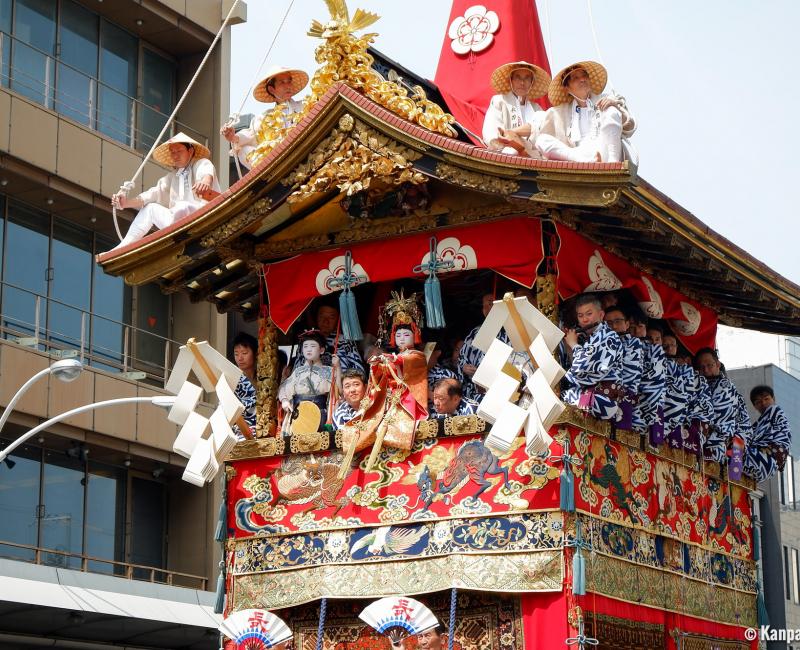 July 17th' s impressive parade
The morning of July 17 marks the true start of Gion Matsuri. Registered in 2016 at UNESCO's Immaterial Cultural Heritage, about 20 wooden floats, gorgeously decorated and of an impressive size, parade in Kyoto's main streets. There are two distinguishable types:
The "small" ones, called Yama, open on the top and weighing about 500kg or 1 ton; and
The "enormous" ones, called Hoko, on which the ceremonial and decorative arrow can reach up to 25 meters high for a weight between 7 and 8 tons. About 40 people are necessary to move these huge floats.
Constructed beginning on July 10 every year and ornamented in a very specific manner, each float represents a district of Kyoto. Beautiful and long Oriental and Western-style tapestries adorn their sides. The platform above stages musicians and residents dressed in traditional costumes in a Shinto atmosphere. It is a real delight for the eyes.
On the ground, brave volunteers pulling ropes to make the floats move take photographs in front of visitors one after another along the roads. To encourage them in this arduous work, the crowd constantly claps its hands at each float and several musical bands march to traditional music played with flutes and taiko drums.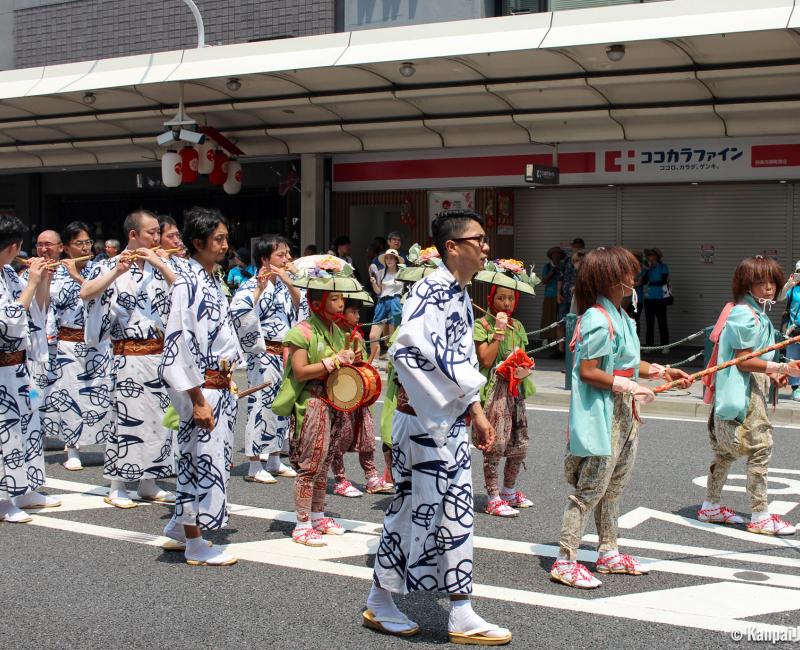 Attention to Japan's summer heat
In this convivial and easygoing atmosphere, the only drawback to Gion Matsuri during the day remains the weather, which is excessively warm and humid in summer. We have to stand for hours in summer to admire the whole procession. Therefore, here are some recommendations to enjoy Gion Matsuri in better conditions:
Arrive on-site early (around 8-8:30 a.m.) to choose a better place in the shade (on the good side of the road according to the sun)—or conversely, wait until 10 a.m. to replace the leaving first spectators.
Plan cold drinks and snacks, as there are no yatai, or typical daily food stalls.
Plan folding chairs for children and older people so they can sit during the parade.
It is possible to move around during a procession, for example to follow a float. However, pedestrian crosswalks are closed, and it is not possible to change sidewalks. Note that the crowd is denser at crossings to witness the impressive drives (to change directions) called tsujimawashi.
In 2023, Kyoto City Tourism Association offers a small number of strategically located seats to watch these delicate maneuvers at crossroads. This service, mainly targeting foreign tourists, includes real time explanations in English or in Chinese, and traditional Japanese food and drinks for the whole day on July 17, for a ¥400,000 (~US$2,674) ticket.
Parallel streets can also be a good choice for admiring the parade. Indeed, once it is over, each float returns to the parking place located in its original neighborhood. We can therefore enjoy the festival in another way, closer to local people. By doing so, we can shop in ephemeral stores, selling diverse cheap summer clothing and offerings dedicated to the parade. For geisha amateurs, some maiko attend this return of floats from their balconies.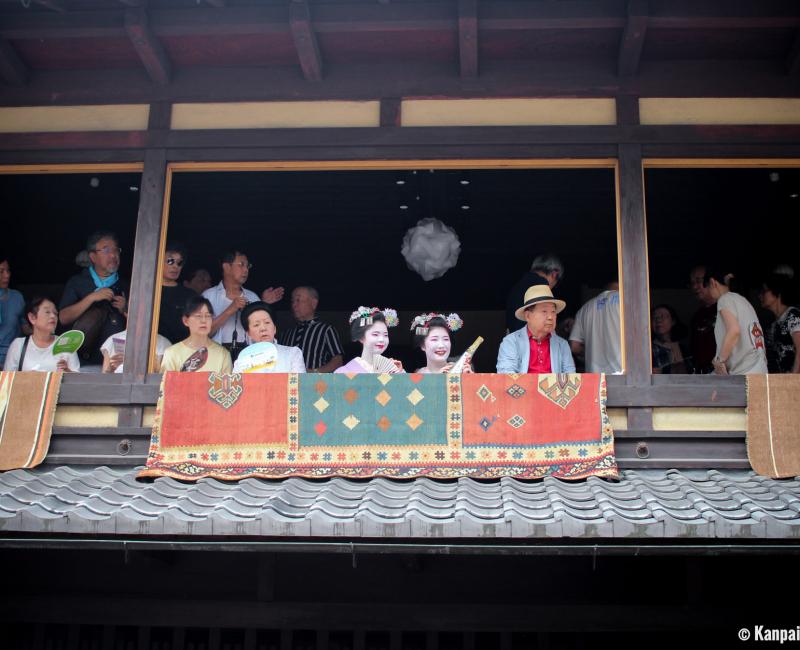 Gion Matsuri at Nightime
To discover another ambiance, Gion Matsuri is also celebrated on the three evenings preceding each parade, under the name of Yoi-Yama. We recommend the evenings of July 15th and 16th in preparation for Saki Matsuri. From the 18th to the 23rd during the night, smaller processions lighted by lanterns occur. Shijo-dori and Karasuma-dori become totally pedestrian and are pleasant to walk around. Less solemn and slightly jollier, friends and family gather to drink and dine in lower temperatures.
Apart from the dedicated streets blocked during the matsuri, the city remains totally accessible. All stores, temples and gardens remain open at their opening hours, and it is possible to take public transportation (the metro and other underground lines continue to circulate).
Visiting Kyoto in summer without witnessing Gion Matsuri would be a shame. This ancient festival is loved by inhabitants and summarizes all by itself the whole summer atmosphere of the city, where hospitality and social gatherings are celebrated. It is therefore an excellent opportunity to meet local people in prosperous conditions, especially since Kyoto suffers from over-tourism and some locals do not otherwise fully welcome numerous foreigners.