Higashi Hongan-ji
The Temple with the World's Largest Wooden Roof
Add to my favorite places
Higashi Hongan-ji is a religious complex of the True Pure Land (Jodo-Shinshu) Buddhism, located on Karasuma-dori avenue, near Kyoto's main station in Japan. Its monumental architecture renowned for being sheltered by the largest wooden roof in the world. Built in the 17th century, it is associated with a twin temple, Nishi Hongan-ji, located a couple of hundred meters to the west.
As can be deduced from its name, Higashi Hongan-ji is the "eastern Hongan-ji". Located to the north of Kyoto station and in its neighborhood, it can easily be pictured with Kyoto Tower in the background.
Like its western counterpart Nishi Hongan-ji, Higashi Hongan-ji belongs to the great Jodo-Shinshu Buddhism branch (The True Pure land School). It is the largest of the two complexes, with huge buildings, one of them, the Goei-do, or Founder's Hall, being one of the largest wooden building in the world, and the largest in Kyoto. Impressive seems a feeble word to describe its immense roof, of 76 meters length and 58 meters width. It may be a consequence of the construction's hugeness, but the Goei-do looks like the emptiest building in the temple's grounds.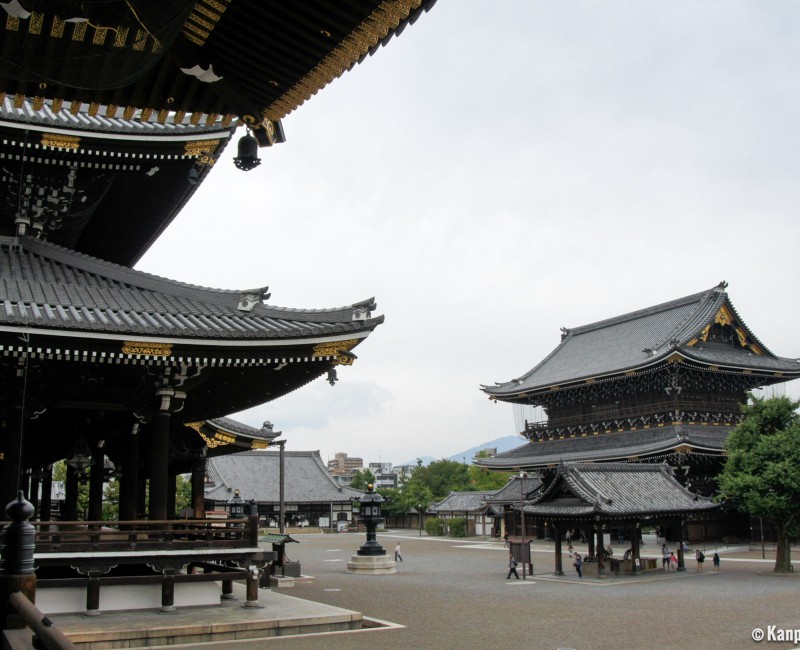 Built in 1602, when Hongan-ji was split in two, Higashi Hongan-ji is the most recent temple. It also suffered the tribulations of history and was devasted several times over the centuries: first by a fire 🔥 in 1617 that burnt down many of its original buildings (replaced with elements from the former Fushimi Castle 🏯), then by two other conflagrations in 1864 and 1895. The present days structures of Higashi Hongan-ji were thus built in the early 20th century, thanks to donations from all over Japan.
Behind its huge and magnificent gate, the temple is home to stunning and impressive halls. Dedicated to Shinran (the founder of the Jodo-Shinshu branch), as well as Buddha Amida, they open on wide indoor spaces, covered with tatami mats, allowing for a much-appreciated break in this bustling neighborhood.
At a couple of minutes' walk toward east, it is also possible to enjoy its detached garden, Shosei-en.