Kiyamachi-dori
Kyoto Cherry Trees Along the Takase River 
Add to my favorite places
Kiyamachi-dori is a picturesque and historical street hugging the eastern bank of Takase Canal, in central Kyoto's Nakagyo ward. It stretches on almost 3 kilometers north to south, parallel to Kamo-gawa river's right bank. Kiyamachi street is a renowned cherry blossoms spot in spring as well as a gathering festive place in the evening.
Kiyamachi Street is sometimes confused with Pontocho Alley, which is only a few meters away, also running parallel to the Kamo-gawa river. However, the latter is only 500 meters long while Kiyamachi-dori is 2,8 kilometers (1,24 miles) long:
From Nijo-dori at its northernmost end,
To Shichijo-dori in the south.
A narrow street typical of Kyoto's historical downtown, Kiyamachi-dori is following the Takase River, that was converted into a waterway in 1611 to facilitate freight between Fushimi Port and Nijo Castle 🏯.
The works at the time were supervised by Suminokura Ryoi (1554 – 1614), a prominent merchant of the Edo period (1603 - 1868) who specialized in maritime shipping and transportation. This new waterway was first used for the transport of building materials, such as wood, and charcoal. History lovers can start by the northern entrance of Kiyamachi to admire the replica of a ship loaded with freight at Takasegawa Ichi no Funairi (高瀬川 一之船入) bridge.
In the 18th century, the city's economic growth attracted a lot of traders who settled their shops along the canal. Restaurants and inns also opened to accommodate traveling merchants. Kiyamachi street, whose name in ancient Japanese means "the wooden stores lane," became a shopping area as well as a popular place for entertainment and meetings.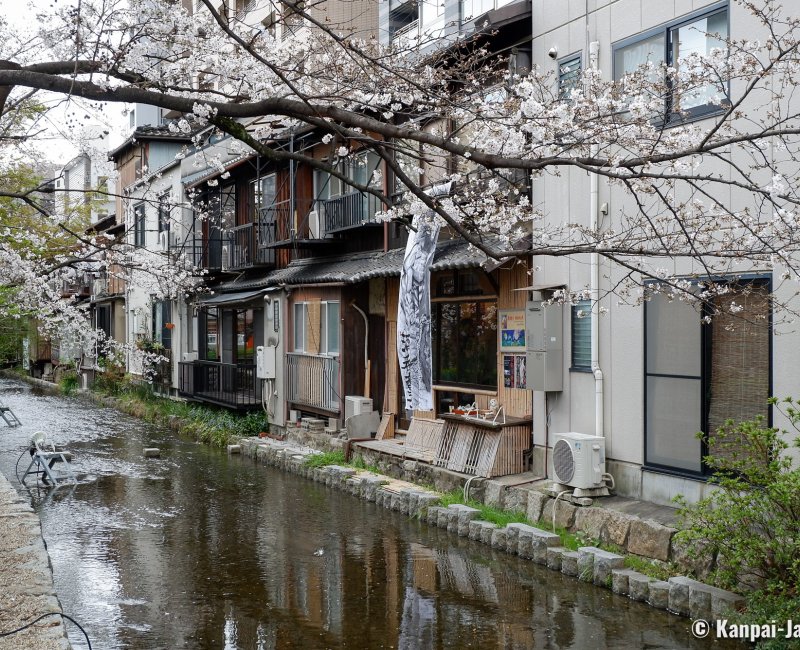 A lively nightlife
This festive atmosphere still exists in Kiyamachi-dori's nightlife. The street is indeed lined with restaurants and venues such as bars and clubs opening only at night. The ambiance is then more suited to an adult public, and families with children will better enjoy the street on the daytime.
As for food, a large array of restaurants is available, from pizzerias, to authentic eateries or upscale Japanese restaurants. Our non-exhaustive selection includes:
Chao Chao Sanjo Kiyamachi (浪花ひとくち餃子 餃々 三条木屋町店) is a small gyoza shop making delicious dumplings with fancy tastes such as shrimp, mozzarella tomato and even the sweet chocolate gyoza recommended by the chef;
Hakata-Nagahama-Ramen 

🍜

Miyoshi (博多長浜らーめん みよし) is another eatery specialized in tonkotsu ramen noodles, a dish originating from Fukuoka. Very famous in Japan, it has been visited by several Japanese celebrities, such as the famous J-rock singer Gackt who let his autograph there;
Sakuragawa (日本料理 櫻川) is an upscale traditional restaurant serving kaiseki cuisine and a Guide Michelin-starred establishement, with menus designed according to the seasons. It can cater to a maximum of 14 guests at each shift, so advance reservation is mandatory.
The main and liveliest section of the street is located between Sanjo-dori and Shijo-dori.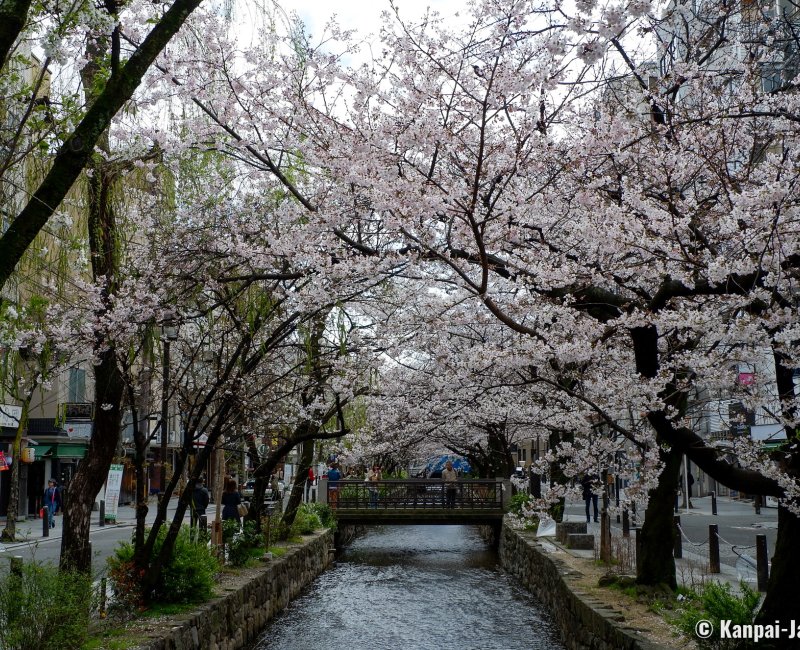 Sakura spot by the water in Kyoto
In spring, from late March to early April, the many cherry trees growing along the Kiyamachi-dori bloom profusely, with the long branches of the trees forming a beautiful pink tunnel above the river. The view from the many small bridges crossing the canal is worth stopping a few minutes to admire this so Japanese flowered scenery.
Spotlights illuminate the sakura 🌸 blossoms at nightfall from the canal to extend the beautiful view. At the end of the flowering period, the wind blows on the petals that fall 🍁 and provide a wonderful cover on the water surface.