Kyoto Tower
Kyoto Station's observation deck
Add to my favorite places
Kyoto Tower, the only 360° viewing platform in Kyoto, stands in front of Kyoto Station's north exit. The 131-meter tower was inaugurated in 1964 and provides a panoramic view of the ancient imperial city, its temples and the surrounding mountains.
Kyoto Tower is unavoidable as it stands in front of the famous JR station. Kyoto Tower includes a convenient 9-story hotel 🏨 and dozens of shops, restaurants, souvenir shops (old and expensive!), the tourist information center and even a sento. From the 10th floor of the hotel (11F), change elevator to reach either the "Sky Lounge" bar or the observation deck.
Kyoto Tower weighs 800 tons and its architectural style really shows its age. The construction was finished at the end of December 1964, almost coinciding with the inauguration of the Shinkansen 🚅 for the Tokyo Olympic Games 🏅.
Its looks are very similar to Kobe Port Tower, and for a good reason, as it was built at the same period. Kyoto Tower was designed by Makoto Tanahashi, an engineer of Kyoto University, and is shaped as a candle.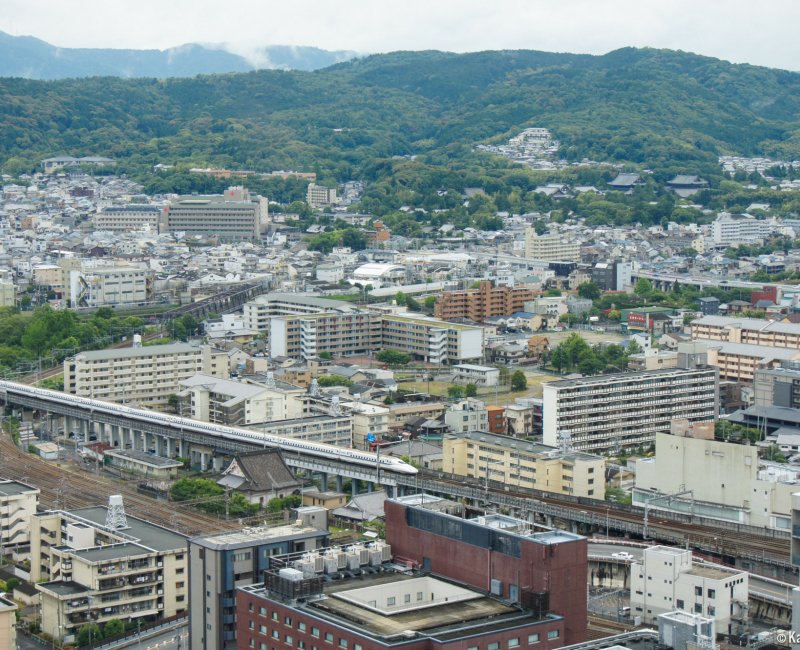 Despite its outdated look, inside as well as outside Kyoto Tower is one of the only modern buildings of the city. With its 131-meter height – the highest building in a low city – Kyoto Tower certainly stands out in the landscape of the ancient capital. The tower recently celebrated its 50th anniversary, but some Japanese people still don't appreciate it very much.
The observation deck, the attraction for visitors, towers at a hundred meters high and offers a 360° view. This is a very convenient location to have an overview of Kyoto's topography, even though it is south of the city.
The iconic buildings located around the station are easily spotted, with for example a surprising bird's eye view of the Higashi Hongan-ji. Big touchscreen panels have been placed to help visitors easily find the main attractions. On a clear day, Arashiyama and even Osaka are visible.
Kyoto Tower's location also offers an interesting view on the famous Tokaido Line, and the numerous Shinkansen circulating from and to the station. Kyoto station's impressive architecture is also a sight to see from the tower. The only negative side is the high price of the entrance fee, but it is somehow explained by the exclusivity of this viewpoint.