Shosei-en
Higashi Hongan-ji Temple's Detached Garden
Add to my favorite places
Shosei-en is a Japanese garden, part of Higashi Hongan-ji temple, located in Kyoto in the vicinity of the JR station. The stroll garden circles around a large pond at its center and is enlivened by several interesting bridges and remarkable tea pavilions.
The roots of Shosei-en are said stretching to the 9th century, in the Heian period (794 – 1185). At the times, the ponds was the main feature of a garden laid out around the residence of prince Minamoto no Toru, emperor Saga's son. It was not before 1641 however that shogun Tokugawa Iemitsu transferred Shosei-en's land to Higashi Hongan-ji temple, to which it still belongs.
Two years later, head monk Sennyo Shonin had the garden laid out as we know it today, in the style of Ishikawa Jôzan, a famous scholar, specialist of tea ceremony and garden design. Unfortunately, two large fires 🔥, in 1858 and 1864, destroyed most of the buildings, that were reconstructed afterward. Shosei-en was designated "National Historical Site" in 1936.
Original layout for a Japanese garden
The layout of Shosei-en garden is somehow similar to those of a park. Buildings are gathered on one side of the large pond, and the finishing touch is a vast grass lawn, a quite rare feature in a Japanese Garden. It opens widely, giving some space to several refined constructions.
While it seems modest from outside, Shosei-en spreads on a 33,000 square meters superficies. Nowadays, it is surrounded by a few neighboring modern buildings (including the famous Kyoto Tower) and the noise of the increasing car 🚙 traffic. However, those are small downsides, as the garden is still preserved from mass tourism, and offers some wonderful views.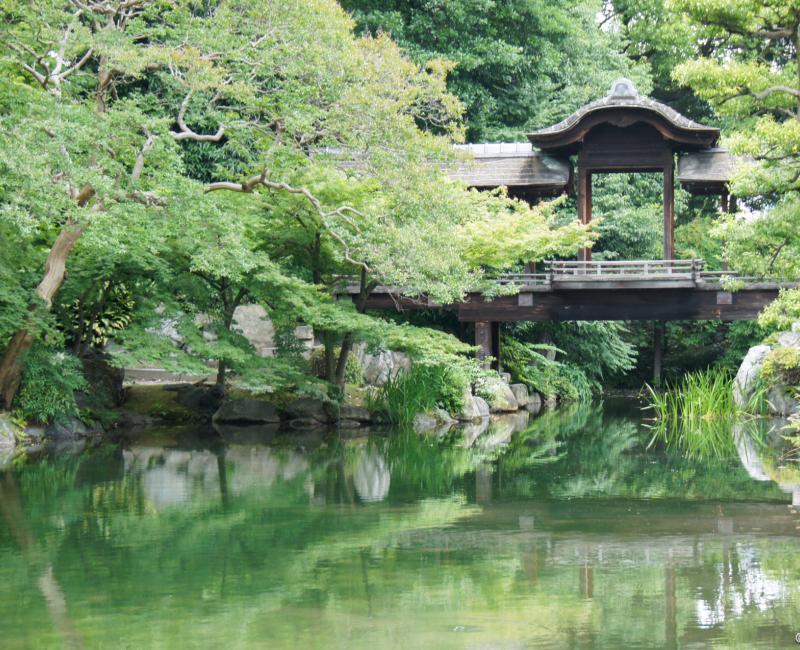 Beautiful tea pavilions
Shosei-en is also remarkable for its collection of chashitsu (茶室, tea room), such as the beautiful Tekisui-ken (滴翠軒) and Rinchi-tei (臨池亭), build on the shores of the pond in 1884. There are also several stone structures (wonderful lanterns 🏮, a little 9-story pagoda and a handful of discreet bridges), as well as two memorable bridges:
Shinsetsu-kyo 侵雪橋, a large wooden structure, and,
Kaitoro 回悼廊, a covered bridge of Chinese style influences.
As for most gardens, Shosei-en offers many great variations according to the season. It benefits from successfully staged numerous blooming and even from a snow carpet in winter if the odds are favorable. However, summer might be the worst season to visit the garden, as mosquitoes are thriving and the vicinity of its great pond becomes the favorite gathering place for many wild species, especially snakes!
On a side note, works to preserve the garden have been staged since 2014 and are expected to last about 10 years.