Kikuchi Gorge
Forest Bathing in Kumamoto
Add to my favorite places
Kikuchi Gorge is located in a little forest valley about 16 kilometers from the eponymous city in the Kumamoto region, on Kyushu Island in Japan. The natural site is renowned for shinrin-yoku (tree therapy forest bathing) and is particularly enjoyable in summer for its fresh greenery and in autumn for its koyo maple trees.
Kikuchi-Keigoko, as it is named in Japanese, is spreading over about 4 kilometers in the heart of Aso-Kuju National Park. The stream's spring 🌸, called Kikuchi-Suigen, is welling from the outer fringe of Mount Aso's crater, the famous active volcano 🌋 that has been shaping Kumamoto prefecture's natural landscape. Kikuchi-Suigen's water is pure and very clean, and is ranked among Japan's 100 best water spots.
An excursion in Kikuchi Gorge consists in walking up the stream up to the waterfalls, surrounded by tall Japanese cedar trees that seem to have been growing here since the dawn of time. The place gives the real impression of a forest bath, with the feeling of being able to enter into communion with the trees and the birds living there. That is why Kikuchi Gorge is renowned in Japan as an ideal place to practice the shinrin-yoku (森林浴), the tree therapy, in the same way as the mystical Yakushima Island, also near Kyushu.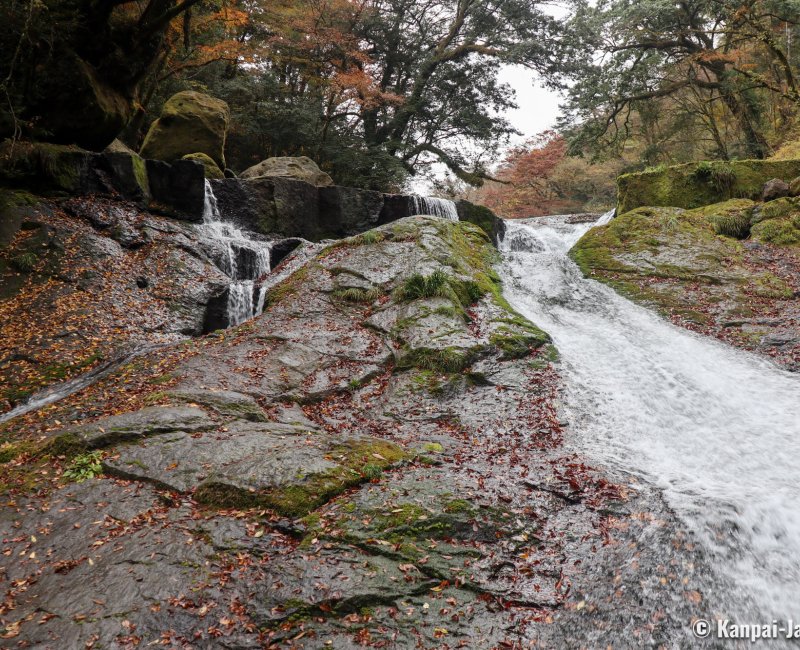 A short hike to the pace of seasons
On site, a large parking area was arranged for cars, as well as an elegant visitors' center. The modern glass building perfectly blends into the hilly landscape. Then, a suspended bridge signals the beginning of 2 marked hiking trails allowing to circle around Kikuchi Gorge:
The round-trip on the longest walk lasts 1 hour; and,
The shortest is only half an hour, with a view on 3 waterfalls, whose most famous is Reimei-no-taki.
Note that a 4th waterfall is viewable directly from the bridge at the start of the visit. Comfortable walking shoes are advisable, but other than that no specific gear is required.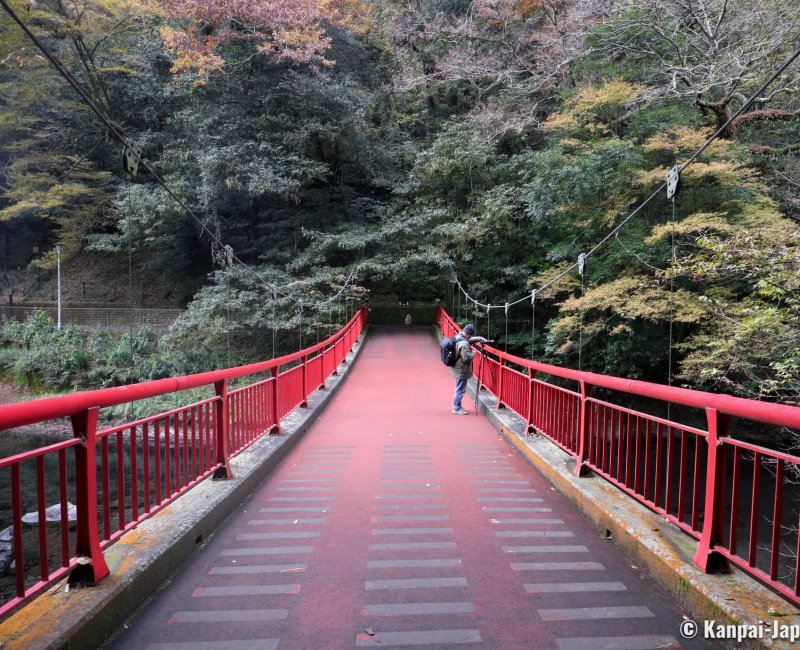 The natural landscape varies with the seasons and the beauty of this natural site can be enjoyed throughout the year:
We recommend this peaceful gateway amid volcanic rocks and old trees for sightseers staying in the area of Mount Aso and who can use a car 🚙 to move around freely.
This article was written after a tour sponsored and organized by Kyushu Region and Kumamoto and Oita Prefectures to promote #visitkyushu. Kanpai has been invited and guided but keeps a total freedom of editorial content.