Daikanbo
The Natural Observatory on Mount Aso's Peaks
Add to my favorite places
Daikanbo is a natural observatory located in the north of Mount Aso's caldera, in the heart of Aso-Kuju National Park, in Kumamoto prefecture on Kyushu Island. A key stopover on the Milk Road (Route 45), the breathtaking panorama created by the still active volcano will delight landscapes amateurs and thrill seekers.
A nature excursion per excellence, Daikando offers to contemplate the five peaks of Mount Aso, emerging in the center of its 350km² caldera, one of the largest in the world and belonging to the UNESCO Global Geo-parks' network. The line drawn by the volcanic formation recalls the silhouette of a sleeping Buddha, hence its nickname of Nehanzo ("image of the sleeping Buddha"), the head being materialized by Mount Nekodake in the south-east. The imaginary Buddha often seems to be floating above the clouds, adding to the magic of the place.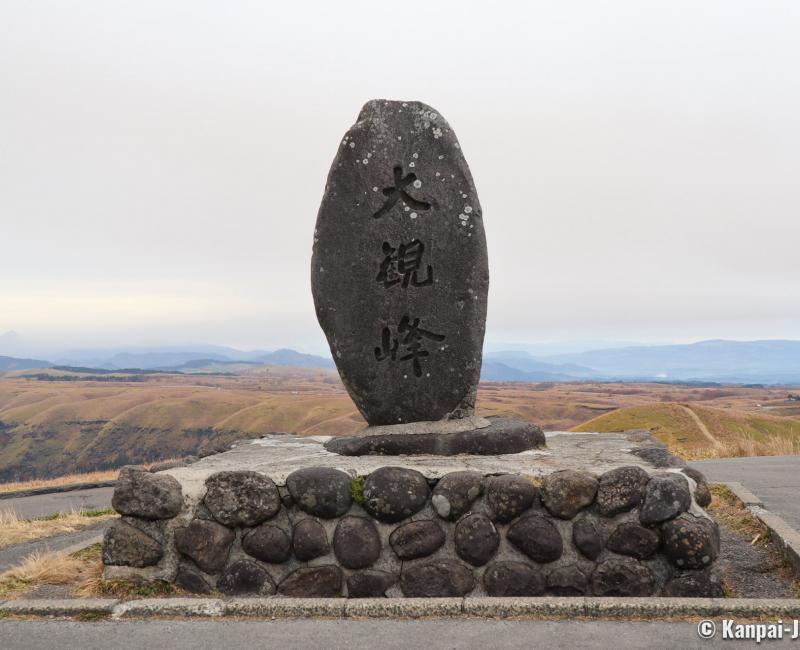 Contemplate Mounts Aso and Kuju from the road
Daikanbo is accessible by bus from Aso city below and it is also a very popular stop for bikers. Regardless of the season, the visit must however be made on a clear weather day to better enjoy the spectacular relief. On a sunny day the vivid colors of the plains are even brighter: an intense green in summer, that turns into the yellow of the wilted grass in autumn 🍁, a season in which rainy ☔️ days remind of Scotland's natural landscape but hamper the viewing of the volcano 🌋.
The observatory itself is marked by a stone stele, but the facilities are limited to a small free parking delineated on the ground, a restaurant and a couple of shops. It is nonetheless possible to take a lunch, an ice cream or buy a few souvenirs marked with the unavoidable mascot Kumamon.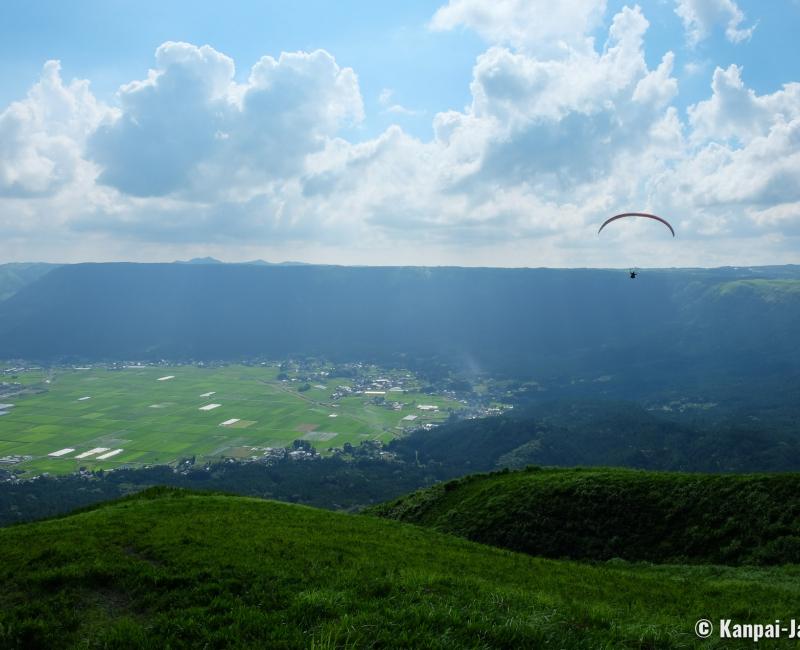 A bird's eye view on the caldera
Thrill seekers or amateurs of sports activities in nature can enjoy the landscape in other ways. A small sport complex, Aso Nature's Land, located in Aso City provides:
Paragliding,
Balloon flights; and,
Rides on all-terrain vehicles.
It is also possible to practice horse riding and hiking. All these activities are naturally organized provided favorable weather conditions and Mount Aso's goodwill, taking into account its frequent smoke plumes emissions.
The halt at Daikanbo is therefore a stop that can be brief to mainly admire the raw beauty of nature in Kyushu. It is however recommended to go by car 🚙 for a more comfortable trip as the area has not fully recovered from 2016 Kumamoto Earthquakes.