Yamaga
Thermal Resort and Traditional Lanterns
Add to my favorite places
Yamaga is a small Japanese town on the bank of the Kikuchi-gawa River, located about thirty kilometers north to Kumamoto on Kyushu Island. It is renowned for natural onsen hot springs as well as traditional folkcraft, like the famous Yamaga lanterns which are the highlights of a spectacular summer festival.
Not far from Kumamoto's famous destinations and from Kikuchi Valley, at the western side of the Aso-Kuju National Park, small Yamaga city is an ideal place for travelers looking for a tradition stopover in Kyushu.
The preserved townscape along the former Buzen Kaido road forms the historical center and is home to ryokan inns with onsen ♨️ facilities, sake 🍶 breweries, a beautiful Japanese theater, local museums as well as small temples such as Kongojo-ji, characterized by a round stone gate and its construction on Yamaga's oldest hot spring.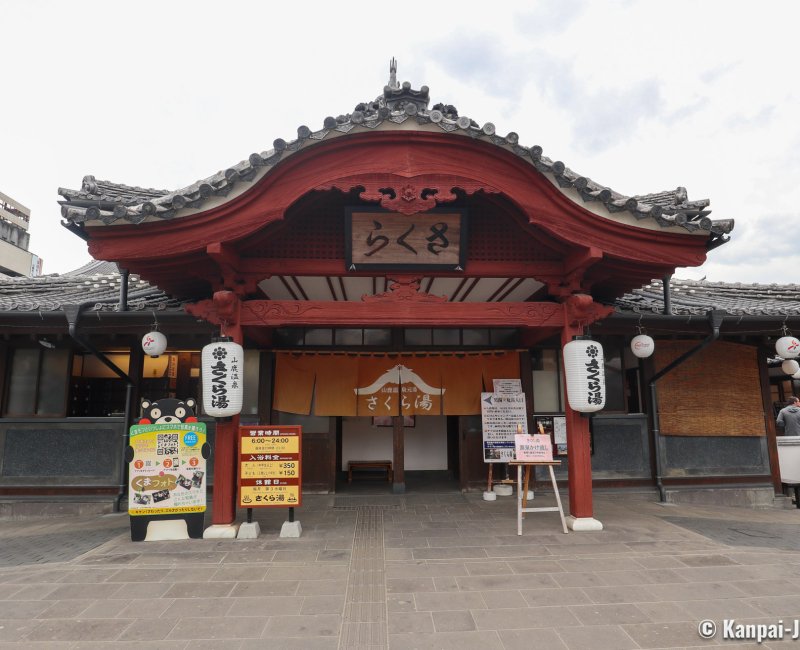 Onsen and Japanese theater at the town center
According to the legend, the first spring in the city was discovered during the Heian period (794 - 1185) by an army commander who saw an injured doe healed after bathing in the water. A popular local song sums up this anecdote:
"Hundreds of houses in Yamaga, but no bathtub in sight"
As a matter of fact, the inhabitants are used to go to the public baths and enjoy the benefits of the natural spring every day. Yamaga's water, called Bijin-yu, is renowned for its alkaline properties and for making the skin soft and silky.
Yamaga Onsen baths district includes about twenty establishments, including Sakura 🌸-yu, Yamaga's iconic onsen and one of the largest wooden thermal construction of Japan. This late 17th century beautiful countryside house of a local feudal lord gradually became a place where inhabitants gather and meet. The original building was unfortunately destroyed in 1973, but reconstructed in 2012 after important historical restoration works.
At the end of the Buzen Kaido road, we highly recommend the visit of the Yachiyo-za theater and its neighboring museum. The venue can accommodate 700 spectators, and was built in 1910 by a rich merchant of Yamaga, in the style of the Edo period (1603 - 1868) Kabuki theaters. Yachiyo-za's layout features a few specificities such as private boxes, 2 corridors on each side of the stage and ingenious underground passages.
In the 1970s, the theater's attendance dwindled and the place was left in derelict. The population came together for its complete renovation and had it inscribed as Japan's Important Cultural Property in 1988. The place truly does justice to the efforts endeavored, with a very colorful, wonderful decor, providing a warm and subdued ambiance, and a perfect display of Yamaga's traditional craftsmanship and know-how.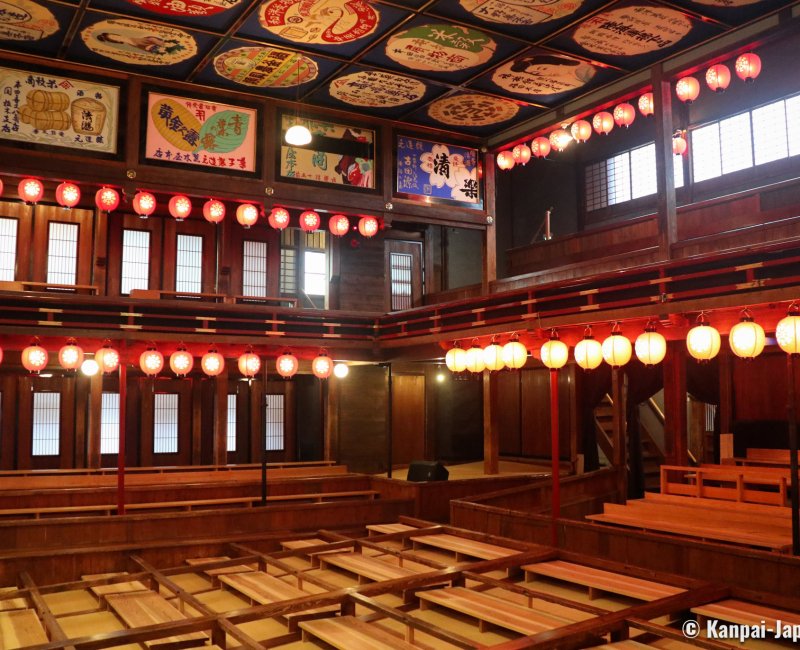 Toro Matsuri, the lantern festival
The city is also known for its lantern 🏮 festival, called Toro Matsuri, held over 2 days each summer during Obon: on August 15 and 16. Its highlight is the Sennin Toro Odori: a thousand of women dance in circle, wearing a clear yukata 👘 and a red obi belt, and a toro lantern on the head. They reenact the city's legend of its inhabitants helping Emperor Keiko and his retainers to find their way in the fog with burning torches.
The flagship of the local craftsmanship, Yamaga's lanterns were first made of wood, then in metal and now in paper. They reached their current form during the Edo period. The artisans only use a few drops of glue to hold together the very light structure of cut, folded and nested paper. The making of a lantern requires a lot of precision and patience.
Beside festival time, the Yamaga Lanterns Folk Crafts Museum is available. Located in a 1920's former bank building, it tells the story of the precious toro that make the locals' pride. Souvenirs from Yamaga also come as treats: traditional Japanese pastries shaped as lanterns such as toro-monaka waffles filled with sweet red bean paste or crusty toro-sembei biscuits.
This article was written after a tour sponsored and organized by Kyushu Region and Kumamoto and Oita Prefectures to promote #visitkyushu. Kanpai has been invited and guided but keeps a total freedom of editorial content.