Kibizen
🍱 Okayama's Traditional Hidden Sushi Bento
Add to my favorite places
Kibizen is a sushi restaurant located at the second floor of the Grandvia Hotel, at the exit of Okayama station. Upon reservation, the venue offers to discover the kakushi-zushi bento, characterized by fish and vegetables hidden underneath a layer of rice.
Sushis in Japan can be found in a variety of shapes and names: nigiri, maki or chirashi for the ones international tourists know the most. In Okayama, the kakushi-zushi (かくし寿司), which can be translated as "hidden sushi 🍣", is a way of preparing and eating sushis that has been perpetuated since the feudal times of the Edo period (1603 – 1868).
Local cuisine as a testimony of the past
This local specialty consists in the preparation of a 2 faced bento 🍱:
The first upper box in plain sight is made of rice and a thick layer of omelet' strips; and,
A second hidden box, uncovered when turning over the bento, concealing the most delicious and expensive ingredients: the raw fish slices and vegetables.
At first sight, the dish only shows minimal preparation, which might not look so appetizing. However, its popularity was born from this frugal look.
Indeed, when the Ikeda clan ruled the area, the population was ordered to feed simply so as to contain food expenses: a meal was deemed to be made of a soup and a simple side dish. People therefore developed several techniques to get around this regulation without getting caught and continue to eat fancy seafood and vegetables.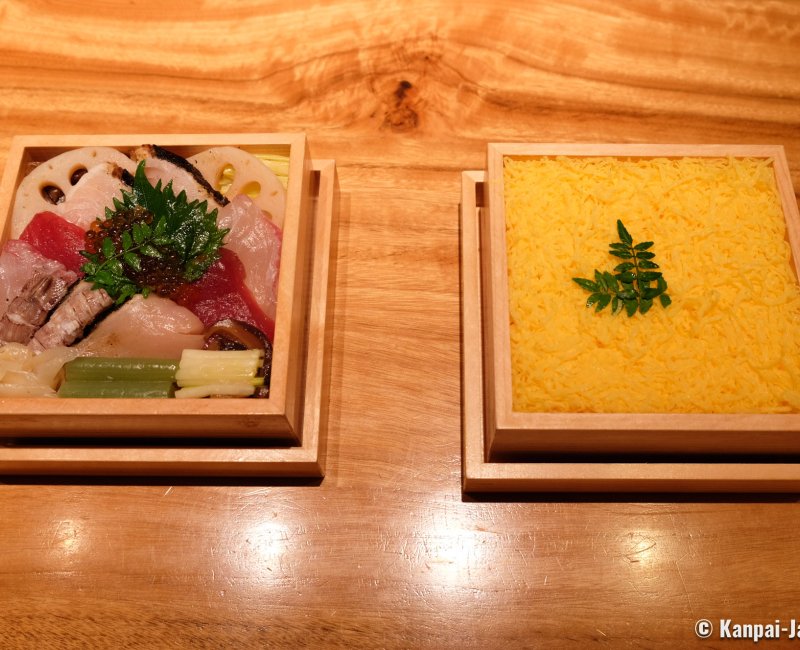 Sushis in the kakushi-zushi style at Kibizen
Nowadays, this local cuisine is thriving in Okayama's downtown, especially near the JR station. The restaurant Kibizen, located in the Grandvia Hotel 🏨 premises, is one of the establishments where to eat good "hidden sushis". The Yumeji course is an ideal choice as it includes:
A hearty kakushi-zushi bento prepared with fresh seasonal products (shrimps, salmon eggs, various sashimis, lotus roots, bamboo sprouts, etc.);
A couple of tempura fritters;
A red miso paste-based Akadashi soup; and,
A tea sided with fresh fruits for dessert.
As for drinks, we recommend trying the local Kajitsushu (果実酒) peach alcohol. Kibizen also has a large selection of Japanese sake 🍶.
Bara-zushi, Okayama's other specialty
Additionally, Okayama is also home to bara-zushi (ばらずし) restaurants, named after another local method used during the Edo period to hide the best ingredients. Fish and vegetables are placed at the bottom of a large bento box, then covered with vinegared rice and omelet strips. When comes the time of eating, the bento box is turned over a plate, resulting in a chirashi don with fish and vegetables mixed to rice.
Nowadays, Japanese people like eating bara-zushi on special occasions, such as family celebrations.
This article was written after a tour sponsored and organized by Okayama Prefecture. Kanpai has been invited and guided but keeps a total freedom of editorial content.