Korakuen
The Beautiful Japanese Garden in Okayama
Add to my favorite places
Koraku-en is one of the three most beautiful Japanese gardens in the archipelago, located near Okayama Castle in the Chugoku region of Honshu main island. Built on the order of an Edo period feudal lord, it was achieved in 1700 and is still in perfect condition despite its extensive superficies.
It took more than ten years to build Koraku-en garden at the end of the 17th century for local feudal lord (daimyo) Ikeda Tsunamasa and his family. The garden's ownership was transferred to Okayama prefecture in 1884 and was subsequently opened to the public. It was nonetheless preserved in its original condition and is still a beautiful example of Edo period seigneurial garden, a place designed as much for relaxation as a setting for pompous receptions.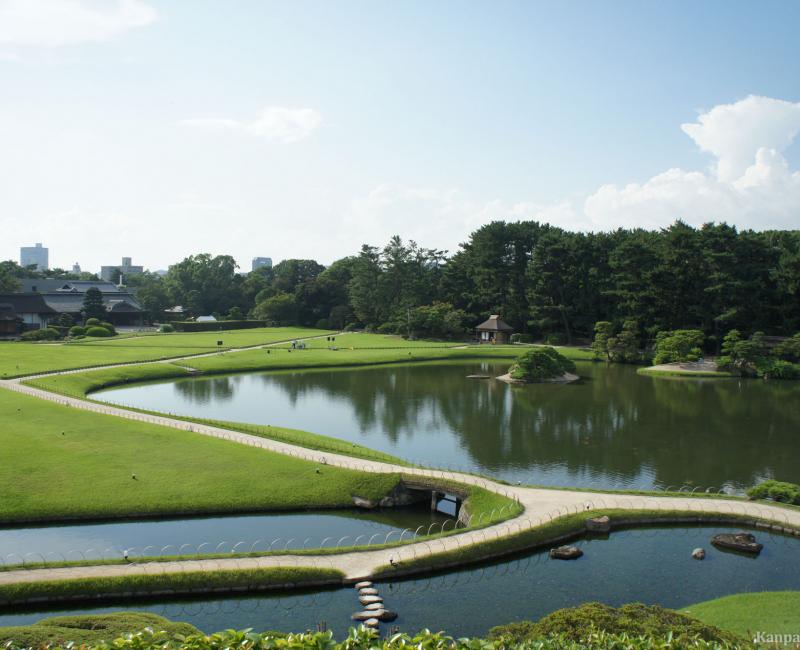 A large, preserved green space in Okayama downtown
Easily reachable on foot or by tram from Okayama JR station, Koraku-en is set on a 14 hectares (34,6 ac) strip of land between the two arms of Asahi River.
Built around a large pond named Sawa-no-ike and overlooked by a man-made hill Yuishinzan, this beautiful, landscaped garden unveils lawn expanses, a bamboo grove, traditional minimalist constructions, as well as a Shinto torii ⛩️ gate, rice paddies and tea plantations. There is even an archery range!
The garden is particularly wide and with a lot of free spaces, its atmosphere is consequently very calm, as tourists and locals appreciate Koraku-en for its beauty and the serenity they can find here. It is a must-see in Okayama, and the park really deserves its reputation of most beautiful Japanese garden in the archipelago.
During summer evenings, the visit of the garden is nicely complemented by night illuminations (until 9:30 p.m.) and cultural events.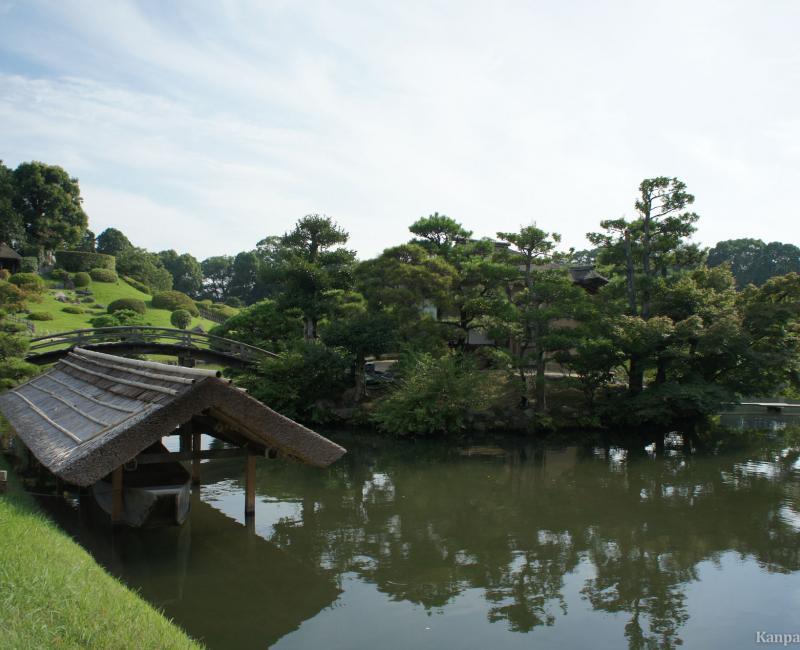 Flowers and leaves throughout the seasons
Koraku-en is enjoyable in any season, with many flowering throughout the year. It even displays the Japanese's three most favorite times of the year:
Plum blossoms (a 100 ume bosk with white and red flowers) at the end of winter,
The maple tree leaves (about a hundred Momiji 

🍁

in the Chichi-no-mori wood) in autumn.
Before starting the actual visit directly in the garden, it is possible to admire it from the top of Okayama Castle 🏯, just on the other side of Asahi River.