Okayama
The City of Momotaro
Add to my favorite places
Okayama is a seaside town, capital of the eponymous prefecture in Chugoku area. It is halfway through Osaka and Hiroshima, separated from Shikoku Island by Seto Inland Sea. A former feudal city, it is renowned for having one of the three most beautiful gardens of Japan, the Koraku-en, and its black castle U-jo.
The city itself may not be Japan's tourist mecca, but one can easily spend one day here, for three very interesting visits:
U-jo, an impressive black castle with surprising indoor devices,
Koraku-en, a stunning Japanese garden known as one of the most beautiful in all Japan,
Kibitsu-jinja, a great Shinto shrine in relation to the popular local legend and located in the north-east of Okayama's downtown.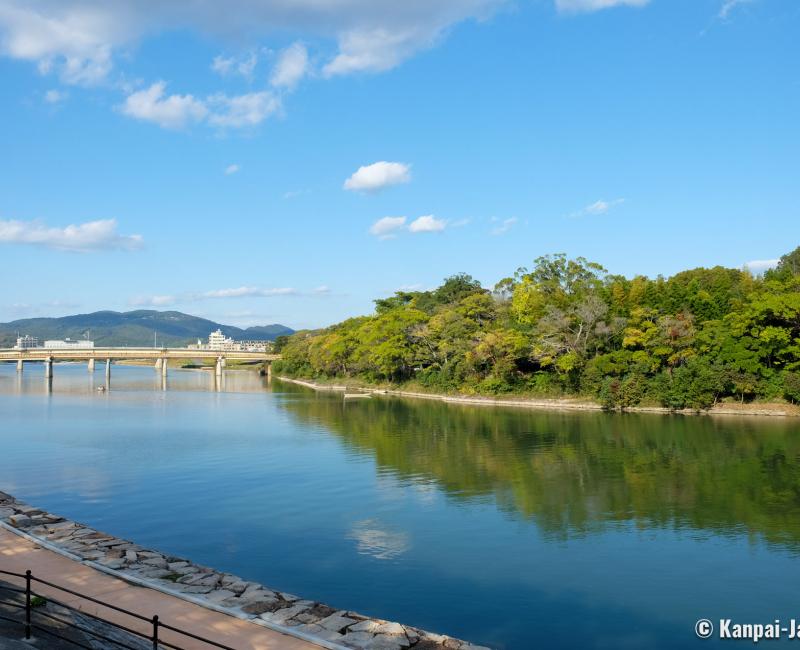 The castle and the Japanese garden on the banks of Asahi River
The castle 🏯 and the garden are on each side of the Asahi River, in the same area, which is a great advantage for sightseeing.
They are located about a twenty minutes' walk from Okayama Station, through the usual shopping arcades, with many occasions to do some window-shopping or taste the local food. But it's also possible to get on the small Okayama Electric Tramway (Okaden) which takes to the banks of Asahi River in a couple of minutes. It is to be considered especially on very hot days.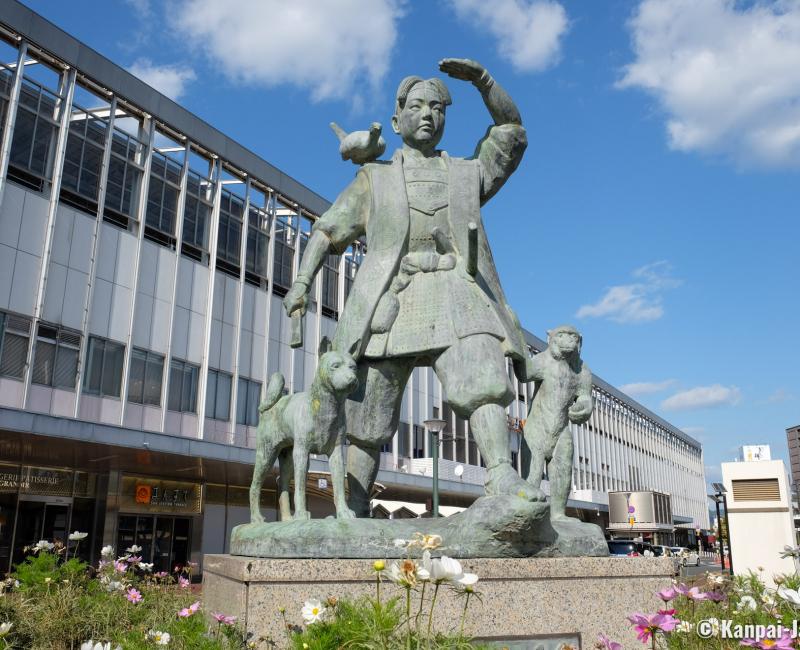 The legend of Momotaro in the heart of Kibi Plain
Going outside Okayama City, the rural landscape of the Kibi Plain unfolds. We recommend renting a bicycle there to tour the 17-kilometers road spanning between Bizen-Ichinomiya and Soja JR stations.
This sightseeing itinerary includes several shrines related to the former Kibi kingdom and the legend of Prince Kibitsuhiko-no-Mikoto. The story of his defeating Ura the demonic ogre is said to have inspired the legend of Momotaro, the famous boy born from a peach that every Japanese know!
Kibitsu-jinja, the most important shrine of the area, recalls this fantastic story and displays a preserved architecture of kibitsu-zukuri style, as well as one of the longest wooden corridor in Japan.
If you have the occasion, go to Okayama for a relaxing one-day getaway. The place is easily accessible from the surrounding largest cities (Osaka, Kyoto and Hiroshima), and is a nice introduction to beautiful local destinations such as Kurashiki and Seto Inland Sea's artistic islands.