Fusaki Beach
The Natural White Sand Stretch in Ishigaki
Add to my favorite places
Fusaki Beach is located on the west coast of Ishigaki Island in Okinawa's Yaeyama archipelago. This beautiful and large extend of fine sand is a property of the Fusaki Beach Resort Hotel & Villas complex. There, vacationists can enjoy supervised swimming areas and comfortable facilities.
Fusaki Beach 🏖 is the ideal destination for those looking for a safe and clean swimming facility in Ishigaki. Moreover, it is one of the few natural fine sand beaches on the island.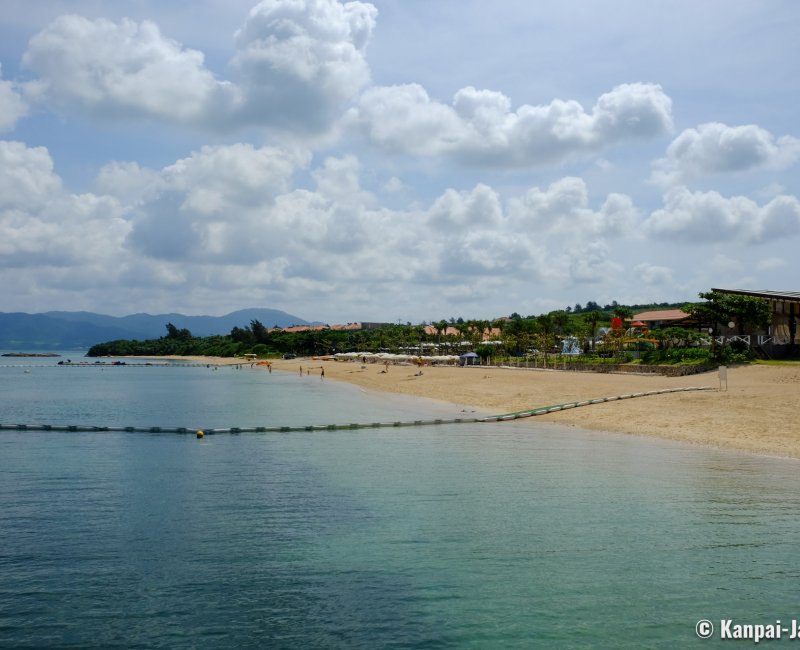 Supervised and safe swimming
Fusaki Beach is operated by the "Fusaki Beach Resort Hotel 🏨 & Villas" hotel complex and protected by an anti-jellyfish net to safely dip in the sea water. Families with children can therefore enjoy the blue waters of the East China Sea without worrying for stings, in a swimming area supervised by the resort's staff. Note that the beach is opened to every one: visitors who are not clients of the hotel can access to the premises for free when entering by the hotel lobby on the daytime.
In summer, several equipment are available for a fee, such as showers, changing rooms, and also aquatic activities (jet ski, tubing, paddle, sea kayak). With swim fins and a snorkel, it is possible to watch the little tropical fishes of the coral reef surrounding the island. Fusaki Beach is very convenient and as comfortable as a seaside resort. However, we recommend checking the tides hours and tidal range, to make sure swimming is possible.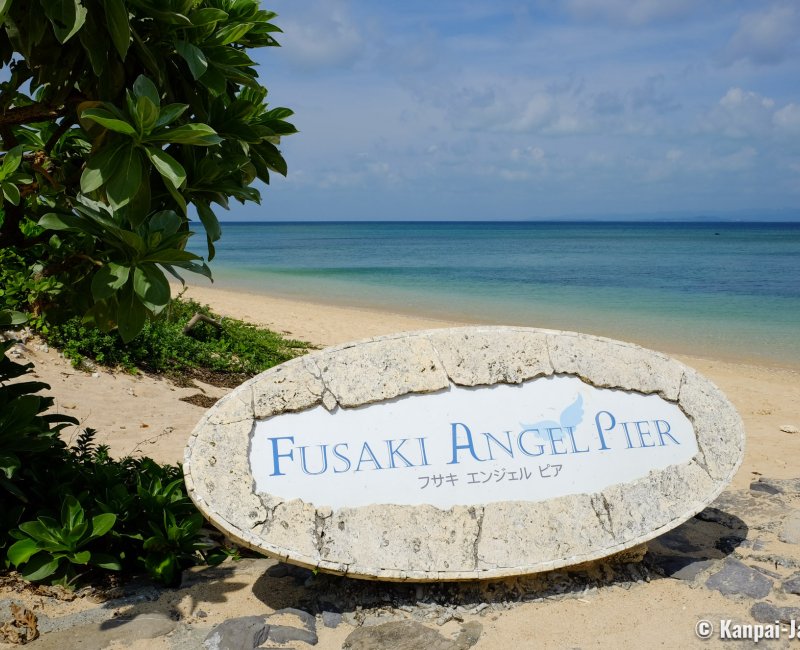 Beautiful sunsets in the west of the island
Sunset at Fusaki Beach also has great views. Thanks to its location in the west of Ishigaki, the beach offers a beautiful vantage point on the sunset on the sea. Regardless of the season, you can walk on the "Fusaki Angel Pier" in late afternoon to admire the sun setting behind the horizon.
On the daytime, the pier can also be used to observe the coastline:
On the right, the resort's supervised beach;
On the left, the wild coast, up to Kannonzaki Lighthouse at the south-western end of the island; and,
Facing the pier, the blue surface of the East China Sea.
Lastly, the most curious visitors may walk along the coastline to discover 2 of Ishigaki's spiritual sites: the small Kannon-do temple, to which leads a typical alley sided by lanterns 🏮, and the colorful Tojinbaka mausoleum. Nowadays however, this testimony of the local history seems somewhat to be forsaken and a building was constructed just next to it in early 2022.