Kume-jima
🏖 All of Okinawa's Landscapes in a Nutshell
Add to my favorite places
Kumejima is an island of Okinawa archipelago, located a hundred kilometers west from Honto, the main island. Its exceptional landscapes range from beautiful sand beaches, original rock formations to historical monuments. Travelers passing by this small piece of Japan can therefore enjoy bathing, hiking, and cultural visits.
With about thirty islands of various sizes, Okinawa archipelago always delivers wonderful natural landscapes. Those who are looking for beautiful white sand beaches in tropical Japan should explore Kume Island.
Of rather modest dimensions (about sixty square kilometers), Kume-jima encompasses four main stretches of fine sand and crystal-clear water, which are great places for usual activities in Okinawa such as swimming and diving with flippers, mask 😷, and snorkel, to watch the local multicolored fish and corals.
The most iconic beach 🏖 on the island is Hate no Hama, actually a long, pristine sandbar only accessible by boat on paid tours to ensure its preservation. In the south-east, Eef Beach receives the vacationists staying in the hotels 🏨 of the surroundings. All these spots are fitted with convenient facilities such as toilets 🚽 and showers. Less frequented than Okinawa's main island's beaches, Kumejima's beaches offer quietness and space, as if on holidays on a deserted island.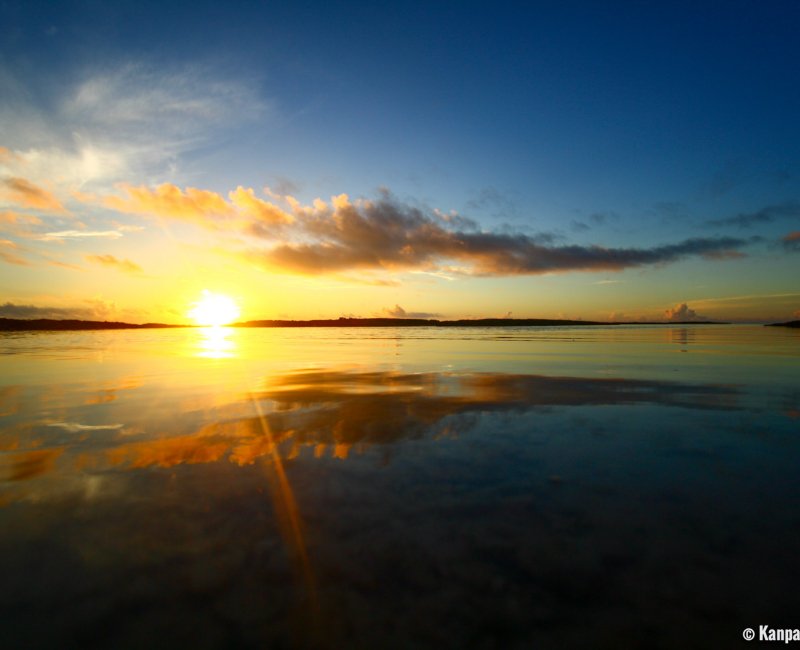 When far niente is over, let's put on hiking shoes to walk around the island looking for beautiful and photogenic rocky landscapes. The famous Tatami Ishi, for example, is a stone ground shaped by natural weathering creating a stone tatami with turtle shells patterns, located in the south-east, on an islet connected by a small bridge. In the north, Mifuga Rock is a formation made of two rocks connected by their tops while a crossable hole is opened at their base.
Don't forget to explore Kume's cultural side with several places to visit, such as the Uezu House, built in 1750 in the local traditional architectural style, or the ruins of Gushikawa and Uegusuku's castles 🏯. The latter were built at the highest point of the island, at about 300 meters of altitude.
Like a perfect travel agency advertisement, Kume-jima concentrates all that can be expected from Okinawa. The various sightseeing sites are scattered throughout the island, and can be reached by bus, or even more easily by car 🚙 or bicycle. The paradise-like aspect of the place is reinforced by its low urbanization, with only one town around Kanegusuku Port and a holiday resort that concentrates most of the accommodation solutions.