Shuri Castle
Karate's Cradle in Okinawa
Add to my favorite places
Shuri Castle, or "Shuri-jo" in Japanese, is an ancient royal palace located in Shuri city, near Okinawa archipelago's capital Naha. The castle built in the 14th century was the center of Ryukyu Kingdom for several centuries. Shuri is said to be the birthplace of shuri-te, a martial art similar to karate. It was destroyed by WWII bombings in 1945, and by a fire on 2019, October 31.
🚧 Reconstruction in Progress
On October 31, 2019, a fire broke at 2:40 a.m. and quickly spread to a surface of 4,000m². The origin of the blaze in unknown, at least three buildings have been completely destroyed, among which the main one, despite the intervention of 30 firemen trucks.
Reconstruction works began in 2022 whose completion is expected by fall 2026.
Shuri Castle 🏯 has been repeatedly destroyed and rebuilt over time. Before October 2019 fire 🔥, one of the last violent destruction occurred at the end of World War II, during the Battle of Okinawa in 1945.
Shuri Castle was rebuilt in 1992, designated National Treasure in 2013 and subsequently admitted to the UNESCO World Heritage as a related property of the Kingdom of Ryukyu. In 2000, a G8 meeting was hosted at the castle, of which many old-fashioned pictures of the period's statesmen, like Bill Clinton, Vladimir Putin, etc. were taken and displayed on the premises.
Nowadays, the entire area surrounding the castle is called the Shuri Castle Park, and it includes its famous great Shureimon gate. Many tourists visit the park throughout the year, as well as the castle, gardens, several other entertainment buildings and shows, and of course restaurants and souvenir shops.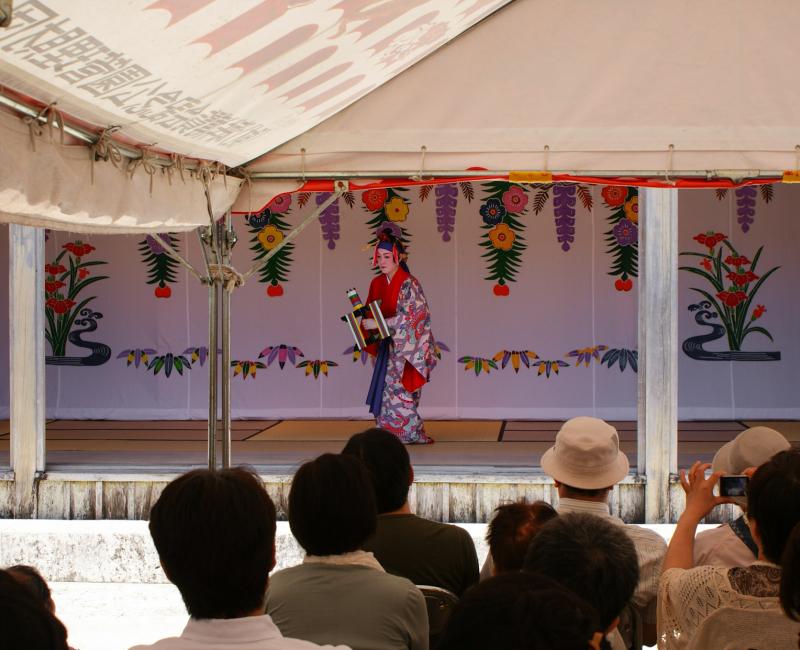 A must-do visit in Naha under reconstruction until 2026
The visit is rather interesting for culture amateurs, and pleasant thanks to its beautiful landscapes. On a side note, the great gate Shureimon is pictured on the (rare) ¥2,000 notes.
In 2013, Shuri Castle was the 10th most visited castle in the world, with 1,753 million visits (the amount of visitors was nearly 3 million in 2018!), and the most visited in Japan.
The visit has lost most of its interest due to the great fire of 2019, October 31. However, reconstruction of the castle was immediately announced by Okinawa governor Denny Tamaki, and funding associations started collecting money. The most famous one launched a crowdfunding campaign from November 1 to 2020, March 31. After only 6 days, 400 million yens 💴 (about 3.3 million euros) have been raised from 30,000 contributors.