Shikina-en
Okinawa's Japanese Gardens
Add to my favorite places
Shikina-en is a large garden of a 4,2 hectares superficies located in Naha, on the main island of Okinawa in Japan. As the former estate of Ryukyu's royal family, it is a perfect example of the Okinawan style: refined reliefs with Japanese and Chinese influences.
The beautiful gardens of Shikina-en are probably the best-known landscaped gardens in Okinawa, located slightly over one kilometer south of Shuri Castle 🏯, as the crow flies, i.e., very close to the center of Naha.
They were laid out in 1799 and were intended to adorn one of the residences of the royal Shô family of the Ryukyu kingdom. The inside of the wooden palace can still be visited.
They were entirely destroyed during the battle of Okinawa at the end of WWII and subsequently underwent renovation work over a span of about two decades, starting in 1975. The total cost of the works has been assessed at about eight hundred million yens (~5.4 million dollars). It was, along with other local treasures, listed as a UNESCO World Heritage Site in 2000.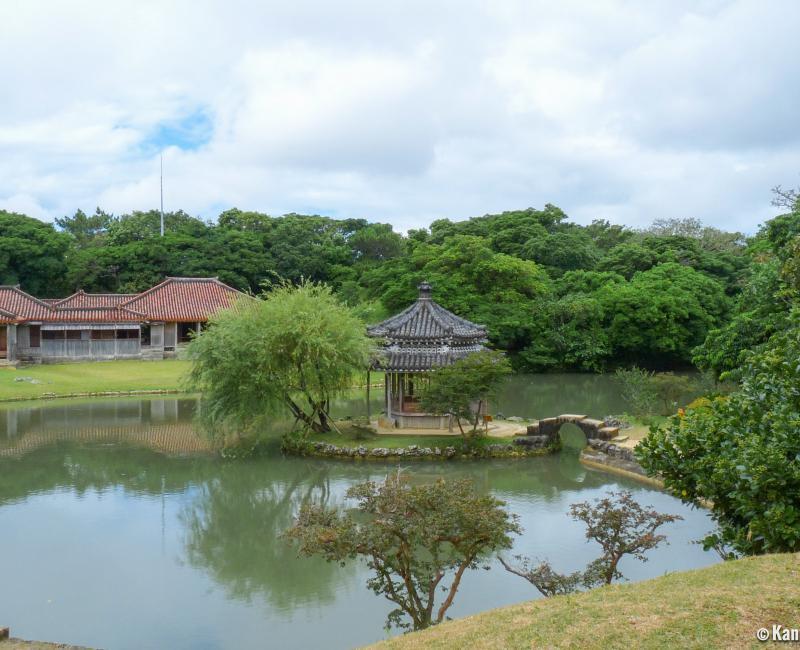 Covering a surface area of 4.2 hectares, Shikina-en surrounds a large pond with two islets in the middle, one of which harbors the famous hexagonal pavilion. It also features some remarkably elegant stone bridges that connect the banks.
A stroll through the gardens will lead you to the heart of a charming little forest where you can witness the amusing effects of the tropical touch of the Okinawa climate, as well as a surprising mix of Japanese and Chinese architectures quite typical of the Ryukyu archipelago.
Because of the comparatively small number of tourists in Shikina-en, visitors can enjoy a quiet tour of the site and give themselves over to a feeling of peacefulness in the very heart of Naha.