America Mura
The Trendy American Village in Osaka
Add to my favorite places
America Mura is a trendy district near Namba in the south of Osaka, in the Kansai area of Japan. Fashion shops of American inspiration display a young and urban style, with some occasional vintage items. At night, the area is bustling with concerts in bars.
The area is officially named America Mura (literally "the American village"), but the locals use a more casual and shortened nickname: AmeMura. This small district close to the famous Shinsaibashi arcades, with the Apple Store as the highlight, is still largely unknown from foreign visitors of Minami area.
A cool yet unflashy neighborhood of Kansai's economic capital, one might even say underground, AmeMura is often said to be the actual trendsetter of Tokyo's fashion. This Osaka-style Harajuku earned its name from its recent history, in a time when shops were exclusively importing fashion items from the United States.
In 1969, the LOOP café opened and started the development of the area. It became an attractive place, and its surrounding empty warehouses quickly filled with stores in the 1970s. At the entrance of America Mura stands a miniature replica of the Statue of Liberty, and a giant clown a few steps away. Nowadays, clothing stores (new and second-hand), a handful of record stores and miscellaneous galleries characterize the district.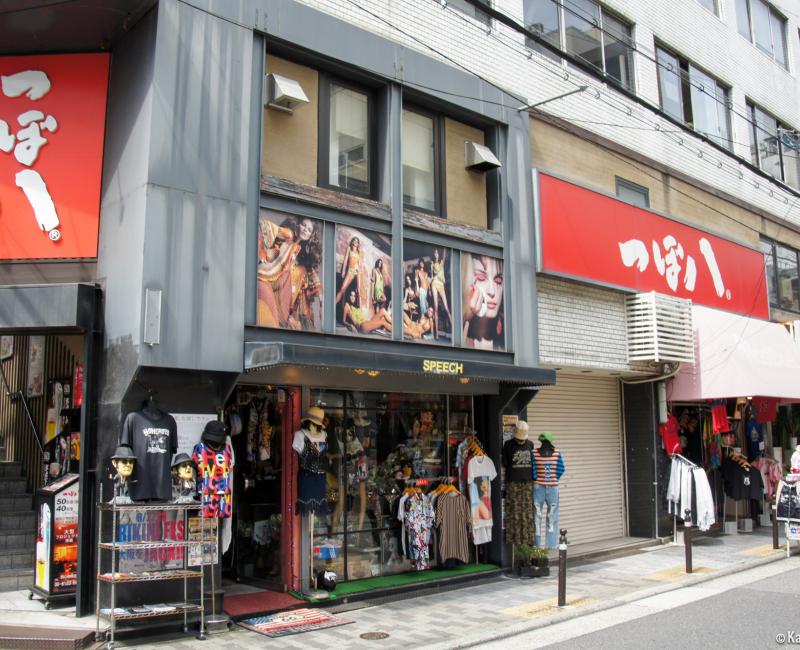 A lively nightlife
In its center, the small urban park Sankaku Koen and a tiny neighborhood police boot mark the intersection for car 🚙 traffic, in the intricate network of narrow streets decorated with funky design streetlights. On the weekend, the park's plaza welcomes a flea market, but it really becomes lively at sunset, when the night illuminations are set up and bars and concert venues open. Note however that clubs close at 1 a.m.
For the average visitor, AmeMura's interest consists mainly in the stores selling occasionally vanguard streetwear, while playing hip hop music at full blast. The sound is already too loud for passersby on the other side of the street, so one cannot help worrying for people working in these shops!
The famous Big Step shopping mall still shelters many clothing shops and other international cuisine restaurants. OPA Shinsaibashi nearby can also be mentioned for its stores. Unexpectedly, the small Mitsuhachimangu shrine, whose origins date back to 749, reminds of the Japanese roots of the district.
America Mura is an interesting place mainly for those interested in urban culture or looking for an unconventional atmosphere. For the others, it cannot be considered a must-see.