Den-Den Town & Otaroad
🎮 The Otaku District in Osaka
Add to my favorite places
Osaka's electronic district is constituted by the streets of Den-Den Town and Otaroad, located in Nipponbashi in the south of central Osaka. This electrical village, named Denki no machi in Japanese, is home to various video games and collectible shops attracting geeks and otaku looking for good deals.
Since the advent of Japanese pop culture in the west in the 1990s, Akihabara in Tokyo has been considered the reference for otaku travelers who take the opportunity of a trip to Japan for a shopping pilgrimage. And for good reason, even if it lost its glory, Akiba is still an iconic district, at least for its settings and the number of shops available.
Since the early 2010s, it has been rivaled by Nakano Broadway, located on the opposite side of Tokyo. This indoor shopping arcade comes with an often more specific and relatively limited offer but is a good complement of geek shopping possibilities in Tokyo. But one must not neglect Nipponbashi, wrongly ignored by many foreign tourists due to its distance with the Japanese capital. Many of them do not know either that their beloved Super Potato was born in Osaka, as many more.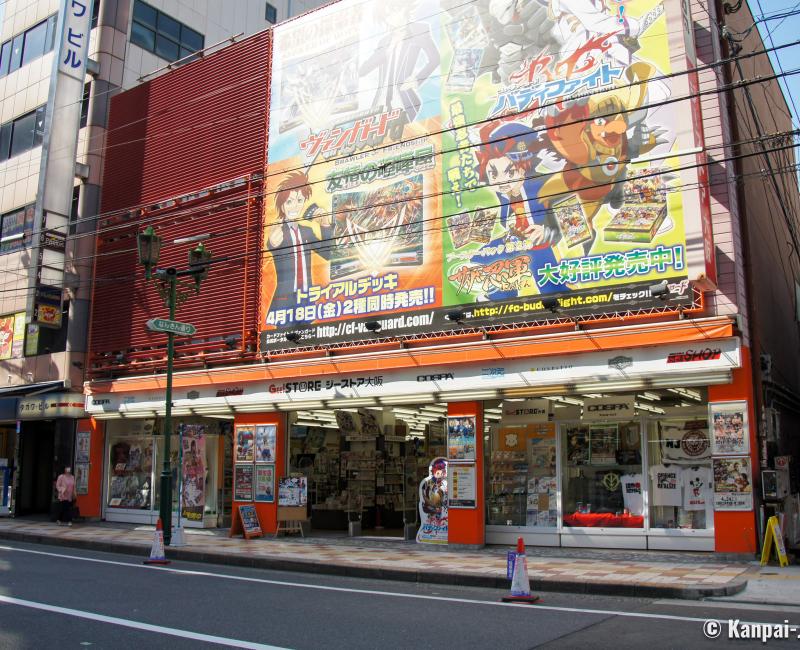 Akihabara's counterpart
Den-Den Town (literally "the electric town") and its parallel Avenue Otaroad ("the otaku road") are in the south of the lively city of Kansai, not far from the heart of Namba. In the same way as its counterpart in Kanto, the area is quite large, and is close to a faithful replica, but without the heights and newness of the buildings. Many shops are dispatched over a few blocks, with prices higher on Sakaisuji Avenue and a rather wide range of goods, which will not surprise those who are used to Akihabara.
Except that, as it is lesser known by tourists, the prices range tend to be on the lower end, be it for new or second-hand goods, for all otaku's favorite:
Collectibles,
Retro video games,
Anime's DVD or CD,
Cosplay accessories,
Model making and card games,
Gashapon and every kind of merchandising products.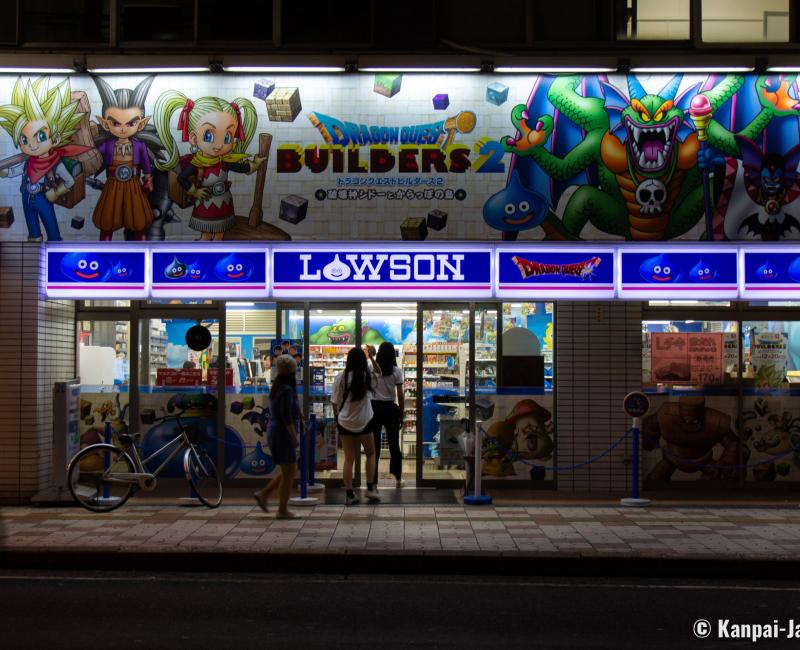 The otaku's temple of good deals
It is still possible to find good deals in this paradise for foreign collectors who will find second-hand products most of the time in a pristine state. Consider, however going to smaller shops rather than in Sofmap or BicCamera. There are also a few maid cafés for a break during a shopping day. Even the local Lawson is decorated with Dragon Quest's characters!
There are some drawbacks however, such as the music played too loud in some places, or the extremely narrow alleys between shelves in the smallest shops; but these also are the characteristics of the district.
If you visit the place with children, beware of the shops selling doujinshi (manga often X-rated) or "toys" for adults.
On the Sunday before spring 🌸 equinox, in mid-March, thousands of cosplayers gather in Den-Den Town, donning their favorite characters' attire to parade at the "Nipponbashi Street Festa". A nice event to select when planning your visit!