Namba Parks
The Hanging Gardens in the Shopping Mall 
Add to my favorite places
Namba Parks is a vast shopping center located near Namba station in the south of Osaka, in Kansai area. The innovative architectural and ecological concept of this mall display a vegetal roofing on several levels, ideal for a leisurely stroll among flowery spaces, café's terraces and playgrounds. It also offers a beautiful view on the city.
If Namba Parks reputation exceeds the local area, it is mainly due to its open-air vegetal winding course that constitutes its main feature. These sculptural lines are the work of Jon Jerde (1940-2015), an American architect who also designed Roppongi Hills in Tokyo and Canal City Fukuoka (whose aspect is similar).
Inside, in the "canyon", the architectural volutes already create a pleasant dynamic. But Namba Parks incredible volumes are to be discovered from its heights. In the higher level, it is possible to find a quiet place on the outdoor terraces to take a rest or have lunch. Moreover, the surrounding towers are fascinating observatories on this unique architectural experience. On the background, South Osaka's urban scenery offers a more conventional aspect of Kansai's economic capital and further enhances the surprising contrast with the huge building.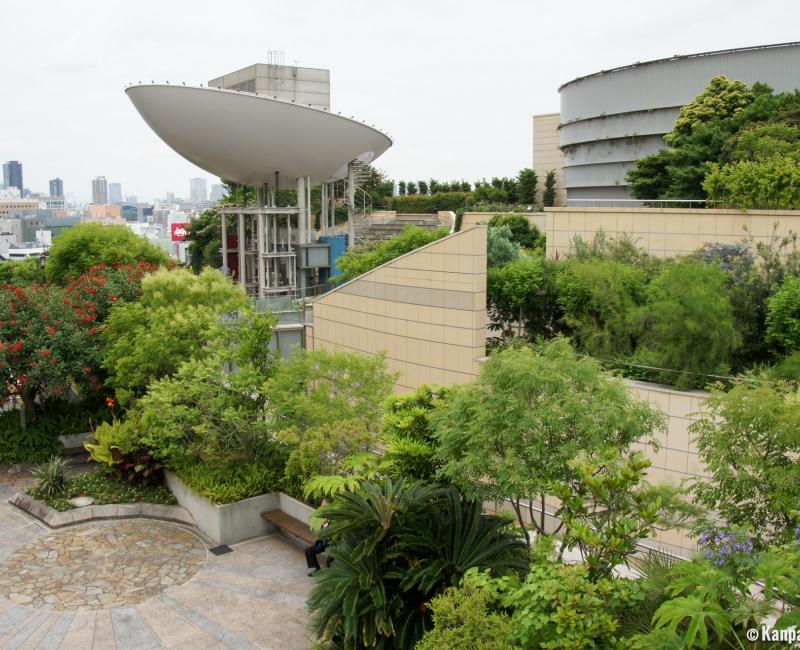 Opened in October 2003, Namba Parks was built on the former grounds of Osaka baseball stadium destroyed in 1998. The complex actually comprises two parts:
The shopping center, with 9 levels of which 8 are outdoor, 120 shops, many restaurants on the upper floors and even a movie theater,
A more recent adjacent office tower (completed in 2010), named "Parks Tower", culminating at 150 meters high, with 46 floors.
The main intereste undoubtedly lies in the green spaces of the complex, that represent almost half of its global 11,500m2 superficies. Natural ecosystems have reclaimed their rights, with 400 vegetal species, that bring a very pleasurable green touch in a city of an often-greyish atmosphere.