Sennichimae Doguyasuji
The Shopping Mall for Kitchenware in Osaka
Add to my favorite places
Sennichimae Doguyasuji is a shopping arcade located between Dotonbori and Den-Den Town, in Osaka's southern Namba district. The 150 meters long array of shops is specialized in kitchenware and restaurant decoration and is the ideal place to purchase Japanese table and kitchenware.
Doguyasuji shopping alley is true to its nickname of "Kitchenware Street." This shotengai (shopping arcade) indeed comprises countless shops dedicated to the kitchen (excluding food products): cooking appliances, utensils, tableware, professional supplies, etc. Nothing extravagant when it comes to Osaka, as the city is considered Japan's cooking capital (日本の台所 nihon no daidokoro). Sennichimae Doguyasuji is certainly on par with Tokyo's Kappabashi-dori.
Doguyasuji is accessible either by its northern entrance from Dotonbori, or by its southern entrance from the electric town Den-Den Town or from Namba Nankai station. The street is narrow and entrenched between the buildings. The accesses are discreet but well-marked with large signs in kanji and Roman alphabet inscriptions. The stroll is sure to be pleasant under any weather condition thanks to the arcade's glass ceiling.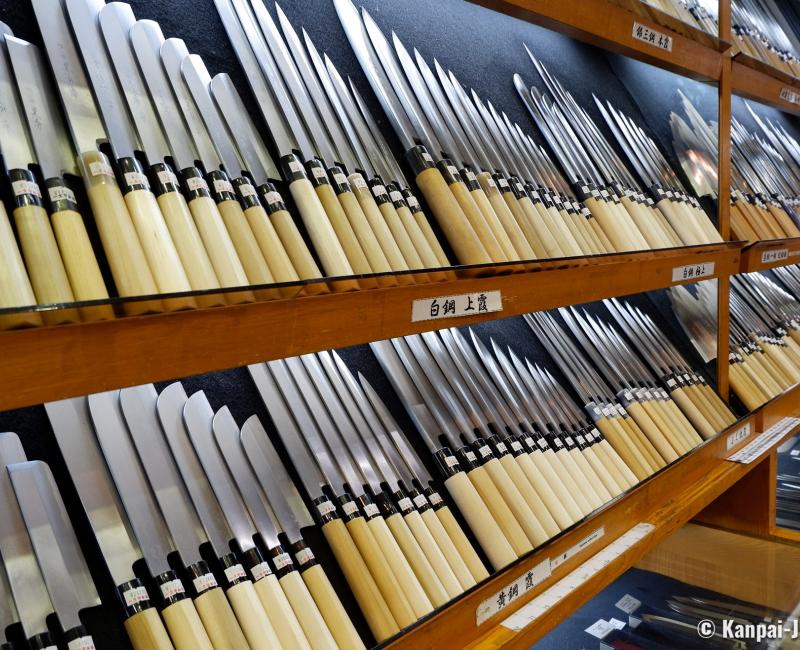 🔪 Fit your kitchen the Japanese way
Shops are stacked next to each other, and their over loaded aisles invade the pedestrian street in profusion. You will find everything to make typical Japanese cuisine:
Grill pans for takoyaki (octopus balls),
Iron griddles for okonomiyaki (Japanese savory griddle cakes),
Waffle irons for taiyaki (fish-shaped waffle filled with sweet red bean paste),
Rectangular frying pans to make omelets,
Nihonshu 

🍶

(Japanese sake) sets and teapots,
Plates for sushi, chopsticks and bowls for miso soup or ramen 

🍜

noodles,
Bento 

🍱

boxes and traditional lacquer or ceramic ware; and,
Knives of all sizes and shapes, especially at Ichimonji Chuki cutlery.
Near the middle of the arcade, the kitchenware stores give way to shops dedicated to decoration for restaurants: light panels, red lanterns 🏮, noren curtains to hang at the front and other signs for toilets 🚽 or Wi-Fi… there is always plenty of choice. At this point, you may likely consider making over your kitchen to have it look like a Japanese eatery.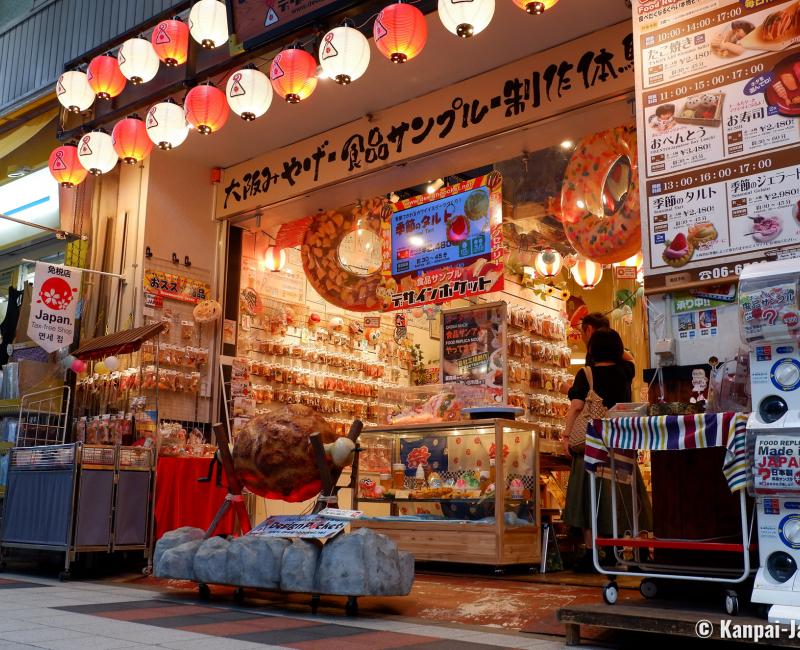 🍜 Japanese gastronomy to bring back as a souvenir
The shop Design Pocket is particularly interesting for tourists. It sells sampuru, the famous and attractive plastic replicas of dishes or food, and customers are welcomed by a surprising reconstitution of a piece of meat roasting in the fire 🔥. Inside the shop, the windows are filled with reproductions of food products. You can find any (fake) food you fancy: sushi 🍣, eggs, noodle bowls, beer 🍺 jugs, and they even come as key rings.
Beside the curious tourists, one can meet cooking professionals as well as housewives doing their shopping in this arcade. It is a good address to find at affordable prices a few kitchen utensils that are easy to carry or unusual enough to offer as souvenir from Japan.
The neighborhood of Sennichimae Doguyasuji is full of other popular places to explore and further immerse in its atmosphere:
The other nearby arcades, such as Namba Center Gai (難波センター街商店街) dedicated to shopping and restauration,
Ura Namba (裏なんば), a yokocho located between Doguyasuji and Namba station, with several alleys, of which the main one, Sennichi Jizoson-dori, offers a large choice of local and Asian restaurants,
Kuromon Ichiba (黒門市場), the fresh market dedicated to local products, and,
The comedy theater, a very popular genre in Osaka, of which several theaters are gathered near Doguyasuji: Namba Grand Kagetsu (なんばグランド花月) or Yoshimoto Manzai (よしもと漫才劇場).