Kuromon Market
Osaka's Kitchen
Add to my favorite places
Kuromon Ichiba is a food market located near Nipponbashi station in the south of Osaka. Arcades cover more than a hundred of stalls displaying the variety of the local gastronomy and selling fresh food to enjoy on the spot.
With more than two centuries of history, Kuromon Market's reputation is well-established throughout the country. Naniwa ward's covered market also boasts impressive figures, with a 600-meter long pedestrian alley bordered by more than one hundred and fifty vendors of various items.
Stalls and permanent stores with a storefront on the central alley intertwine. Half of the shops sell seafood and fish, including several certified specialists in the preparation of fugu (a pufferfish that can be deadly poisonous if handled incorrectly), and the other provide meats, greengroceries and condiments.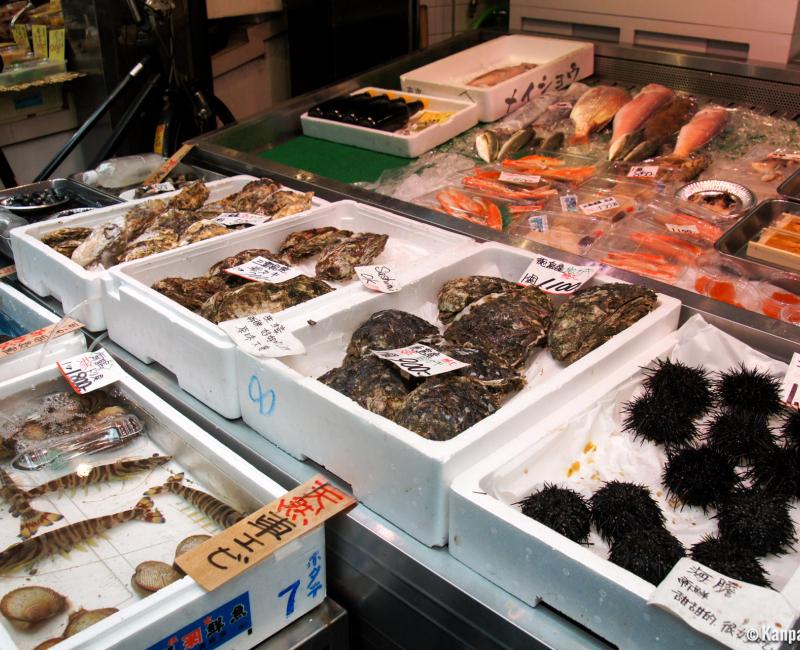 Gourmets' food hall
Kuromon's reputation was renewed recently with the various possibilities of tasting the local gastronomy it offers. Many stalls indeed sell fresh products cooked on site, and aside the classical sushi 🍣, scallops and urchins, they also serve squids, jellyfish and skewered grilled octopus that were stuffed with a quail egg and dipped in soy sauce.
Additionally, a large variety of grilled meat, of various origins, is available in Osaka's market. Naturally, unavoidable and iconic street food such as takoyaki, but also tempura, oden and taiyaki for the sweet touch are up for grasp. Lastly, the food supply is completed by small supermarkets displaying extravagantly expensive fruits as their flagship products.
Recently, however, Kuromon market has been victim of its own success. Foreign tourists now visit it in mass, all flocking from sightseeing buses at the same time. The fast food eateries have adapted their offer to these new customers, but it seems the place seems lost what made its friendly atmosphere. A few clothing stores have even appeared at the ends of the market, some new additions that are out of the scope of the initial market.
Wholesalers, who used to make half the market's revenue, and supply the greatest chefs in Osaka, tend to be more discreet.