Osaka Gokoku-jinja
Sakura Blossoms and War Memorial
Add to my favorite places
Osaka Gokoku-jinja is a Shinto shrine located in Suminoe ward, near the Osaka Bay in the west of the city. It pays tribute to the veterans originating from Osaka prefecture, who fought for their country throughout various wars. Its grounds are home to dozens of cherry trees blooming in spring.
Each prefecture of Japan has a Gokoku shrine, dedicated to the protection of the nation. These Shinto sites are places of recollection as well as display of Japanese patriotism, and have enshrined the souls of the area's soldiers who died while fighting for Japan. The Yasukuni shrine in Tokyo is their nationwide head shrine.
Prefectural shrine for the protection of the nation
Officially designated Gokoku-jinja in 1945 by the Home Ministry, Osaka's shrine is located at the southern entrance of the bay, off the city center. Its enclosure is consequently not well-known by tourists. It is important to note that the purpose of its cult is controversial from a foreign point of view as it aims at honoring the Japanese who died at war, regardless if Japan won or lost the war and whatever the acts the fighters did to defend their country.
Inside the grounds, you'll find various steles and statues to commemorate:
Milestone events such as the Sino-Japanese War, the Russo-Japanese War and World War II;
Specific troops, such as the kamikaze special attack squadrons.
Near the Haiden worshipping pavilion at Osaka Gokoku-jinja, the attention is caught by a statue of a mother and her 2 children as symbols of the war-bereaved Japanese people.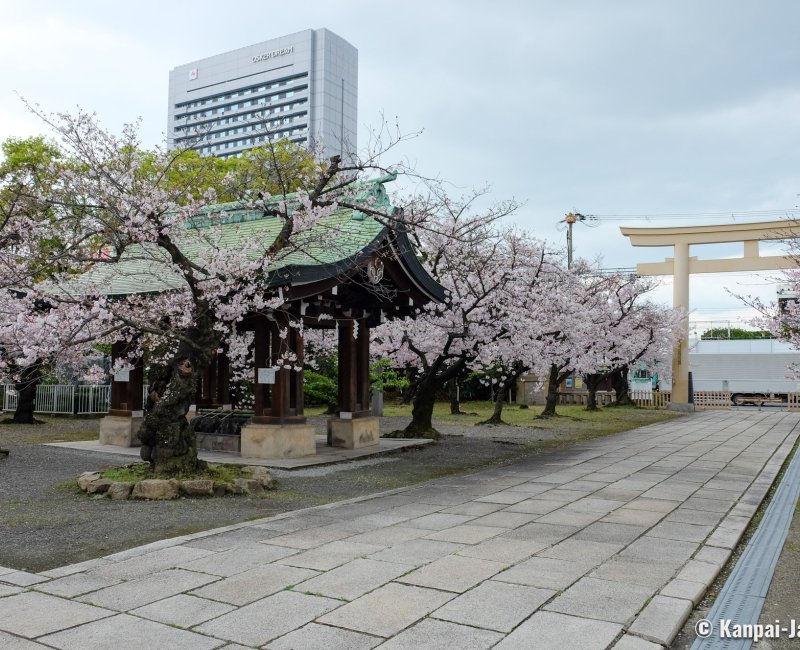 Sakura blossom spot in Osaka
On a lighter note, we recommend to visit the shrine specifically in spring, during the blooming of its 80 cherry trees. They were planted close to each other so as to form a cute pale pink forest, on both sides of the main alley that leads to the Haiden and Honden pavilions.
The quietness of the place offers an almost solitary enjoyment of this beautiful season. Aamateur photographers can therefore take their time to make beautiful flower pictures, such as the iconic flowered branches elegantly bending over the green roof of the chozuya pavilion dedicated to purification ablutions.
Autumn 🍁 is also a good time, when the sakura 🌸 leaves change color before falling. However, we don't recommend the trip if it is only aiming at Osaka Gokoku-jinja. The shrine is interesting only for those who chose to explore the area or go to the neighboring Suminoe Park.