Ramen Toride
🍜 Sasebo's Delicious Noodles
Add to my favorite places
Ramen Toride is a Japanese ramen noodle brand originating from Sasebo area in Kyushu. One of its noodles restaurants, the Ramen Toride Kenkyujo, is located in Haiki City, in the suburb of Sasebo. Its original taste is characterized by a broth made of fish and shellfish. Big eaters also like its large servings.
The ramen 🍜 brand Toride (砦, pronounced "tolideh") is very popular in Sasebo. The craze has been lasting for several years now and several restaurants have opened in downtown Sasebo and its surroundings. There are also a few Toride joints on Honshu, mainly in Tokyo and Osaka prefectures. Ramen Toride's fame stems from its concept based on two original features: the broth's recipe and the dish's serving size.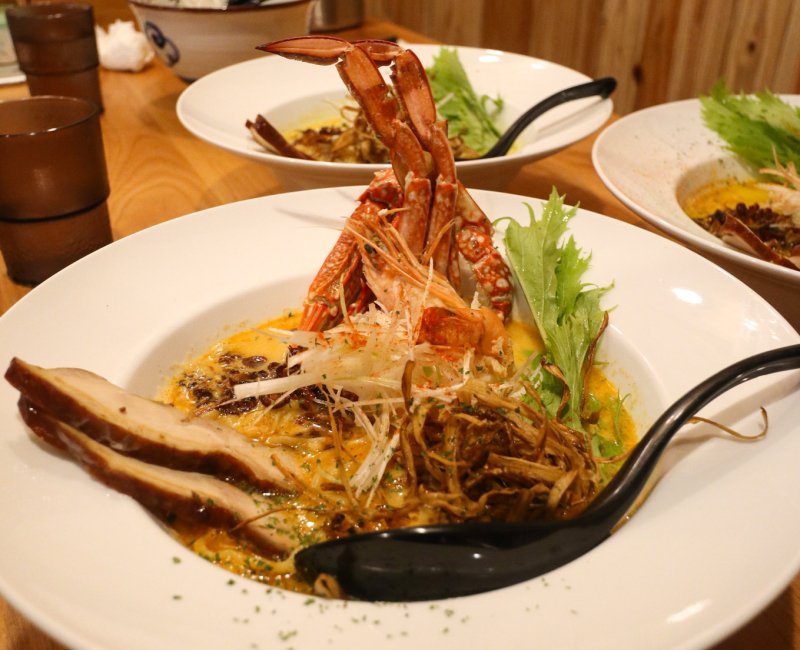 A ramen broth ramen with delicious marine aromas
Toride's ramen broth is made from fish and seafood (clams, scallops, oysters, etc.) whereas the usual noodle broth is based on pork meat. As for toppings, the noodles can be garnished either with chashu sliced pork, chicken, or shrimps and crab.
The meat and sea ingredients perfectly combine, providing a new delicious taste, very different from the ordinary ramen noodles.
Menu served with two large portions of noodles and rice
The other distinctiveness of the restaurant lies the quite generous size of its servings, with a bowl of rice on the side, whose seasoning is paired to the flavors of the chosen ramen dish. For example, a ramen bowl topped with chicken slices, basil leaves and an egg will be served with rice seasoned with cheese and basil on the side. Likewise a shrimp and crab ramen bowl comes with rice topped with mentaiko pollock roe.
The rice, named "dunk rice" from English, is to be eaten after the noodles, soaked into the remaining broth to create a whole new dish. Each dish provides its original flavors, and while it is served as one according to the menu, it can be considered as two servings per person and per meal.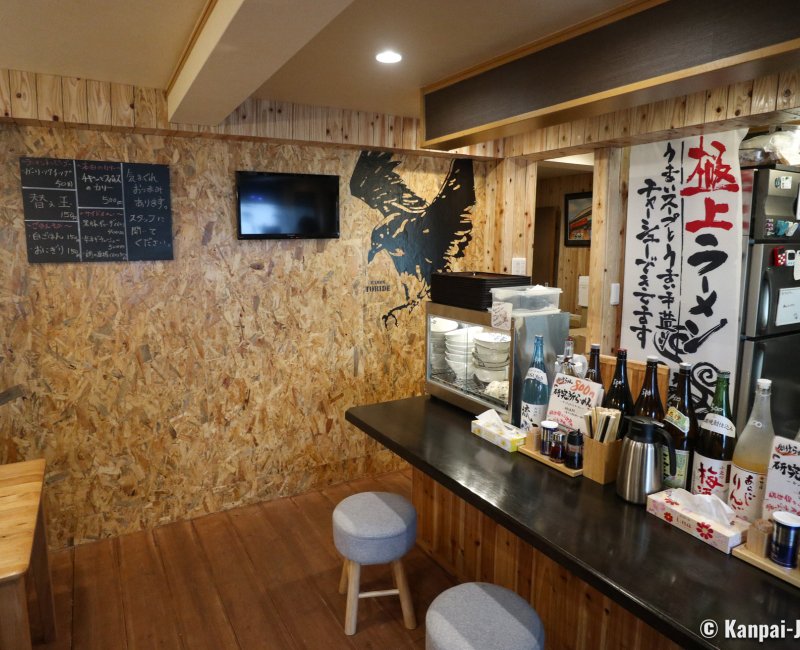 Ramen Toride Kenkyujo restaurant
Ramen Toride Kenkyujo is about ten kilometers away from the south-east of Sasebo downtown, and opened in August 2019 on the seaside of Haikiseto strait. People come as much for the delicious sea flavored ramen as for the lovely area where the restaurant is located. The road along the seaside is very pleasant and peaceful and it is not unusual to encounter locals leisurely watching the tides. As a matter of fact, fast currents are streaming in the strait connecting the Pacific Ocean and Omura Bay which makes it a beloved rafting spot.
On an ideal location, the small city of Haiki was founded approximately 1,200 years ago. The first inhabitants chose the place to enjoy the many products of the sea, the land and the mountains all available in this strategic place. Later, during the Edo period (1603 – 1868), Haiki gained economic stability thanks to the development of permanent inns and shops.
Its large culinary market is the remain of this Golden Age. You'll find everything pertaining to cooking: from basic Japanese ingredients such as wakame seaweed or shiitake mushrooms, to tableware and utensils such as knifes. The fair is held every year in May and June, over 3 consecutive days each time: from the 7 to 9, then 17 to 19 and lastly 27 to 29. It is a good occasion to combine shopping with a gourmet excursion.
This article was written after a tour sponsored and organized by Tokyo
Metropolitan Government
to promote the #
KYUSHU
×TOKYO destination. Kanpai has been invited and guided but keeps a total freedom of editorial content.