Takayama Matsuri
One of Japan's Three Most Beautiful Festivals
Add to my favorite places
Takayama Matsuri, which is held in Takayama, a city in central Honshu's Gifu Prefecture, is one of Japan's three most renowned festivals. In April and October, the city's residents dress in traditional clothing and highlight local customs: float processions, musical parades and children's songs.
Takayama Matsuri is actually a twice-yearly festival:
Sanno Matsuri is held in the spring around Hie-jinja Shrine.
Hachiman Matsuri is held in the fall around Sakurayama Hachimangu Shrine.
It is one of the three biggest festivals in Japan, along with Kyoto's Gion Matsuri and Northwest Tokyo's Chichibu Yomatsuri at the beginning of December. While its origins remain uncertain, the parades might date from the 16th century or a little later, in between the Azuchi-Momoyama (1568 - 1600) and Edo (1603 - 1868) periods.
The festival's processions include more than a thousand people wearing colorful traditional clothing from the 15th century. To watch them, thousands of spectators gather along the Miyagawa River in the city's ancient districts. Obviously, all accommodations are booked in advance long before the date, especially if the festival falls on a weekend.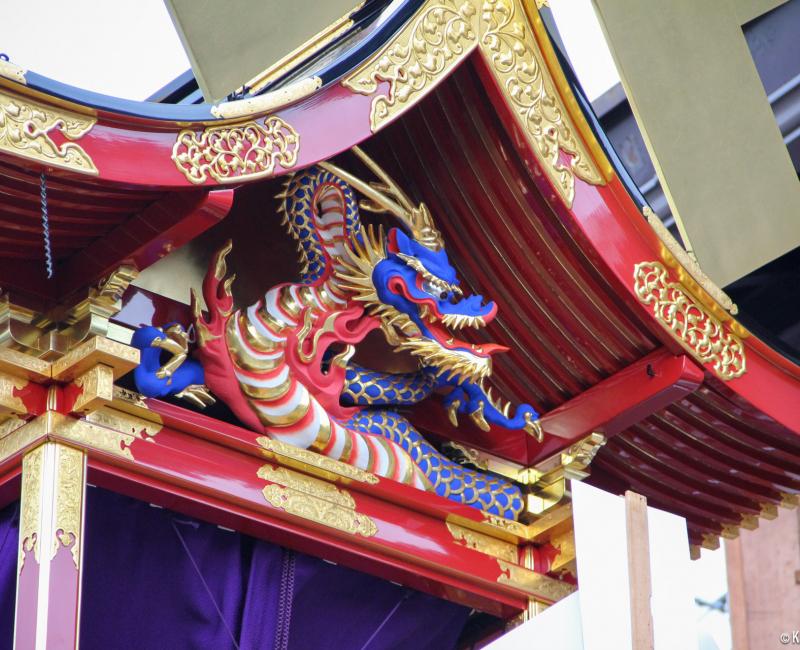 The main part of the festival consists of a procession of decorated floats called yatai. These are classified as "UNESCO Intangible Cultural Heritage" since 2016. Twelve floats can be seen in April, and eleven different floats can be seen in October. The floats are made of several stairs, and their upper levels are mainly occupied by children singing or playing musical instruments. The beating heart of the parade is the mikoshi, a portable shrine that tours the old city from its original shrine.
Although the festival lasts two days, its apotheosis occurs on the first evening, when the floats are decorated with hundreds of paper lanterns that gracefully illuminate them. If it is raining, the festival might simply be canceled. In such cases, the Yatai are exhibited in a warehouse that is open to visitors. This is also the case all year long during "Matsuri no Mori". Four floats rotate in March, July and November.
However, the official exhibition hall is the Takayama Yatai Kaikan, which is slightly northeast of the city center. Here, the festival's history completes these majestic exhibitions. A young lady from Sakurayama Hachimangu comes to describe the parade for tourists on demand.