2D Cafe
Comic Strip Decor in Tokyo
Add to my favorite places
2D Cafe is a themed cafe located in Shin-Okubo district, in the center of Tokyo in Japan. Based on a comics trip universe, the cafe immerses its patrons in a flat, black and white decor, creating an original trompe l'oeil effect in two dimensions.
The 2D Cafe shop belongs to a restaurant chain created in 2017 by the Greem company in South Korea. Its founder, Eunjin Lee, took inspiration from a TV show to imagine an unusual concept of a 2D cafe, totally new in Japan at the times, with the idea of highlighting its customers' beverages with a minimalist and monochrome decoration.
Thanks to the instant hit of her first establishment inaugurated in Seoul on the social networks, Eunjin Lee developed her business in several countries via a franchise system. Consequently, many large cities of the world now have their 2D Cafe, including Chicago, Singapore, Dubai, Paris (with 2D Atelier) and of course Tokyo since 2019.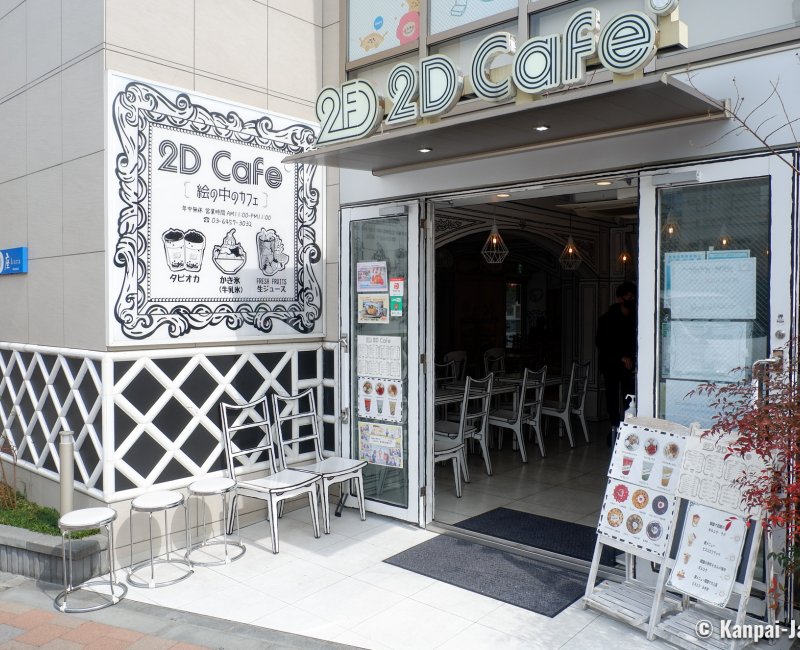 In the heart of Shin-Okubo the Korean Town
It is quite logically that 2D Cafe settled in Shin-Okubo, the Korean Town of the Japanese capital. In the heart of one of the liveliest streets, the shop is located about 200 meters from the area's JR station, served by the Yamanote Line.
The storefront is rather simple, with black and white chairs lined in prevision for customers lines. The menu displays relatively expensive prices, but they are in tune with the themed cafe's popularity. For example, the simplest drink with tea or coffee costs at least ¥550 (~US$3.66), and a bubble tea (タピオカティー), the famous Taiwanese tapioca pearl tea, very popular in Japan in the recent years, costs on average ¥750 (~US$4.99).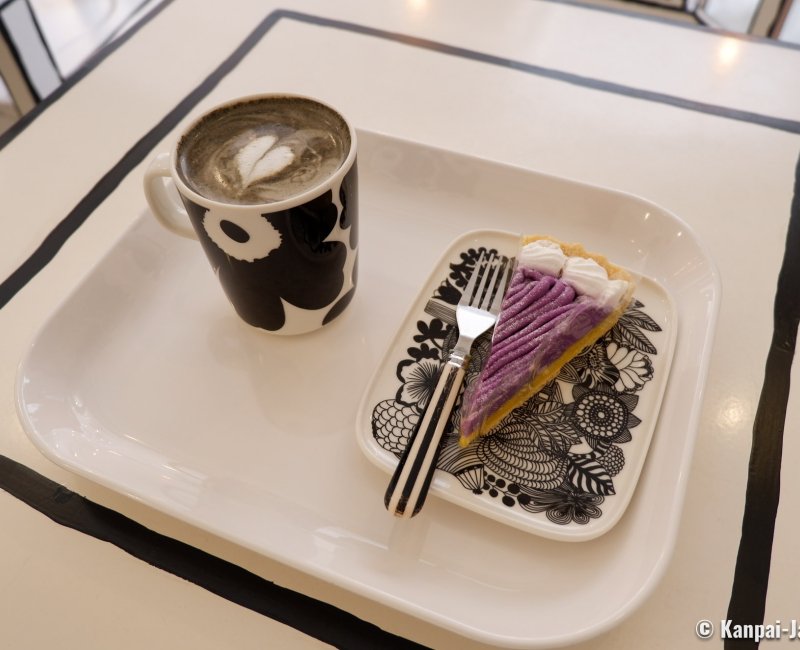 Successful trompe l'œil for a clever decor
The shop's L-shaped room is entirely decorated in a 2D cartoon style. The illustrations of the walls and the furniture seem to have been drawn with black pencil on a white paper. The irregular lines give an additional layer of realism to the staging. The European influence and especially of the Franco-Belgian comic's style show in the drawings.
For a more impressive immersion, we recommend going to the cafe during the less busy hours, when very few customers are sitting, that is to say at the opening hours and on a weekday. The visual effect is then striking, and the dessert window becomes even more attractive with its colored cakes that look a lot more appetizing than what they really are.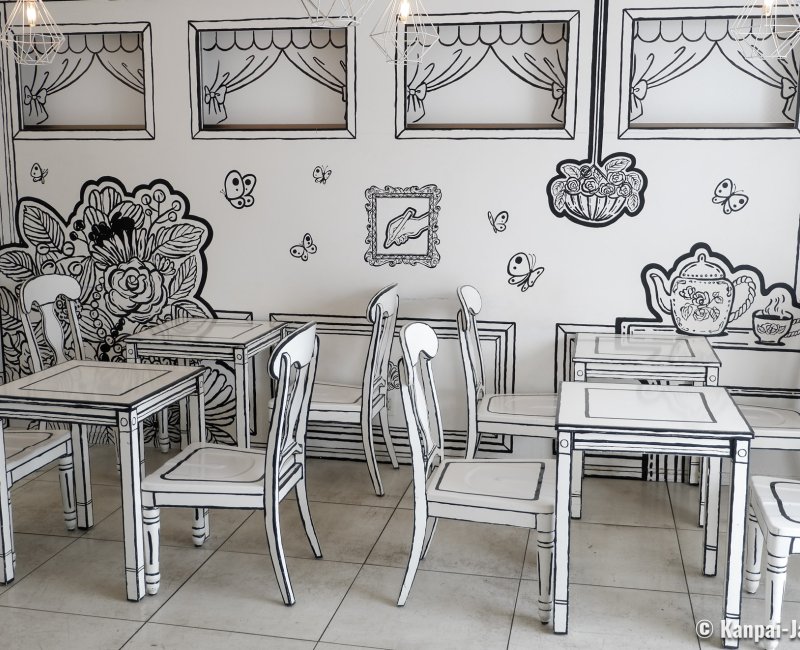 These unusual and "Instagrammable" aspects of the 2D Cafe are sources of its current popularity among Tokyo inhabitants, always looking for novelty. Its location in Shin-Okubo is also interesting for tourists who discover the neighborhood and now have an address for an original pause.