Shin-Okubo
Tokyo's Popular Korean Town
Add to my favorite places
Shin-Okubo is the Korean district in Tokyo spreading around the eponymous station in central Shinjuku ward. Tokyo's youth love its streets filled with Korean restaurants and shops that are very lively on the daytime and in the evening. It is also a place of diversity, frequented by people from all over Asia and the Middle-East.
Tokyo's Korean district, also called in English Little Korea or Korea Town, is spreading around the small Shin-Okubo station, only one stop away from the huge Shinjuku hub on the Yamanote JR Line. It is also close to Okubo Station that serves the west of the city with the Chuo and Chuo-Sobu JR lines.
Neighboring the Kabukicho red-light district, Shin-Okubo used to be a rather poor town of ill-fame. Its reputation gradually improved thanks to the various immigrants communities that settled in this central yet forsaken Tokyo district and revived it:
In the early 1980s, South-Korean workers mainly settled in Shin-Okubo, hence the predominantly Korean population nowadays.
In the 2010s, the area also attracted foreign residents from South-East Asia and the Middle-East. A Muslim community (Muslim Town in English) appeared with, for example, several shops selling halal food, concentrated in the maze of Islam Yokocho.
A small Chinese district (Little Chinatown in English) can also be found in Shin-Okubo.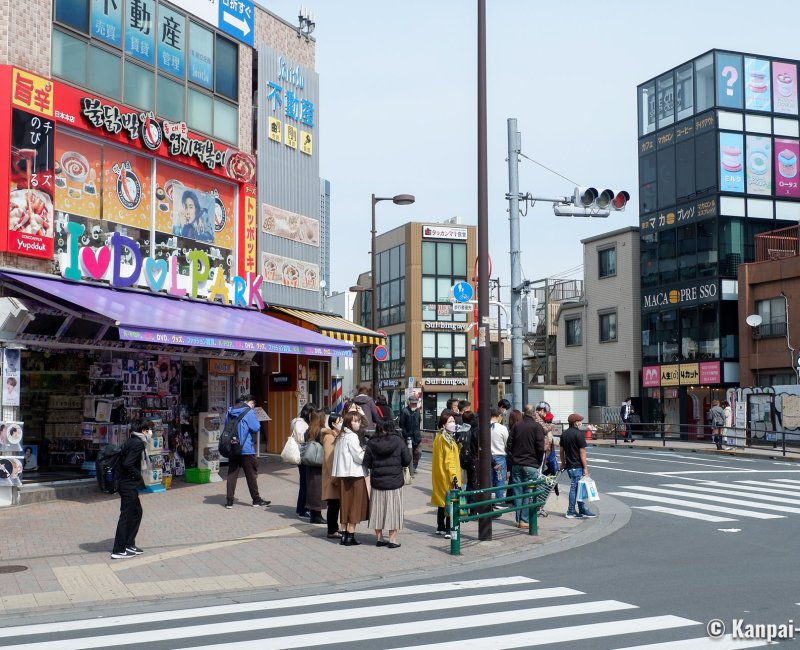 Korean food, K-pop and K-beauty
Korea Town is spreading along and around the Okubo-dori and Shin-Okubo-dori streets, which are of direct walking access from Shin-Okubo station's northern exit, after walking under the railway tracks. Visitors will mainly enjoy:
Korean cafes and restaurants, with many street food stalls to indulge in hotteok stuffed crepes, bibimpap and Korean barbecue. You'll find mainly a spicy food, with a lot of melted cheese and predominantly chicken and pork meat. At the Seoul Ichiba food market, you can make your daily grocery shopping and purchase some delicious kimchi spicy fermented cabbage;
Shops selling pop culture merchandise, pertaining to the famous K-pop wave and its idols groups as well as Korean drama shows. Brands such as Idol Park and K-Star Plus have an array of CD, DVD, posters, cards or accessories to the image of the amateurs' favorite artists;
K-Beauty cosmetic shops, that reflect the importance of the skincare and make-up products market in South Korea.
At nightfall, signs light up and the district is still lively in the evening, with bars opened until late, as well as love hotels 🏨 at the edge of Kabukicho.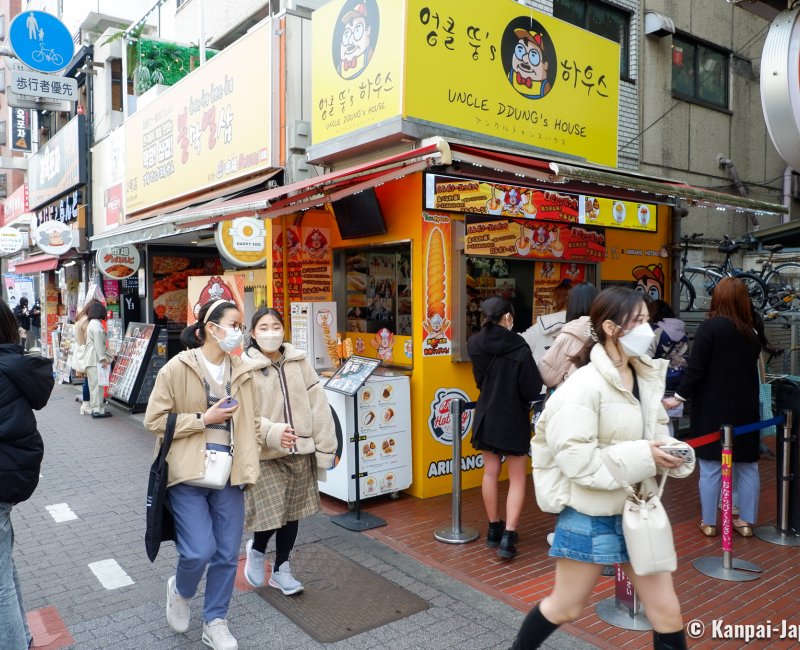 Shin-Okubo, with its cosmopolitan, lively and affordable streets, has recently become one of the favorite districts of Tokyo's young people, who come here for entertainment after school and on the weekends, in trendy venues such as the 2D Cafe. Part of the public who has left Harajuku and Takeshita-dori since the Covid 🦠 crisis can be found here. For travelers, the area also has an interesting offer of affordable hotels with a good location on the Yamanote Line in the heart of Tokyo.