Aqua Park
Shinagawa's Aquarium
Add to my favorite places
Maxell Aqua Park is an aquarium located inside the Shinagawa Prince Hotel, in Minato ward in the south of Tokyo. It was renovated in July 2015 and new attractions were added, such as a dolphin show, an aquatic jungle zone and a pirate ship.
Officially introduced as "Shinagawa Prince Hotel 🏨's Aquarium," Maxell Aqua Park is actually a part of the outdoor shopping space surrounding the three stars hotel. The recently renovated facility is a qualitative aquatic center in a city where they are abundant.
A two levels visit
The visit path runs on two floors:
A linear course in the very dark ground floor, and,
A free walk in the airier upper floor.
Just past the entrance, two themed attractions come into action on a fixed schedule: an impressive and lively pirate ship that is in fact a pendulum ride, and a traditional Merry-go-round called Dolphin Party. Then a passage is arranged between small aquariums, for educational and interactive purpose. A beautiful café welcomes customers around tables displaying living seahorses and eels. Then a well-thought scenography and sumptuous displays of light present the universe of jellyfishes in a large room.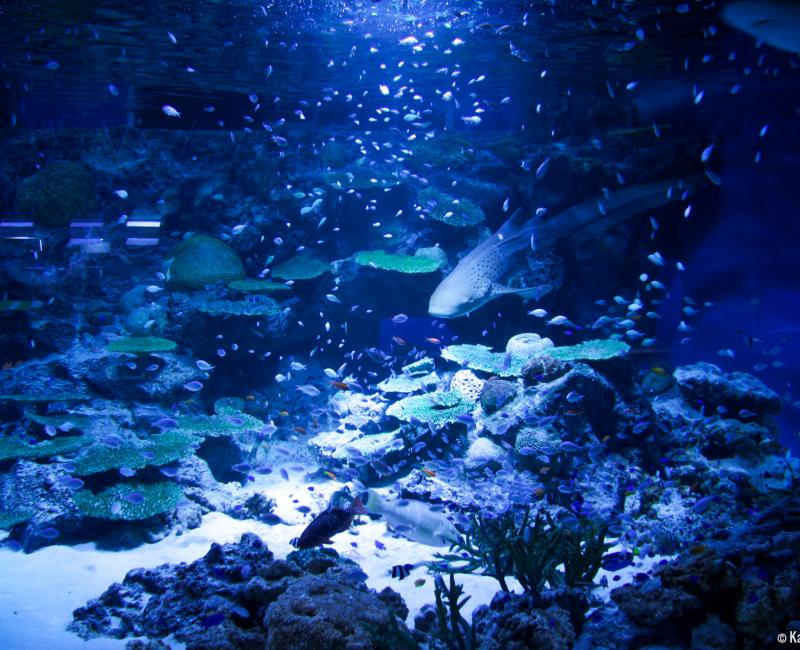 Wonderful marine exhibitions
The upper floor's main attraction The Stadium stands out. It is a large water tank surrounded by 360°bleachers where several Dolphin Performances are held per day, with sound and lights effects and water curtains. Visitors marvel at stingrays floating above their heads as they walk through the Water Tube, a winding underwater tunnel. Other interesting features are a selection of tropical fishes, as well as vivaria, an aquatic jungle, and an outdoor garden for sea lions, otters, and penguins.
Unlike Kaiyukan, Aqua Park does not host a specific species nor is organized in an original way, but it is still a beautiful structure, with a fun and modern aquarium architecture. However, beware of groups of children who can be loud, especially in tunnels where the sound is amplified.