Shibuya PARCO
The First Official Nintendo Store in Japan
Add to my favorite places
Shibuya PARCO is a large shopping mall located in Shibuya, in the center of Tokyo. The brand-new building had its attractivity revitalized after its reopening at the end of November 2019. It houses the first official Nintendo store in Japan, as well as other shops specialized in Japanese geek culture.
The former Parco shopping mall in Shibuya closed in 2016 for major renovation works. The renewed building is now named Shibuya PARCO and welcomes since late November 2019 Japanese pop culture amateurs for a shopping session of goodies and miscellaneous kawaii souvenirs.
PARCO mall's sixth floor (6F) is dedicated to manga and Japanese video games, the main interest of the place. The first floors shelter the usual fashion stores (clothes, shoes, and accessories).
Nintendo in the spotlight and victim of its own success
The most popular shop is certainly ニンテンドートウキョウ Nintendo TOKYO, the Japanese company's first official store (at last!). The nicely appointed shop is decorated with big figures of Mario, Link and Splatoon's Inkling Girl and sells video games, game consoles as well as an important choice of by-products only available in Japan. Nintendo's fans can indulge in their passion with:
Leatherware (bags and purses of all sizes),
Boxes in the shape of a yellow cube decorated with an question mark,
Neckties branded with Zelda and flocked tee-shirts,
Stationery (pens and notebooks),
And the traditional and probably best-sellers: plushies, badges and keyrings.
The wait can be long to access to the Nintendo Store. Since its inauguration and even now, it is recommended to arrive before the opening hour to receive a numbered ticket necessary, depending on the day's attendance, to be allowed in the shop. The staff in red attire distribute tickets in limited number. With your precious sesame in hand, you can join the (long) waiting line.
On weekends and during Japanese holidays, it is thus recommended to arrive around 9 a.m. for those who would like to shop at Nintendo's in the morning. Without the tickets that guarantee an access hour to the shop, the wait can last up to three hours. Otherwise, at the end of the day, the waiting line tends to shorten, and the waiting time can decrease to thirty minutes.
Nintendo Store in Osaka
In November 2021, Nintendo announced the opening of a second official store in Osaka for the end of 2022, on the same design. Located at the 13th floor of Daimaru shopping mall in Umeda, the Nintendo OSAKA opens on November 11, 2022 and is neighboring a Pokémon Center and a One Piece Mugiwara Store.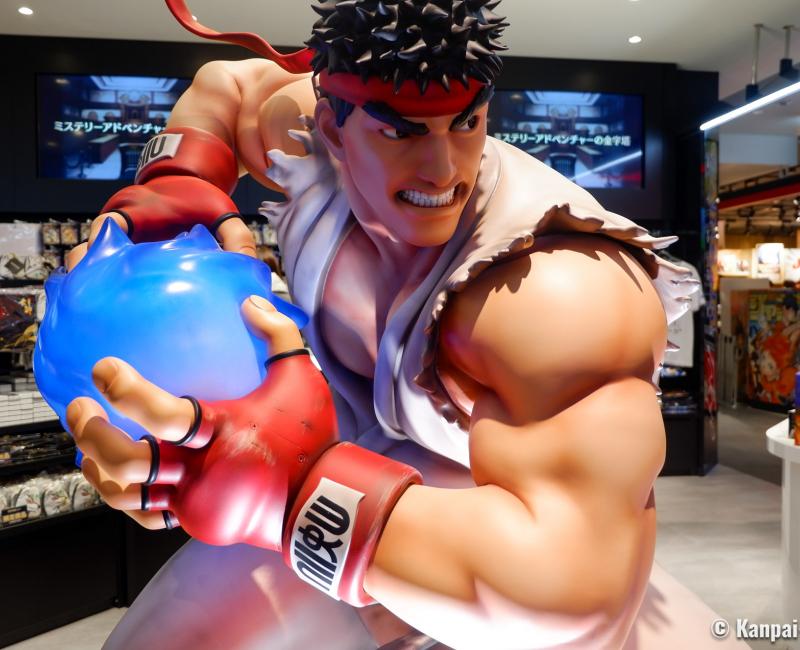 A must-go for pop culture in Japan
The sixth floor shelters other famous Japanese licenses' stores, renowned internationally, and aimed at gamers and other passionate otaku:
ポケモンセンターシブヤ Pokémon Center Shibuya, with a giant scale Mewtwo standing at its entrance,
カプコンストアトーキョー Capcom Store Tokyo, a brand that has not many shops and where characters' large figures are also displayed, such as Ryu preparing a Hadôken attack. Video games such as Monster Hunter, Devil May Cry, Okami and naturally Street Fighter have their by-products highlighted.
ジャンプショップ Jump Shop proposes many goodies and accessories derived from popular manga published in the famous weekly Shonen Jump, such as Dragon Ball, One Piece and Naruto.
Other shop display products that are less know in Europe: Penguin Souvenir, that sells quirky miniatures.
The digital cherry on the top of this geeky sixth floor is an e-sport café. Customers can have a drink and watch video games competitions on a giant screen.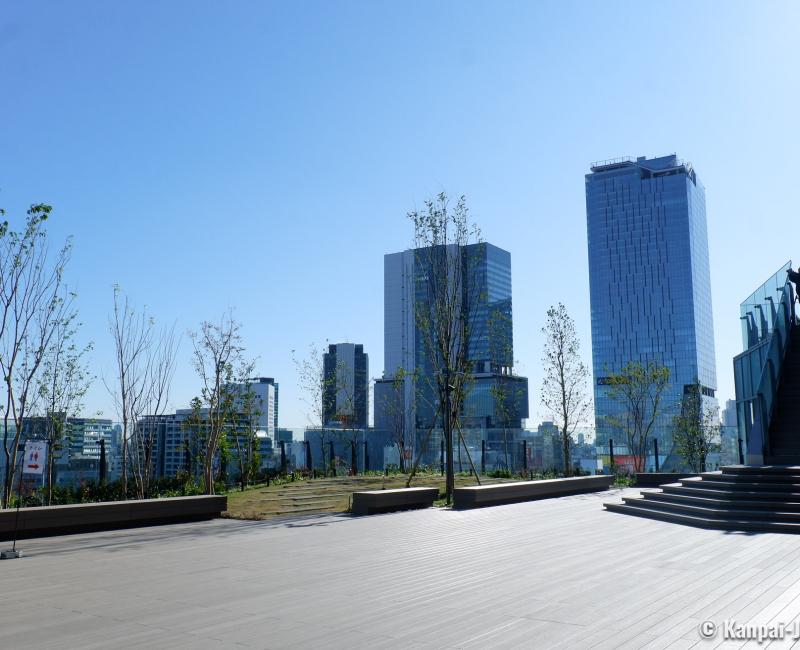 Ephemeral art galleries and a rooftop as bonus stages
Shibuya PARCO also homes two small art museums:
Gallery X, in the basement floor B1;
Parco Museum Tokyo, at floor 4F.
When Shibuya PARCO was inaugurated at the end of 2019, they were both dedicated to Katsuhiro Otomo's manga Akira.
The refurbishment works were also covered by a huge fresco picturing Tetsuo and other characters from the manga. A part of it has been affixed to one of the building's façades, as a homage to this monument of Japanese anime culture.
However, the entrance fee might be quite expensive considering the size of the expositions, and the items exhibited. Hardcore fans will find limited edition products at prices accordingly high. The temporary exhibitions are regularly renewed, every few weeks.
The upper floor(10F) opens on a large outdoor terrasse on the shopping center's roofs. It offers a nice view on Tokyo's buildings, with a glimpse on Shibuya 's new buildings, Shinjuku in the background and sometimes Mount Fuji 🗻 when the horizon is clear.