Wakura Onsen
The Thermal Village in Noto Peninsula
Add to my favorite places
Wakura Onsen is a thermal resort in Nanao City, in the heart of Noto peninsula in the north of Ishikawa Prefecture in Japan. In the resort village, the ryokan inn complexes are wholly dedicated to their visitors' well-being by harnessing one of the oldest natural hot springs of the region, completed with a panoramic view on the sea.
In Noto Peninsula, the shore of Nanao Bay is home to Wakura Onsen ♨️, a popular onsen (hot baths) destination for locals and tourists enjoying balneotherapy. Wakura Onsen's water is famous for relieving arthritis, rheumatism, neuralgia or sciatic among other ailments. The thermal resort has about 20 ryokan inns, some of which being huge, several floors hotel 🏨 complexes.
According to the legend, the natural spring 🌸 welled 1,200 years ago in the sea, like a boiling water blast from the bowels of the Earth. The village appeared several decades later, in the mid 11th century, when fishermen noticed the healing virtues of these waters after seeing a white heron bathing to treat its injuries. Despite being one of the most ancient and reputed onsen of Ishikawa area, the 1rst visit of a member of the Imperial Family only happened in 1909, with Emperor Taisho (1878 – 1926).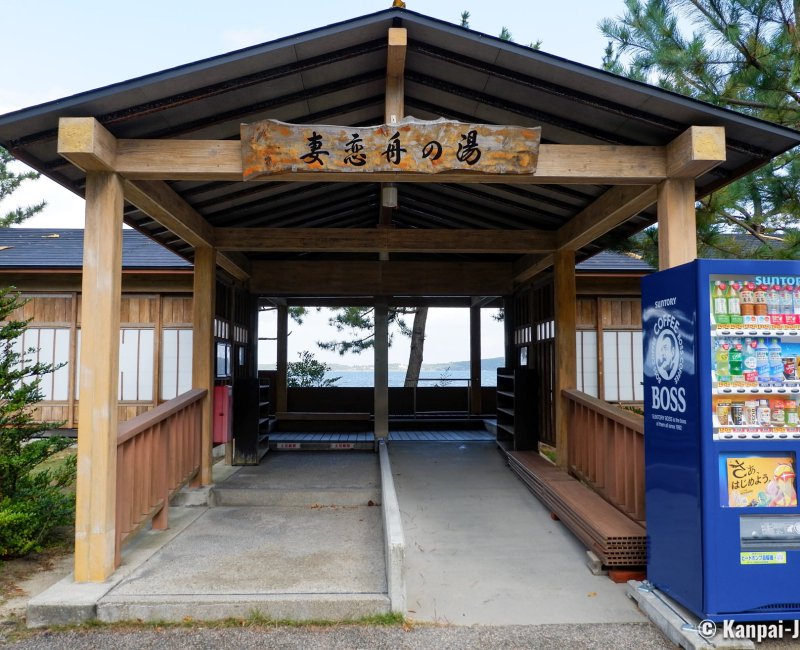 A contemplative seaside destination
Walking is the easiest way to explore Wakura Onsen, thanks to its limited size. A fountain decorated with statues of herons occupies the village's central plaza, called Yumoto no Hiroba, from which the hot spring is welling at a natural temperature of 89,1°C. The water, which is very clear, salty and with a very faint smell, is often used to cook fresh eggs, a custom symbolized by the local mascot Wakutama-kun, a hard-boiled egg with the head covered by an onsen towel.
Nearby, Wakura Onsen Soyu's traditional building, renovated in 2011, is home to the resort's public baths, a convenient place for day trip visitors. An ashiyu foot bath is also available at its entrance, and allows to relax and heat the body from the feet while still being outside, seating on a bench. The walk along the coastline up to Yuttari Park is pleasant and relaxing.
We also recommend dropping by Ipponsugi-dori shopping street and its local crafts shops. With its old warehouse look dating back to 1908, Toriishoyu Brewery is selling local soy sauce brewed in wooden barrels. The tea shop Kitajimaya Chaten is in an old town house and offers its customers to make their own green tea matcha powder.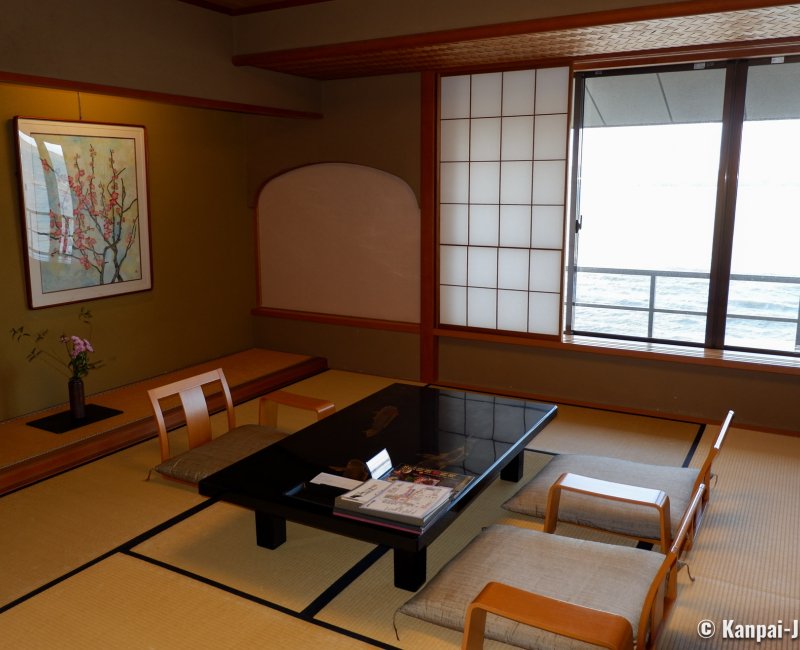 Ryokan inns to discover
Wakura Onsen is a seaside stop ideal to stay overnight at a ryokan providing all the advantages of traditional inns and seaside resorts. Below is a non-exhaustive list of lodgings listed by size, from the largest to the smallest:
Kagaya
Located in the heart of the village, Kagaya is the largest and most renowned of Wakura's hot spring inns. A 5-stars accommodation, it often receives members of the imperial family and Japanese celebrities. The 20 floors (more than 200 rooms) huge building and its panorama on Nanao Bay are impressive. Inside, the decoration is refined and thoughtful in any detail, and the complex spreads into several baths, shops and large restaurants and entertainment venues. The staff, wearing a traditional attire, is very professional and takes great care of their high-end customers.
Notoraku
A 3-stars inn, Notoraku is also one of Wakura's large hotel complexes encompassing all services: beautiful tatami rooms, onsen baths, restaurants, an arcade game room and various lounges. Japanese cuisine is served in seasonal and delicious dishes. Its is located a bit off the center, at the end of the coast boardwalk.
Kaibo
A 4-stars upscale hotel of an intermediate size, Kaibo is as comfortable and ideally located than Kagaya. It offers a great panoramic view on the sea behind glass walls, as well as rooms of a more simple and modern style with circular windows and clear wood furniture.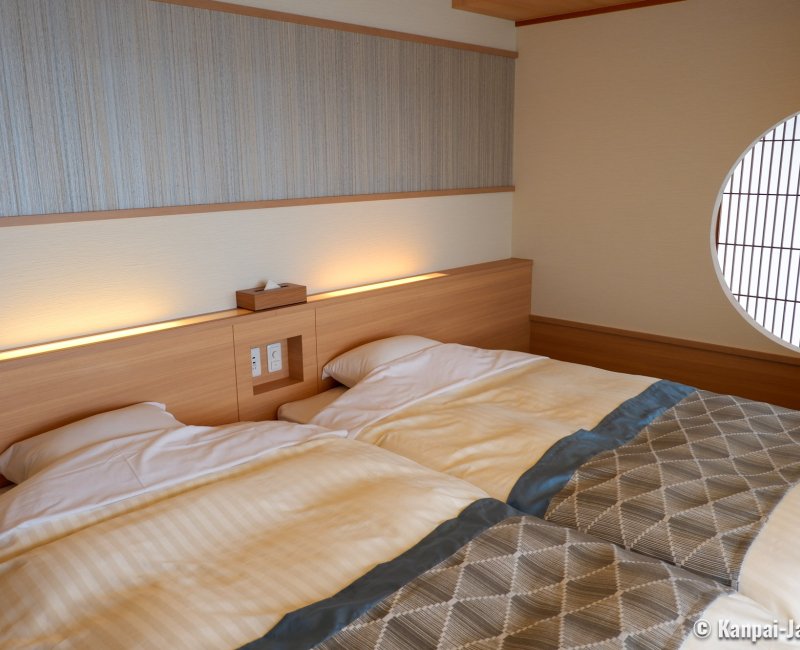 Tadaya
Tadaya displays a human-sized traditional Japanese architecture that makes this ryokan more convivial and friendlier. The bath area at the ground floor has a direct view on Nanao Bay, however the rooms have a decoration that is a bit too classical for a 4-stars inn. It is also the farthest from the central plaza.
Togetsuan
Togetsuan is Wakura Onsen's oldest ryokan inn located near the city center. With its sukiya-zukuri architectural style, the authentic building constructed in 1915 stands out from the other hotels and brings its character to this historical address, with less than 10 rooms.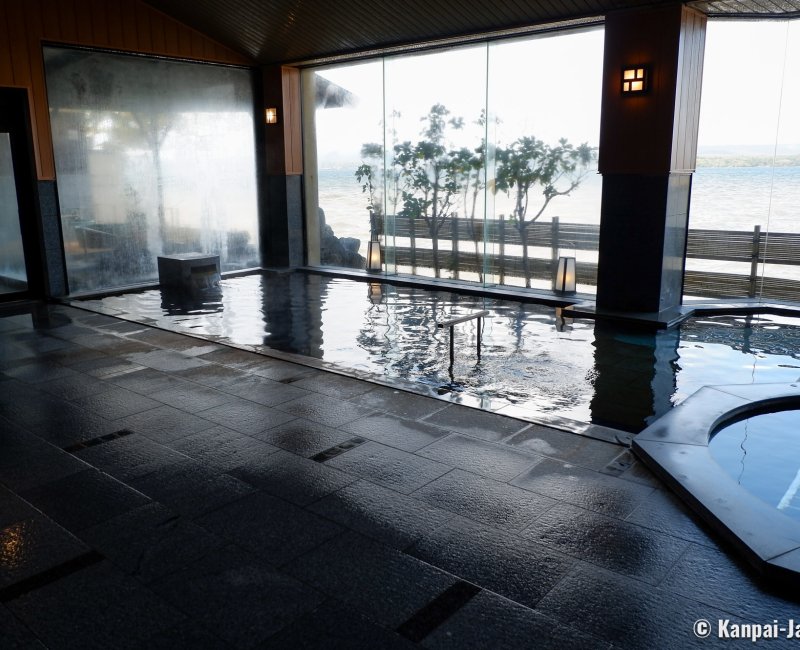 Discovering Hongyo-ji temple
Sightseeing in Nanao City and Wakura Onsen is better enjoyed on the daytime. As a matter of fact, the streets of the thermal resort are rather quiet as most of visitors stay in their ryokan inns as they provide most entertainments, restaurants and baths.
Among the few places to visit, Hongyo-ji temple (本行寺) is rather unusual as it is preserving several worship items of the hidden Christians of Japan, dating back to the ban of this religion (1612 - 1868) under the Tokugawa shogunate. The Tower of Zeus and its hidden cross, the ruins of an ancient monastery, a statue of Buddha carrying a cross, another of Maria, all are details to look for and that are very surprising in a Buddhist enclosure.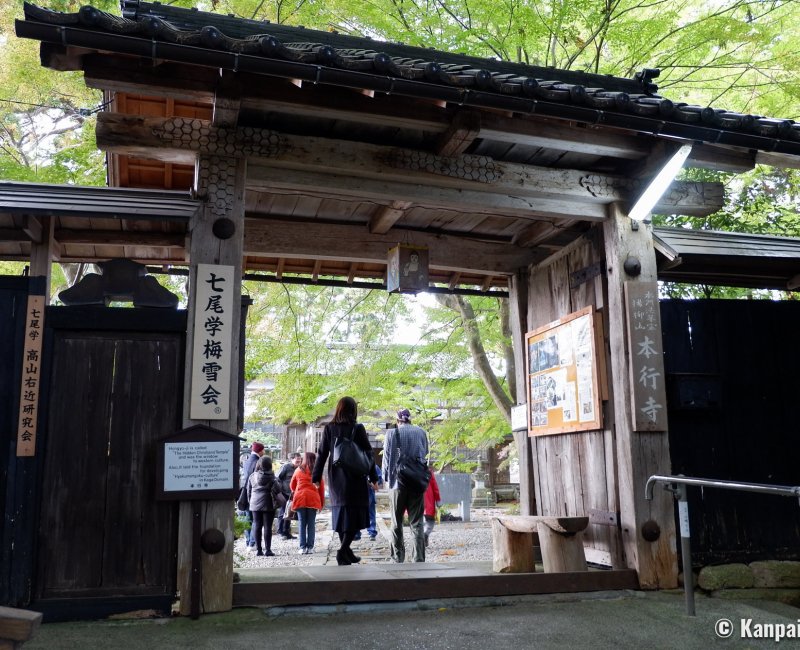 Sportier visitors can rent a bicycle for a further exploration of Noto Peninsula's landscapes. Located just in front of Wakura Onsen in Nanao Bay, Notojima is a wilder island accessible after crossing a 1,050 meters long bridge that seems to be floating just above water.