Toyama Prefectural Museum of Art and Design
The 20th Century Arts at Work
Add to my favorite places
Toyama Prefectural Museum of Art and Design (TAD) is located in the eponymous city between the Japanese Alps and the Sea of Japan. At the edge of a park and with a view on Mount Tateyama, it shelters an impressive collection of 20th century artworks, by Japanese and Western artists.
Inaugurated in 1981, the museum was recently renovated. The new building, constructed in 2017, was created by Japanese architect Hiroshi Naito. The design of the place, with pure lines, gives an impression of lightness, and is open on the city and the surrounding nature. The rooms and the rooftop have a nice view on Kansui Park and the mountains of Toyama.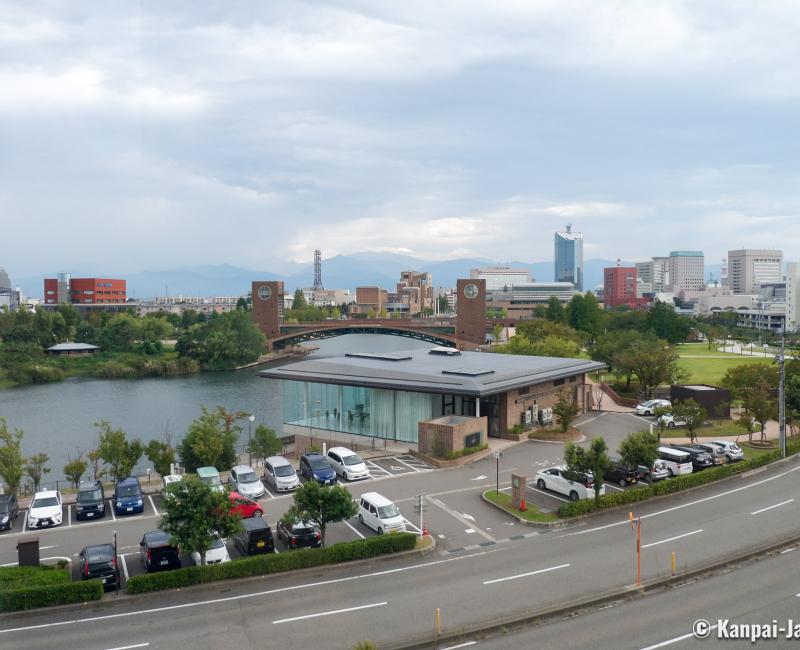 A collection of great masters' works
The two first large exhibition rooms will delight art amateurs thanks to an interesting collection of artworks by late 19th - 20th century Western artists, such as Toulouse-Lautrec, Miro, Dali, Chagall, Picasso, Rouault, Bacon or Buffet. Japanese artists are also represented, such as Taro Okamoto (1911-1996), with the sketches for his famous Myth Of Tomorrow, of which a copy is displayed at Shibuya station, or Tatsuo Takayama (1912-2007), representative of the traditional nihonga painting. TAD's rooms benefit from a beautiful luminosity, enhanced by the clear flooring and white walls. A couple of explanations in English complete the tour.
At the same floor, the temporary exhibition room mainly showcases 20th century artworks, with thematic such as "100 years of Czech design," or "Beauty of Japanese Art and Design From Rimpa and Ukiyo-e to Present Art."
At an upper floor, a large room displays numerous armchairs created by famous designers, and some of them are even available for sitting test. An impressive collection of more than 13,000 posters is also well-promoted. A clever system of large touch panels, invented conjointly with the engineers of the artistic collective teamLab, allows to swipe through 3,000 of them. Zooming on a specific poster is easy and jumping from one to another very intuitive.
Two other rooms are dedicated to the personal collection of Japanese surrealist artist and art critic Shuzo Takiguchi (1903-1979), born in Toyama, as well as to Polish American violinist and orchestra conductor Szymon Goldberg (1909-1993) who spent his last years in Toyama.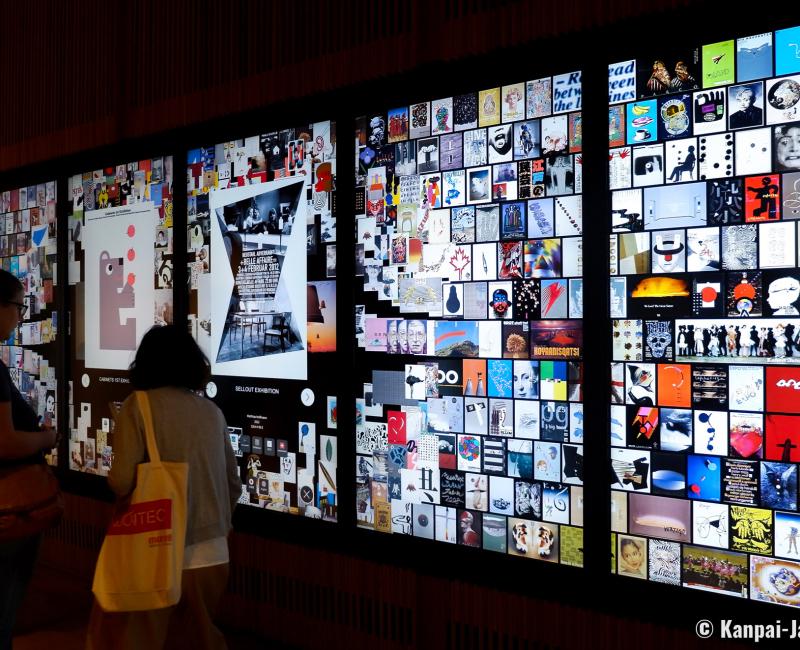 Creating bonds with and through arts
At the temporary exhibitions floor, strolling in the corridors creates a surprising encounter with one of the big bears of the Animals series by Atsuhiko Misawa. Also displayed on the outdoor plaza, these camphor wood statues create a link with the wildlife of the neighboring mountains and the region. The artist indeed gave his bears one blue eye and one green eye to remind respectively of the colors of the sea and of the mountain, as Toyama is located between these two natural environments.
Toyama Prefectural Art and Design Museum is also committed to have the younger ones attracted thanks to dedicated artistic practice spaces. It offers in particular:
Creation workshops on specific themes.
An experience of interactive art, using the movement to create colored artworks displayed on large screens for anyone to see.
The "Onomatopoeia Rooftop," on the museum's roof, where graphist Taku Satoh's creations based on the Japanese onomatopoeia are displayed.
The Onomatopoeia Rooftop is moreover a playground open to everybody, in the same manner a small municipal park. It is a beautiful way of inscribing art in the city and its inhabitants' daily life.
Another small advantage, that visitors can enjoy just in front of the museum, is the nice stroll along Kansui Canal. We recommend this path to those who would like to walk from Toyama Station to the TAD.
This article was written after a tour sponsored and organized by
Tokyo
Metropolitan Government
to promote the destination #HOKURIKU×TOKYO
Kanpai has been invited and guided but keeps a total freedom of editorial content.