Capsule Hotels
Lodging in boxes
Add to my favorite places
A Capsule Hotel is a type of accommodation that is cheap and specific to Japan. The principle is the small size of the rooms: only a few square meters in the form of an elongated box, and including only one bed for one person.
These hotels were introduced in Japan at the end of the 1970s, following the Universal Exhibition of Osaka, where they were first introduced as an architectural advance. This was 20 years before the shuttle of The Fifth Element—famous movie from Luc Besson in which the design of the berths is largely inspired by these surprising boxes. Yet these Japanese creations are not able to force the user to fall 🍁 asleep (it might actually be the opposite!).
The center of this functioning is, of course, set obviously in this small box of about 1 meter large by a little less than 2 meters long. In the center are a single, one-place bed, an alarm clock and sometimes a small TV set. A low-end comfort for the same level of use; after all, clients are not supposed to stay here forever. Also worth noting is that for safety reasons, the capsules do not have rigid doors, but instead they have rather sliding doors or curtains, which can let in all sorts of noises coming in during the night, starting with snoring from neighbors. When arriving or leaving, all conversations are forbidden in the corridors or inside capsules. Anyway, for a person who suffers from claustrophobia or/and wants to have a healing and deep sleep, capsule hotels may not be the best option.
Guests can only move inside these buildings with slippers provided by the hotel 🏨. Personal belongings can be stored in a locked case. Toilets 🚽 and bathrooms are separated, and there are sometimes laundry machines. Often, common areas are accessible at each floor, where customers can watch TV, eat and drink.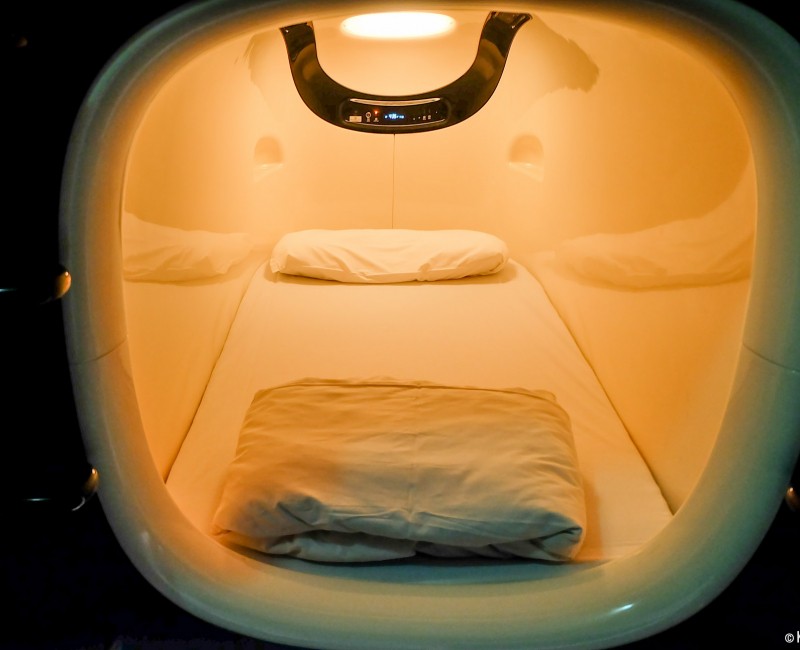 Booking and specific access
Originally, capsule hotels were initiated for salarymen, drunk after an izakaya dinner or having a late professional meeting, who missed the last train 🚅. This gives several advantages over more traditional hotels. Therefore, capsules are usually:
only accessible to men;
impossible to book in advance;
located in lively districts of the city;
with an attractive price.
This surprising type of accommodation is appealing to foreign tourists, and this option has been progressing and evolving. Therefore, booking in advance is now available on some of their websites, such as Nine Hours (located at Narita Airport or also Kita Shinjuku which offers a new service for napping, inspired by love hotels 🏩) or on the global website Booking.
Rare are those, which accepts couples and solo women. For these women, a specific floor is sometimes reserved (such as Asahi Plaza Osaka), but these places remain rare. However, a capsule hotel dedicated to women only is now open: Nadeshiko Shibuya, followed by another, Bay Akihabara.
Other hotels have helped this concept evolve:
First Cabin, inspired by first and business class suites on airplanes, to enlarge the space. Count on spending a little more money; about ¥5,000 to ¥6,000 (~US$33.37 to ~US$40.04), or even up to ¥9,000 (~US$60.06) for the first class cabin.
Book and Bed in Tokyo and Kyoto, which offer the possibility to sleep in a bookstore!
In addition to those cited earlier, we will recommend in Tokyo:
Photos that illustrate this article were taken at 9h Ninehours Kyoto, closed establishment but the hotel chain is still considered as a reference for capsule hotels