Good Nature Hotel Kyoto (Review)
The Ecological and Zen Hotel
Add to my favorite places
Good Nature Hotel is a lodging establishment located on the iconic Kawaramachi-dori street, in the center of Kyoto in Japan. The hotel is part of the Good Nature Station complex that promotes an environment-friendly approach and a special care to its visitors' well-being.
The Good Nature Hotel 🏨 in Kyoto is keeping up with the times thanks to an upscale seasonal offer aiming at sustainability and offering a natural well-being to its guests. Travelers can relax and slow down their pace in a comfortable and elegant setting during their stay in the heart of the former imperial city.
A nice location in downtown Kyoto
Good Nature Hotel is located in the large Kawaramachi-dori street, in the small Inaricho district. The location is ideal to walk to the main shopping and entertainment areas of the city's downtown, such as the covered shopping arcades of Teramachi and Shinkyogoku, the famous Nishiki food market, and Pontocho street that introduces to the traditional and surprising Gion district.
Convenient and ecological transportation means, such as subway 🚇, bus or bicycle, are available to reach the city's other major attractions (temples, gardens and museums). Kawaramachi underground station is the main hub to connect with your favorite transportation method.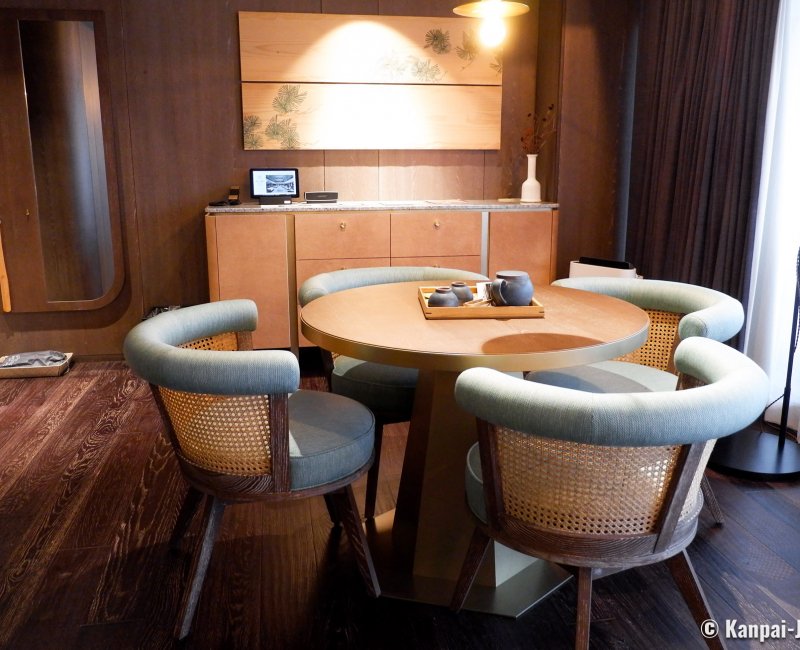 A green and Eco-responsible setting
The hotel has 141 rooms and suites, whose surfaces range from 28 to 90 m², with lodging capacities of 2 to 4 persons per accommodation. While its size is moderate, it still has a large choice of rooms, some with special features such as:
Outdoor terrace,
Generous 50m² superficies and bigger, or
Original touches like: rooms entirely decorated with dried flowers or plants, or arranged with a luxury tent to reflect the concept of glamping.
Each room benefits from full amenities with a Wi-Fi connection, a television, a small corner sofa and a coffee table, a fridge and basic bathroom 🛁 amenities such as hairdryer, towels, and soaps. A reusable bottle for drinking water as well as a wooden toothbrush (upon request at the reception if necessary) are provided in order to limit the use of plastic.
The interior design is vegetal-based, with great wood furniture, green plants of all sizes and brass for chic and cozy accents. The clear tones and natural materials such as linen and rattan bring out sobriety and Zen spirit. The concept of living in harmony with nature is underlined by a few highlights such as:
Part of the lobby's ceiling was completely covered with dried flowers,
The convivial open-air patio in the center of the buildings, that brings natural light in, and,
The vegetated balconies bringing green and privacy to the guests in their rooms.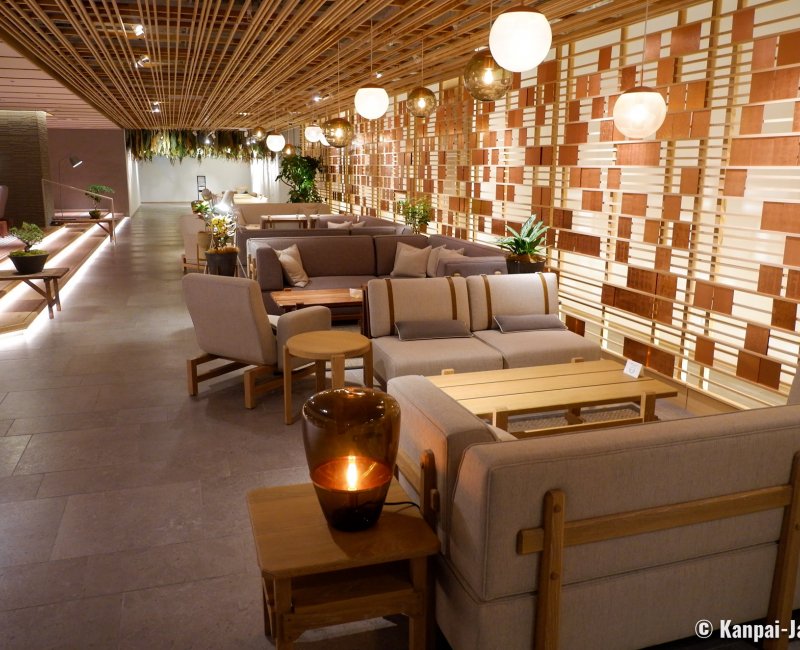 Inside Good Nature Station wellness center
The lower floors of the hotel's building are occupied by the Good Nature Station, a complex in the same ecological and sustainable vein, that gathers several shops, cafe-restaurants and even a beauty salon. This shopping center, opened to everyone, has 2 brands on sale in its premises:
Sizen to Ozen, a range of organic food,
Nemohamo, a range of natural cosmetic herbal products.
On the ground floor, a small organic supermarket is open to all for grocery shopping. One can purchase for example « superfoods » produced by fermentation process, as well as fresh bento 🍱 of the day.
There is a variety of no less than 7 restaurants, including 4 referenced in the Michelin Guide, ensuring the diversity and quality of the meals. We recommend for example the restaurant Erutan and its delicious dinner course "dish and sake 🍶" based on the harmony of flavours. Most of the nihonshu tasting is made with sake brewed in the Fushimi Sake District in the south of Kyoto.
The restaurant's room is also used in the morning to serve the hotel's breakfast in a buffet. With plenty of choice, it will delight both amateurs of sugary and salty breakfast. Are available Viennese pastries, bread, butter and jam, as well as miso soup, cooked vegetables, rice and egg. For drinks, the range goes from tea, coffee, hot or cold milk, and various fresh fruit juices.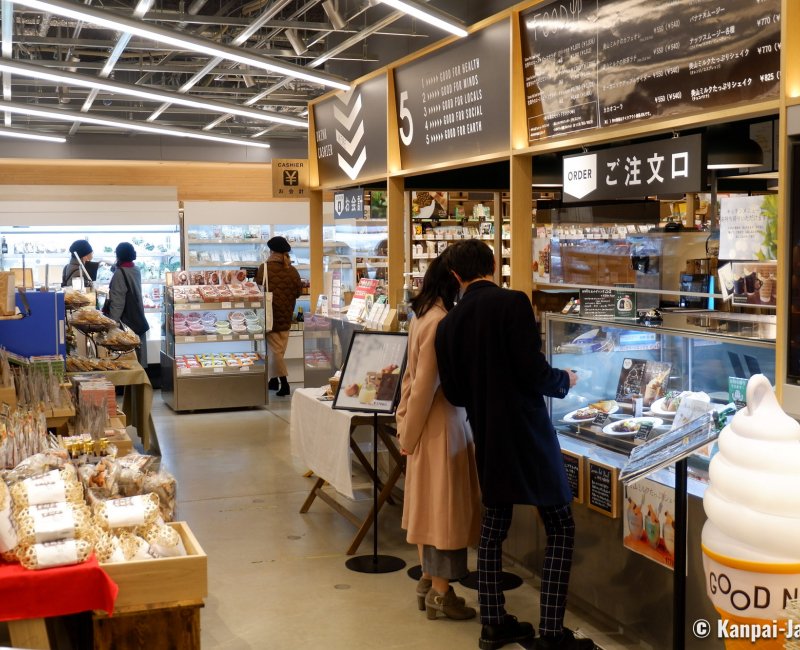 The Good Nature Hotel's name is not just a slogan, and it matches its philosophy, with endeavors to have this Japanese hotel labeled ecological. Incidentally, it received in 2020 the Gold rating of the WELL Building Standard that awards establishments respecting environment and health. Slow-tourism is also a trend fostered at the hotel to guarantee a quiet and mindful stay. The place is so enjoyable that you could forget to visit the city!
This article was written after a stay sponsored and organized by Kyoto City to promote Fushimi Sake. Kanpai has been invited and guided but keeps a total freedom of editorial content.