Miyama Sanso (Review)
Private Ryokan in Kurokawa Onsen
Add to my favorite places
Miyama Sanso is a ryokan (traditional inn) in Kurokawa Onsen thermal village, in Minami-Oguni city, Kumamoto prefecture. In the heart of a typically Japanese rural landscape, the lodging establishment offers a beautiful and quiet stay including the discovery of pleasant onsen baths opening on the surrounding mountains.
About 1 hour by car 🚙 from the impressive Mount Aso and slightly off the center of Kurokawa Onsen ♨️, Miyama Sanso ryokan spreads in the heart of a little valley, along the Tanoharu River. Like a traditional countryside village, it is composed of several Japanese houses, some of which topped by a thatched-roof. Contrary to classical inns, where the rooms are sheltered under only one large building, Miyama Sanso hosts its clients in truly private small homes.
The inn's 16 rooms are dispatched in pairs under 8 different pavilions. Under the same roof, the 2 individual rooms can be connected by a corridor to accommodate groups. Thus, families with children or friends can book a full house to stay together and enjoy a better privacy.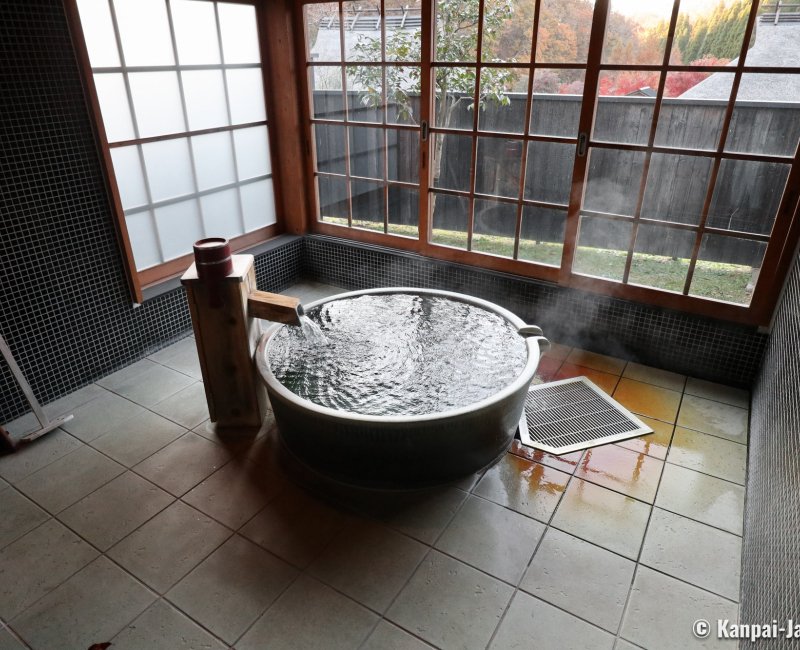 Beautiful onsen with a view on the mountain landscape
Moreover, the ryokan also has beautiful shared baths, with separate sections for men and women, indoor and outdoor (rotenburo). The wood and stone decoration perfectly associates with the natural and rural setting, particularly beautiful in autumn 🍁. The bath facilities are opened to one-day visitors, who can enjoy a dip in the hot spring 🌸 and take part in the tour of Kurokawa's onsen.
If you choose to stay overnight, three room categories are available:
A-type: room with a private indoor bath tub;
B-type: room with two bath tubs, one indoor and one outdoor;
C-type: suite with an indoor bath connected to a bathroom and an outdoor bath with an annex.
The interior layout can be chosen according to one's preferences, from:
Japanese style, with a tatami floor and futon bedding; or,
Western style, with a sofa and mattress on bed-base and quilt.
The inn's main building is at the center of the site and includes the reception and the restaurant Miyama Dining. It serves a kaiseki traditional cuisine at dinner and at breakfast, with variations according to the seasons.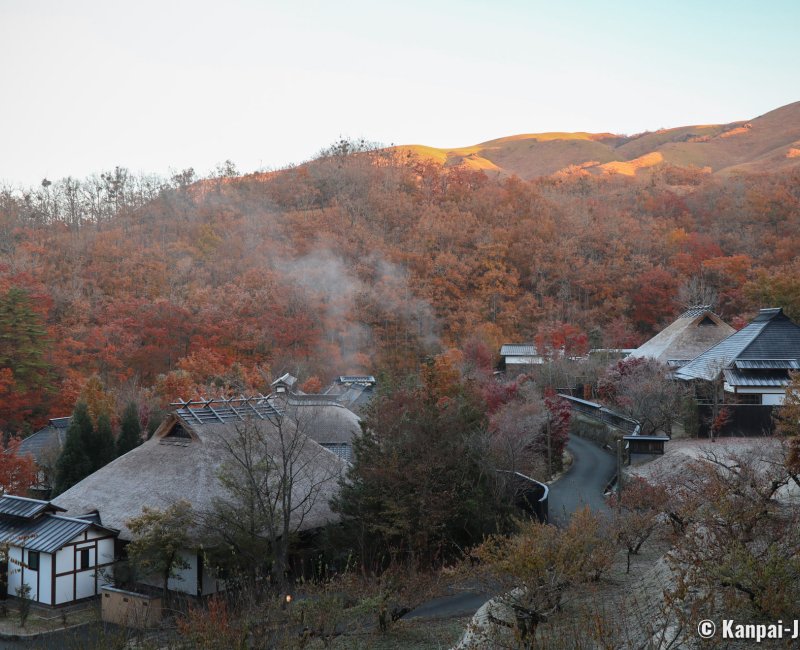 Zen break in Kumamoto's countryside
Miyama Sanso immerse its guests in a charming and quiet atmosphere. The soft melody of the flowing water soothes the mind and the body. The view on the mountains covered by forest is beautiful in any season. At night, the sky is clear and allows to enjoy stargazing.
Take the opportunity of the first rays of dawn's quietness to walk around the neighborhood, climb on the mountainside and enjoy the panorama on the small village made by the ryokan's buildings. Staying in Miyama Sanso offers a short moment of disconnection from the world, like a beautiful landscape painting that one takes the time to admire.