Bitchu Matsuyama Castle
The Highest Castle in Japan
Add to my favorite places
Bitchu-Matsuyama Castle is a fortified monument located in Takahashi city's downtown, in Okyama prefecture. It is one of the last twelve original Japanese castles. It was built on the top of Mount Gagyu, and its keep is only accessible on foot, by a hiking trail in the mountain.
Bitchu-Matsuyama Castle 🏯 stands in Okayama's outskirts on Honshu and is not to be confused with Shikoku island's Matsuyama Castle. This humble castle is the proof that size does not matter. It is the oldest remaining yamashiro, or mountaintop castle, and the highest castle in the archipelago, standing at 430 meters above sea level. In autumn 🍁 and winter, when weather conditions are favorable, it appears floating above the clouds like a castle in the sky.
First built in 1240 by Akiba Shigenobu on a neighboring hill, this defensive castle does not have the administrative and cultural importance of its counterparts, but its location and architecture are nonetheless characteristic. The tenshu or main keep was built in its current location only in 1683 by the Mizunoya clan, as a 9,4 meters high two-levels construction, which was rare at the time but sufficient considering the height of the hill. This ideal location allowed the Itakura clan, successors of the Mizunoya's, to rule over the area and to stay in the castle until Meiji restoration.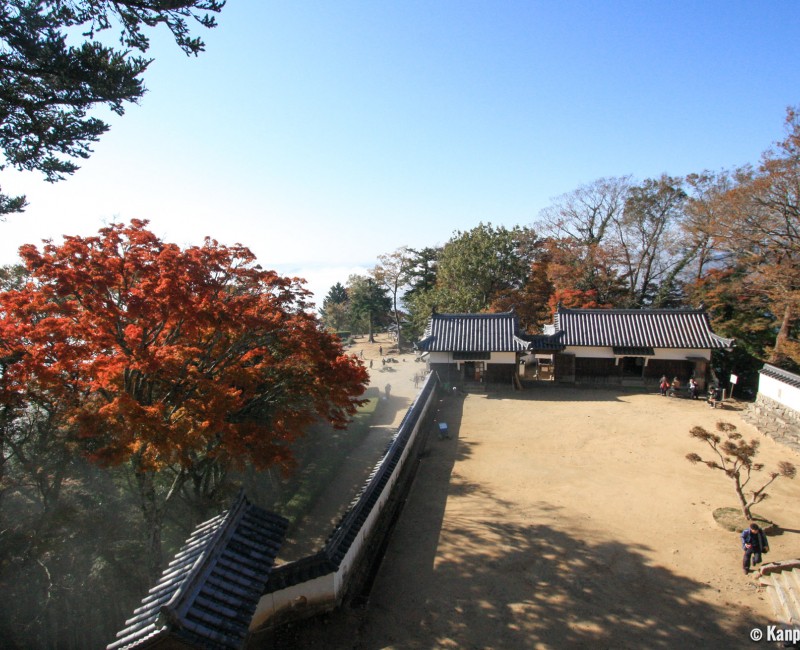 An architectural prowess
Amateurs of medieval period will be pleased to discover the strategic defensive walls and how they were arranged on several layers along the path leading to the castle. Their construction is explained in the main building, however in Japanese. Until an English version is available, visitors can satisfy their knowledge thirst with pictures of the renovation works that took place in 1940, 1960 and 2003.
Despite a difficult access and the very few information provided by Takahashi city, Bitchu-Matsuyama Castle is a treasure worth the physical efforts to get there. The gratification is double with the visit of the keep and the view on the beautiful panorama on the surrounding mountains.
The only minor damper is the lack of historical or cultural attractiveness to complete this beautiful monument. There are of course interesting visits in Takahashi's downtown, such as:
But it is somehow a bit lacking for a full day of visit.