Helicopter Ride
Breath-taking Flight Over Tokyo
Add to my favorite places
Experiencing a helicopter ride above Tokyo, the capital of Japan, is a thrilling attraction. Several helicopter airlines have air cruises to admire the city from an unusual point of view. The take-off generally takes place in Maihama's heliport, on Odaiba artificial island.
If you are a regular Kanpai reader, you may be aware of our fondness for high vantage points. It does obviously make sense to observe topographical features as well as the lay-out of big cities from higher up in order to gain a different perspective when off the ground.
Having visited a lot of observatories in Japan, in particular in Tokyo where there are many, we have decided to go for an even more aerial experience with a helicopter 🚁 ride over Japan's capital city. Several companies offer the general public a range of options; with Excel-Air, you can book your flight ✈️ in advance (in Japanese) through their website. Average fares for about 15 minutes in the air start from ¥20,000 (~US$135.56).
This activity is certainly pricey and understandably arguable. It is quite a sum indeed and even though the exchange rate for the yen at the time was to our advantage and VAT still at 5% when we took the ride, it is certainly not the most cost-efficient activity during a trip in Japan. However, the scales should not always be tipped in favor of cost efficiency when selecting activities. There are plenty of similar ones like jet-ski, parachuting, or, to a lesser degree, karting that are also expensive.
However, the experience was so astounding that we highly recommend those who are interested to give it a go.
To go to the heliport, you need to get to Maihama in Tokyo Bay, to the south-east of the city beyond Odaiba. The meeting point is located a few hundred meters from Tokyo Disney Sea so if you go by train 🚅, you're bound to come across Mickey Mouse style families on your way! At the station in Maihama there is a free shuttle to the heliport 3 times an hour. It is an approximately 10 minutes' ride and the service is just as high-end as that provided by taxis, even higher.
You need to get there half-an-hour before schedule in order to confirm your presence, then you are made to wait in a lounge where a waitress will take your order. All soft drinks are free including for people who have come along to accompany you. A few minutes before boarding, you have to go through a security check and listen to a few instructions and explanations. It is forbidden, in particular, to take along your mobile phone as well as food and drinks.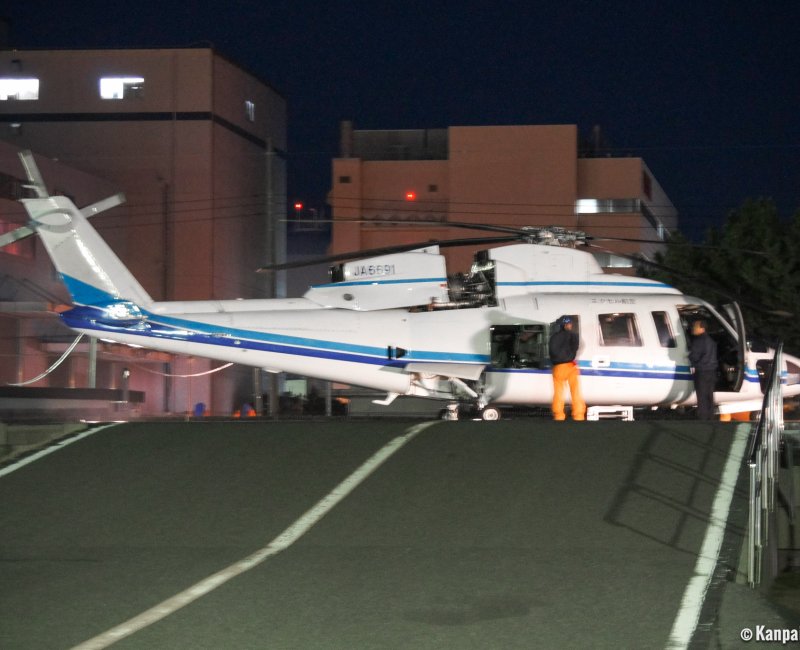 Fasten your seatbelts!
The helicopter we boarded was surprisingly spacious: there were 8 seats, 4 of which located beside the windows, obviously for the sake 🍶 of the view. The glass is very thick and it is therefore extremely difficult, owing to the strong vibrations, to take beautiful photographs, all the more so because of the dwindling light (which explains the poor quality of the photos illustrating this article). Dear photographer friends, be warned! Our ride was scheduled to take off moments after the sun set over Tokyo.
The defeaning noise is quickly forgotten as soon as your eyes start to get their fill right after take-off. Surprise comes first, then excitement to take in the scope and the life of Japan's capital city from a few hundred meters above ground. The flight plan takes you to the center of town near the Tokyo Tower 🗼 then on to the Tokyo Sky Tree, which the helicopter circles almost completely.
During the ride, you fly over the most emblematic areas of the megalopolis, such as the Shinjuku buildings, the polders in Odaiba, the large Imperial Palace Garden or Ueno. The view is definitely breath-taking and during the whole (short) flight you feel you are experiencing a unique approach of Tokyo.
If you have the opportunity and you want to see Tokyo from another angle, the helicopter ride is a strongly recommended experience.