Tokyo Tower
🗼 The Japanese Eiffel Tower
Add to my favorite places
Tokyo Tower is Japanese broadcasting tower looking like the Eiffel Tower, inaugurated in 1958 in Minato ward in the south of the capital. It is one of the highest metallic towers in the world, as it culminates at 333 meters high, with two observatories on the city. Characterized by its red and white colors, it is illuminated at night following the seasons or the events.
Since the inauguration of Tokyo SkyTree in 2012, Tokyo Tower 🗼 seems to have been neglected by many travelers. It is, however, still well worth a visit based on the following features.
Designed by architect Tachu Naito and completed in 1958 (opened to the public on December 23), the Tokyo Tower was obviously inspired by Paris' Eiffel Tower, although it rises a good dozen meters higher (or 7,6 meters if you include the aerial). With its 333 meters, it ranks as one of the tallest metal towers in the world. It is, however, much lighter weighing in at four thousand tons compared with the ten thousand tons of its Parisian counterpart.
The construction was intended to provide better resistance to earthquakes, obviously a key issue with Japanese buildings, especially very tall ones.
Emblematic spot for popular culture
You will instantly recognize its distinctive red and white metal latticework, beautifully illuminated after nightfall. At the tower's base (an 80-meters cubical building) is a shopping center named "Foot Town" which houses restaurants. It even had an aquarium that is now definitely closed.
In March 2015, the first official One Piece entertainment park was opened in the Tower and attracted 100,000 visitors within the first 48 days. In April of the same year, it was updated with, among other things, an exclusive 4D short movie. However, Tokyo One Piece Tower also closed in July 2020 for lack of customers due to the Covid-19 🦠 pandemic.
Since April 2022, Red Tokyo Tower is the new leisure area dedicated to Esports and all forms of electronic games that was laid out in Foot Town. It notably hosts virtual car 🚙 racing competitions, a concert venue equipped with a virtual reality system, gaming and board games spaces, all in a futuristic decor.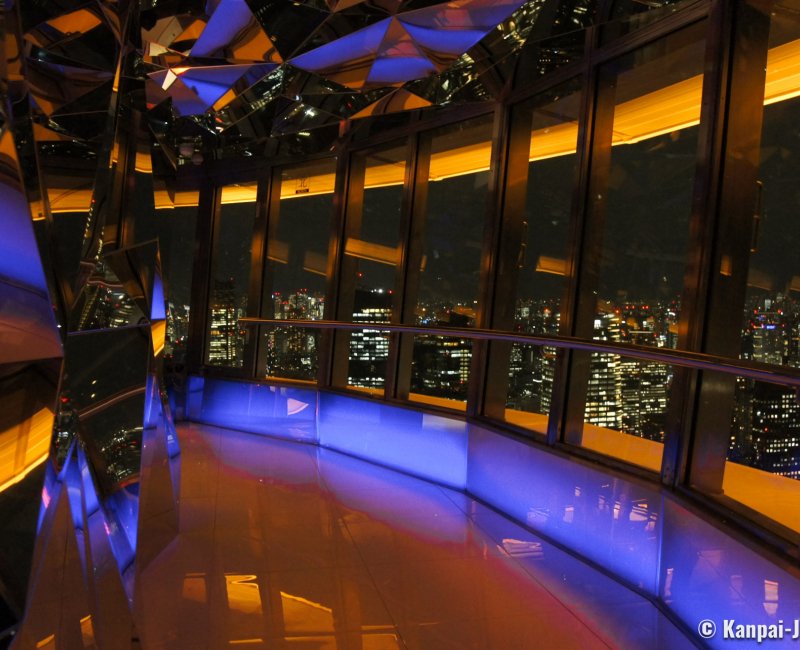 Observatories with a view on Mount Fuji
Tokyo Tower also houses two observation decks:
The first is named "Main Deck" and is located 145 meters above ground, and was renovated from mid-2017 to September 2019. The more dauntless visitors can reach it by climbing its stairs (open only on weekends and bank holidays). It has a glass floor and also harbors, incidentally, the highest Shinto shrine of Tokyo Prefecture.
The special observatory is located 250 meters above ground, just underneath the aerial and was renamed "Top Deck" for its reopening on February 3, 2018, after a two-years-long renovation. From up there, one can have a view of Mount Fuji in clear weather.
Although the TV / radio broadcast aerial in-between these two floors was in use for a long time, it was recently moved to Tokyo SkyTree which is twice as tall as Tokyo Tower.
For more sights, walk on to the beautiful Zojo-ji Temple which is near the Tower.