teamLab Planets
The Excellent teamLab Bordeless Temporary Exhibition
Add to my favorite places
teamLab Planets is a temporary digital exhibition located in Toyosu, one of the artificial islands of Tokyo Bay. Created by the same artists working for teamLab Borderless (or Digital Art Museum), it reuses the concept of total digital immersion with an accent on the relationship to the body. Visitors are then immersed in another visual, sound and sensory world.
🚧 Planned for Closure
This temporary exhibition, which should have ended in autumn 2020, has been extended to the end of 2022, after the postponing of Tokyo Olympic Games.
Following the trend set at the teamLab Borderless museum in Odaiba, the popular Japanese artistic collective plays once again with countless projectors, computers and mirrors to give the illusion of being transported on another planet for the short time of the exhibition. Welcome to teamLab Planets, Toyosu's temporary digital art gallery.
In this exhibition, visitors don't have to look for their way in a huge maze as a marked path guides the discovery of the artworks in a specific order. However, rooms are still plunged in darkness and there is still a succession of corridors to tread, but in a more fun and sensory way than in Borderless, where visual effects were the core of the show.
Taking off shoes is required at the entrance of the museum: the whole course is to be walked barefoot, without socks or stockings as some parts are immersed in water. On the first meters of the exhibition, a gentle slope surmounted by a waterfall welcomes visitors.
A world of softness
One of the first remarkable space is a dim room, with a floor entirely covered with giant cushions whose size vary when people lie down on them. It is hard to imagine a more comfortable and enjoyable place! However, time in this area is limited, and museum staff might come to invite you continue your visit of the rest of the exhibition after a while.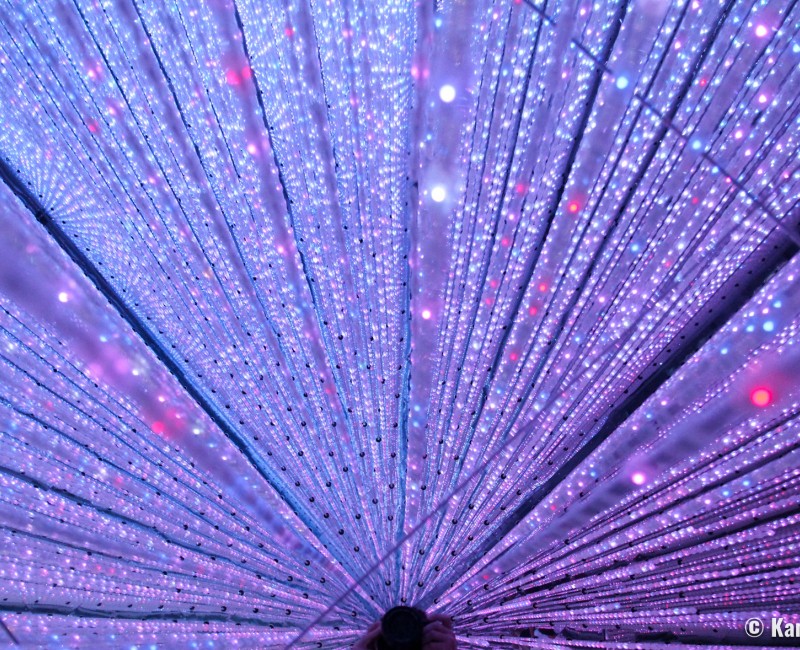 An infinite play on sounds and lights
One of teamLab Borderless concepts is enhanced here, in a wider space. In a room covered with countless mirrors, vertically arranged light garlands create a maze of light. Following a soft melody, the background colors change, from black to dark purple, then turquoise blue to a starry scenery. You will never exactly get the same tune nor the same visual effects, even if staying for a long time. A place has been arranged for visitors to seat on the floor and admire the sound and light show.
Water as the key element
teamLab Planets' main experience happens in a room filled with water up to the adults' knees level. On the surface, koi carps of every colors appear and seem to swim around people. The immersion is complete: there is a real feeling of being plunged into a pond in the middle of a colorful nature.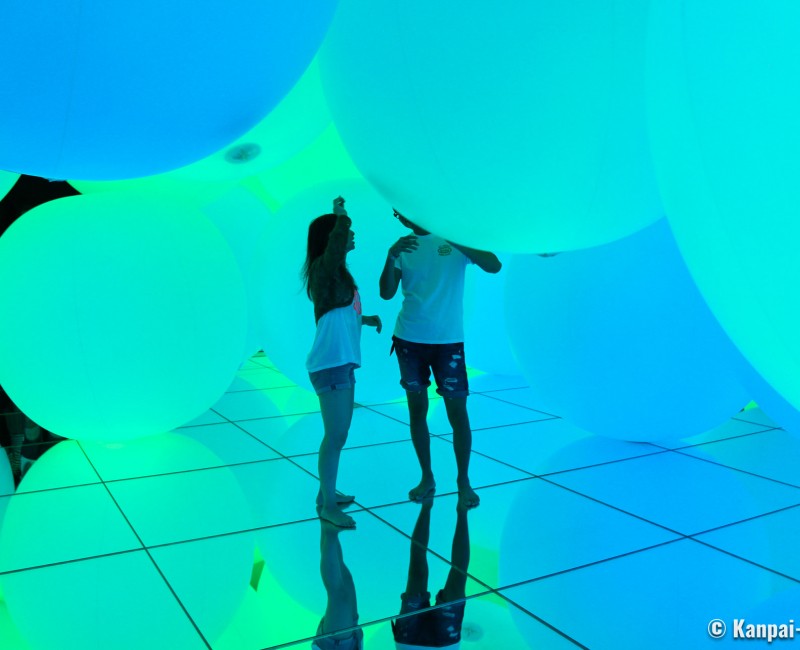 Giant balloons floating like feathers
Helium-filled and brightly colored big balloons drift according to visitors in a vast room covered with mirrors from the floor to the ceiling. It is easy to play hide and seek among them. Balloons are also easy to move, provided you have long arms! This space might be the most young-children-friendly for all these fun aspects (that might also please adults' inner children).
The last space is the hardest to describe and nothing will recount better the experience than living it. It is one of the most oneiric moments of the visit, where visitors take the time to observe the universe and seasons passing. A beautiful end to this great digital exhibition.
---
With a lower attendance than at the permanent Digital Art Museum, teamLab Planets allows to get a more enjoyable experience of the digital artworks. It offers a more immersive experience, certainly with less variations than in Borderless, but it makes theses two wonderful artistic sites complement of each other and both worth the visit.