Shonan no Hoseki
Enoshima Winter Illumination Festival
Add to my favorite places
Shonan no Hoseki is a yearly winter festival on Enoshima Island in Fujisawa city, Kanagawa prefecture. Every night from the end of November to mid-February, thousands of light garlands are wonderfully arranged to adorn the island's important tourist sites. During Shonan no Hoseki, even the ground and vegetation are covered in light. This festival is a dream opportunity to discover Enoshima in a new way.
Every night in winter, Enoshima puts on its most beautiful luminous garments. This winter illumination, named "Shonan no Hoseki", literally "the diamonds of Shonan", will please those looking for a romantic and magical atmosphere. As its name suggests, Shonan no Hoseki feels like a rain of glowing diamonds is falling in the dark night of this small island of the Shonan area, the gem of Kanagawa prefecture's coast.
Light shows start at the end of the day, after sunset. While the shops of the island close for the day, the main tourist attractions continue to welcome visitors with countless, colored and shiny LED lights. The nightly scenery glorifies the small island, in the heart of which a lovely itinerary has been created:
First, visit the Samuel Cocking Garden, certainly the main attraction of this festival, with its Sea Candle tower, glowing like a lighthouse in the night, as well as the various artistic installations arranged on the grounds
Kamegaoka square and the flowery Nakatsumiya Square in the surroundings of the garden also provide a unique atmosphere
Then, follow the Oiwayamichi Pilgrimage Way toward the south of Enoshima to Ryuren no Kane (Ryuren Bell of Love) park
Finally, visitors will reach the end of the island and Iwaya Caves, decorated with Christmas-style lights.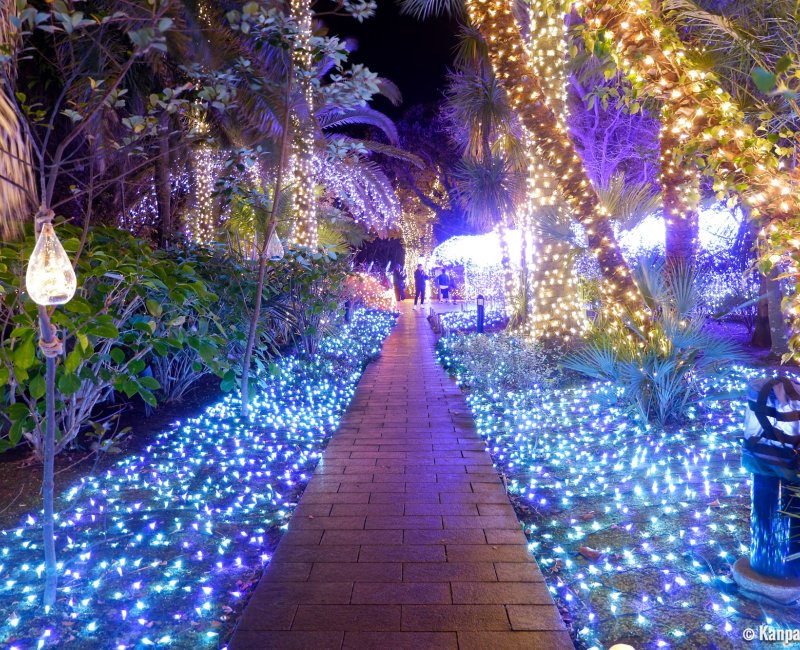 A stroll under the thousands of glowing lights is absolutely magical. Visitors are enthralled by the charming and multicolored scenery and feel like they have become children again. They are surprised by astounding and wonderful decorations at each turn. Even when the weather is cold, time flies by very fast. This nightly discovery of Enoshima is strongly recommended.
Good to know: Shonan no Hoseki spans several weeks that have been organized around various events. The beginning of the seasonal illumination brings to the fore the Sea Candle tower in Samuel Cocking Botanical Garden. The tulip flowerbeds are the main attraction in January. The winter festival ends in apotheoses: The last week, overlapping Valentine's Day, is colored in rosy tones, shiny metallic artworks made of numerous mirrors are displayed, and crystalline lanterns are suspended.
This article has been written after a tour organized and sponsored by
Fujisawa City
Tourist Association. Kanpai has been invited and guided but keeps a total freedom of editorial content.