Samuel Cocking Garden
The Observatory at the Top of Enoshima  Island
Add to my favorite places
Samuel Cocking Garden is a private green space on the top of the small Japanese island of Enoshima, in Fujisawa city, Kanagawa prefecture. The botanical garden is home to a lighthouse allowing a 360° view on Sagami Bay and its coastline.
A visit of Enoshima would not be complete without climbing on its lighthouse observation tower, the Sea Candle, which probably constitutes a large part of Samuel Cocking Garden's interest. About half a million visitors have already done it in 2004. The garden was ideally placed in the continuation of the island's main shrine and connected by a succession of escalator stairways. A combined ticket includes the garden's entrance fee and the escalator's – a facility practically unavoidable on Enoshima Island.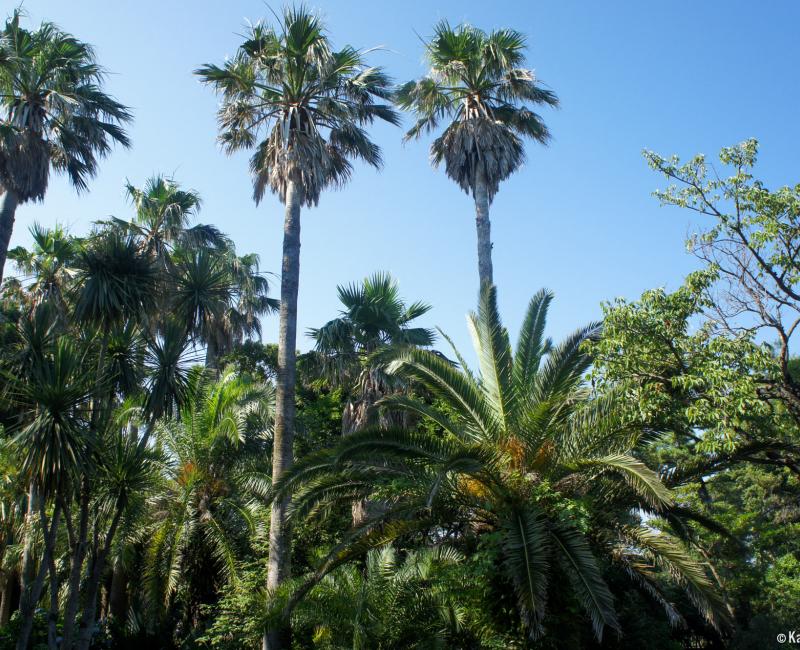 A stroll in Enoshima's verdure
The garden was created thanks to English merchant Samuel Cocking. He bought a large part of Enoshima's land and had his holiday residence built on its heights in the early 1880s, a few years after amassing fortune in phenol importation.
Nowadays, the park is not so wide, but the variety of the vegetation that constitutes the small botanical garden can be interesting, depending on the season. Its 660m² greenhouse shelters a pleasant collection of tropical plants and dates back to the foundation of the garden. It was destroyed in the 1923 Great Kanto Earthquake, and was only rebuilt in 2003, when the Sea Candle was built as well.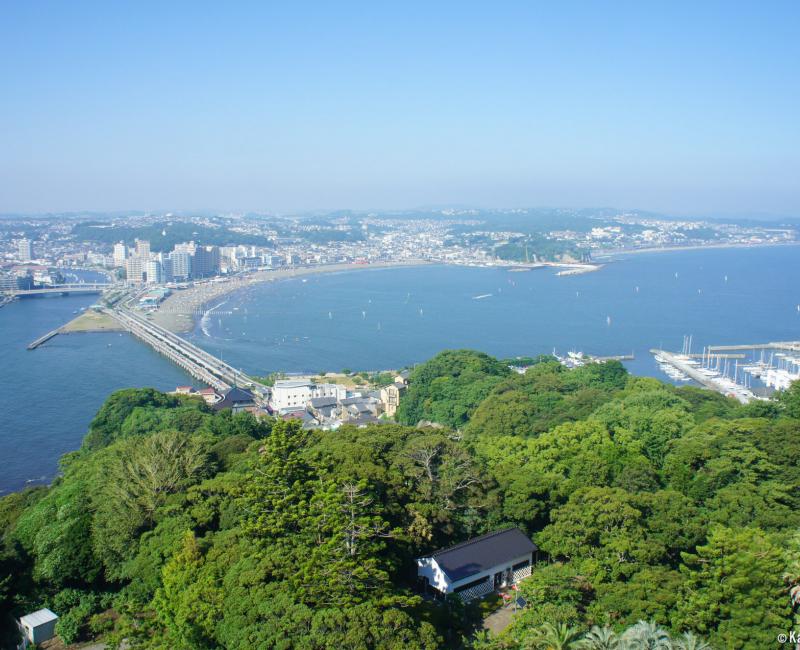 Seaside panorama from the Sea Candle tower
The success of the garden was probably brought about by the Sea Candle, the observatory tower that stands 60 meters high and also serves as a lighthouse in Sagami Bay, and is one of the tallest in Japan. From its observatory located 120 meters above sea level, under the relay antennas for mobile phones and behind a glass protection, the panorama offers a 360° vista on :
The whole island and the surrounding beaches,
A large part of Tokyo megalopolis, and especially on Landmark Tower in Yokohama,
Izu Peninsula and the whole bay,
The mountains of Hakone, and even on clear weather days, on Mount Fuji.
Going down the tower, a café and an unavoidable souvenir shop await visitors who might enjoy staying longer. At night, the tower is lit up by a solar generator, providing a nice view on Enoshima's summit from the way back.
Samuel Cocking Garden is wonderfully enhanced in winter by the night illuminations of Shonan no Hoseki festival.