Kugenuma
🏖 The Long Beach in Enoshima
Add to my favorite places
Kugenuma beach is located in Fujisawa City, Kanagawa prefecture in Japan. On the shores of Sagami Bay, the long stretches of fine volcanic sand offer a view on Enoshima Island, one of Tokyo inhabitants' favorite leisure spots in summer.
As spring 🌸 becomes warmer and summer is around the corner, expatriates and tourists have plenty of places to choose along Japan's 33,000km long coastal line and find the ideal beach 🏖 to enjoy swimming in the sea and / or sunbathing while escaping from the urban, concrete environment.
Enoshima is the ideal spot for a sunbathing session: located less than one hour by train 🚅 from Tokyo, it is the most convenient beach resort on Sagami Bay, at the capital's doorstep.
Kugenuma beach extends on each side of the bridge connecting to Enoshima Island, down the shopping street from the train station. The spot is Tokyo's youth's favorite. The whole area indeed feels like a "young adults resort", with loud J-pop flowing from loudspeakers all along the beach, tattooed locals and beach bars employees trying to attract customers. Needless to say that families with children are scarce.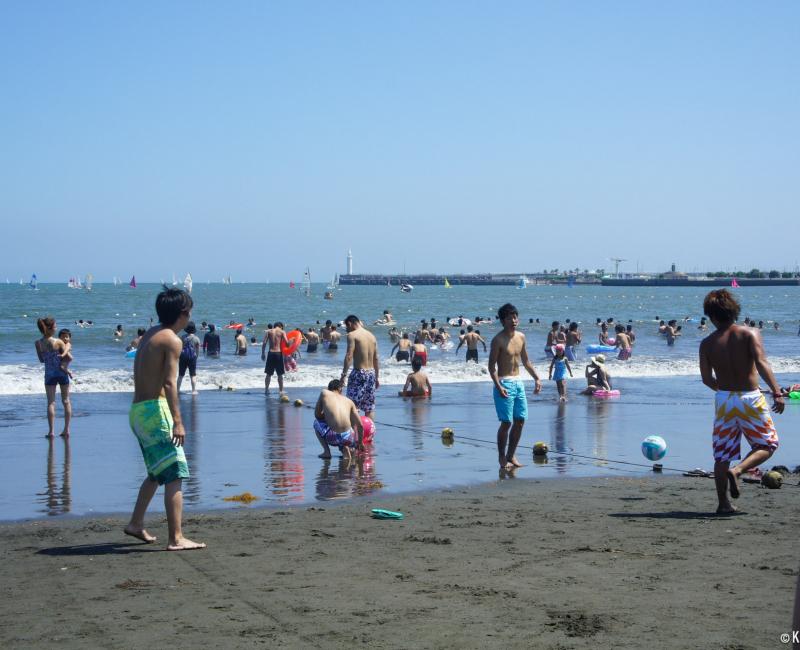 The dark sand originates from volcanic activity, and its color makes it even hotter in summer as it keeps warmth very well. Sunscreen and beach towels are must-have items, and in addition Japanese people do love their parasols. As for Japanese women, they showcase their most edgy and fashionable swimsuits.
The sea's temperature is particularly warm: when we visited in mid-July, the sun had warmed up the waters and the temperature reached nearly 28°C (±82°F). Add to this there is no jellyfish, a quasi-absence of algae and a renowned surf break and it is no wonder that the beach at Kugenuma Kaigan is so popular.
Most locals don't even bother crossing the bridge to visit Enoshima, even though it is quite recommended to relax at the beach after a tour of the island.